An Aston Martin, said to be the inspiration for Ian Fleming's James Bond character, is for sale on Trade Me.
The classic 1955 Aston Martin DB2/4 Mk1 RHD has been listed by High Performance Classics Director Conrad Timms on behalf of a client who does not wish to be named.
The car, which is listed with an asking price of $400,000, has only had five owners in its storied history.
Timms said the second owner was a Robert Harling, an Englishman who held onto it from 1957 to 1974.
After looking through an old file in the car, Timms found a handwritten letter by Harling addressed to the next owner. It described his 'regret but very best wishes' for passing the car on.
Curious, Timms googled Harling's name along with 'Aston Martin' and a multitude of results showed up, indicating a link between the car and Fleming's fictional spy.
"I started doing some Google searching and quite quickly came up with a raft of information on Robert Harling, Ian Fleming and a James Bond connection.
"The internet is full of information."
Timms said he made the connection after finding a picture of the Aston Martin with its New Zealand registration plates in Harling's book, 'Ian Fleming: A Personal Memoir'.
Timms said "it doesn't take a rocket scientist to figure that one out."
Harling served in naval intelligence during WWII, alongside Fleming, who created and wrote the original James Bond 007 novels.They became lifelong friends.
Timms said it would be reasonable to assume Harling's Aston Martin inspired Fleming's choice of vehicle for his fictional character James Bond.
"Nobody seems to have made the connection."
Harling also starred in two Bond films, "Thunderball" and "The Spy Who Loved Me".
Harling died in 2008 at age 98. Timms said the family must be aware the car is now in New Zealand as the book containing the picture was published in 2015 by his daughter, seven years after his death.
Timms said the car had a blown engine and was for sale after sitting in an industrial building in Penrose, Auckland for about five to six years.
The owner bought the car and rebuilt the engine, however, did not think the car was of any significance at the time, said Timms.
Decal stickers were added to replicate a rally car owned by David Brown, ex-owner of Aston Martin. Timms said the decal and rally additions can be removed on request from the buyer.
The listing has received 30,000 views, after being up for less than a month.
Timms said there had been a lot of interest, however, not quite at the right price.
"It will most likely be sold overseas, to England or somewhere in Europe. It takes time for an old car to find a buyer, about six to twelve months."
"In the classic car world, a story like this is known as "provenance" and depending on how interesting the story is or how famous the owner was, can significantly increase the value of a vehicle.
"People love a classic car with a great story attached.
The sale will include a copy of a letter from Harling, written before its departure from the United Kingdom to New Zealand.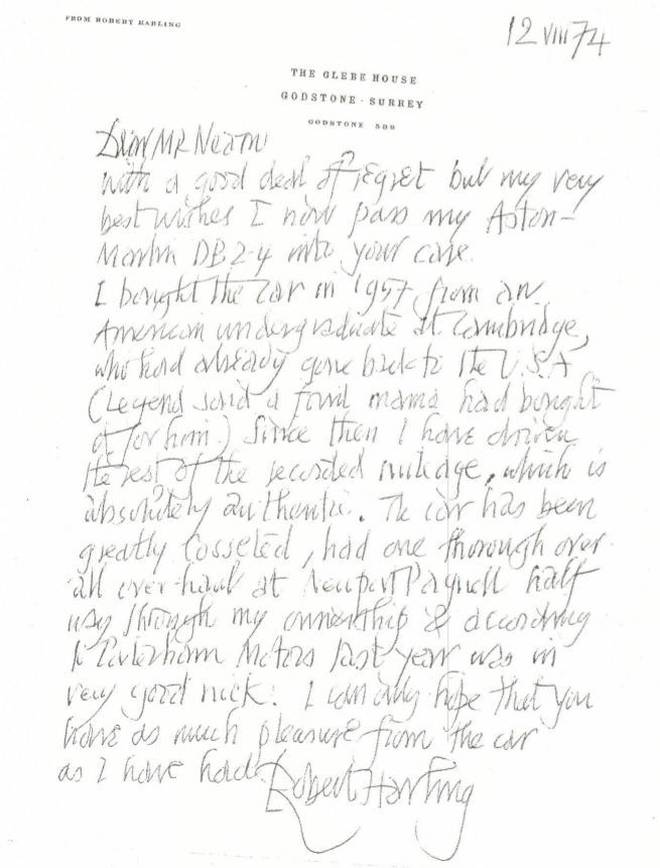 At 89,000 miles, the largely unrestored classic has undergone a full mechanical and some cosmetic refurbishment.
The engine has been completely overhauled. Its chassis number is LML1000, making it one of the last of the Mk1 models built, and is fitted with the later and larger 2922 cc engine.