Queensland's business event offerings a hit with Kiwi corporate planners.
Queensland
Queensland: white–sand beaches, coral reefs, rain forests and a laidback tropical lifestyle from boomtown Brisbane to the surf and nightlife of the Gold Coast, from the undersea carnival of the Great Barrier Reef to the relaxing islands of the Whitsundays.
But for the New Zealand corporates and incentive guests, there's a huge range of experiences amongst the sun, sand and hinterland. And with the advantage of it being cheaper to fly to Australia than other international destinations, it means event planners can put more money towards incorporating these experiences into the ground component of the programme.
As well as an increased number of trans-Tasman flights to more destinations, the Sunshine State's investment in mega-events and infrastructure are also adding to the attraction.
Penny Lion, Executive General Manager Events at Tourism Australia, says the growing infrastructure offers more choice for New Zealand incentive guests and event planners.
While New Zealand incentive groups may be familiar with Australia, she says our neighbour still hasthe ability to surprise and impress.
"We know there's that feeling of over–familiarity with Australia, generally because of travel for business or to have a holiday.
"No one who has been on an Australian incentive programme where – to name one experience, you can organise yacht transfers from your Sydney accommodation to a secret harbour beach set up as a private club, with everything taken care of – would call Australia anything but impressive and unique.
"And with so much new product coming online, it's easy to experience something different on multiple visits – even to the same destination."
Lion says businesses benefit when they provide top performers with these sort of trips. "There's all manner of research into the benefits of incentive programmes, and time
and again they confirm that travel delivers the highest return on investment for companies.
"The ability to share experiences together, to build personal connections and shared memories beats out financial incentives for creating team culture, inspiring loyalty and re–energising teams."
Brisbane
Few world cities are transforming themselves as dramatically – or as rapidly – as Queensland's capital. Several major projects are delivering already, and it's fair to say that as others come on line over the next few years, you won't recognise the place.
The best address in the city has to be 5 Boundary St: it's right underneath iconic Story Bridge and at the end (or the start) of the city's riverside boardwalk. Here a once–derelict collection of wharves and warehouses has been transformed into Brisbane's hottest new precinct, Howard Smith Wharves.
Built in the 1930s to provide work during the depression and largely abandoned since the 1960s, the makeover began in 2017. From late last year a stream of restaurants, bars and event spaces have opened.
CEO Luke Fraser gave Venue a guided tour of the $A200 million development, which is about to welcome Art Series Hotels' flagship property, the 166–suite, five–star Fantauzzo.
As well as its numerous entertainment and dining spaces, Fraser is particularly proud of the dozen or so "cutting–edge event spaces", which range from heritage buildings to outdoor spaces nestled under the cliffs and green landscapes for pop–ups.
The gem is Howard's Hall, a new build with uninterrupted views of the river, bridge and city skyline. With retractable glass windows, rooftop terraces and designed to be broken into different spaces, the main hall caters for 864 seated and 1005 theatre–style.
Another versatile event space, the Rivershed is a heritage wharf building with exposed timber beams; unique features include a bakery and coffee roaster.
Promising to "change the face of downtown Brisbane forever", the $A3.6 billion, 27ha Queens Wharf redevelopment includes a casino, hotels, restaurants, bars, outdoor public spaces and foreshore including a new pedestrian bridge to South Bank.
Most of the project is taking shape on the site of former government buildings between the city's CBD and riverbank, reframing many heritage buildings and butting up to the riverside expressway.
Scheduled for completion in 2022, the development will feature five hotels including Ritz–Carlton, bringing over 1600 premium hotel rooms to the city centre.
They will join several new upscale hotels with event facilities – nearby, the funky W Hotel, a 305–room six–star operation with 960 sq m of meeting space including the 500 sq m Great Room; glamorous Emporium at South Bank, with three boardrooms and the grand, pillarless Frangipani Ballroom (250 sit–down capacity); and resort–style Calile on James St, Fortitude Valley, now the city's go–to precinct to eat, drink and party, with 175 rooms and event catering up to 500 guests.
Whitsunday Island
Kiwis have long enjoyed the opportunity to take in Queensland's most spectacular playground – The Great Barrier Reef and its pristine islands.
The good news for 2019 is that several of the Whitsundays' premier properties are about to reopen for business after extensive refurbishments – most running into the millions of dollars.
Hamilton Island is perhaps the most well-known estate. The Oatley family bought the cherished resort almost 15 years ago and has poured hundreds of millions of dollars into it. It's now a major hotspot for travellers, especially yachties (this is the Wild Oats sailing dynasty).
Its conference centre is the largestin the Whitsundays and has undergone multimillion–dollar refurbishment. The refreshed space can host up to 700 guests.
Daydream Island Resort is also preparing to open its doors after an extensive two–year, multimillion–dollar overhaul.
It will welcome guests from April, offering restaurants, bars and even an underwater observatory called Living Reef.
The 4.5–star resort will be available for exclusive hire with 277 north–facing rooms and conference facilities for up to 250. Over 20 activities are available every day including beach dinners, rainforest walks, reef cruises and scenic flights.
Similarly, the rebranded InterContinental Hayman Island Resort is expected to open in July after a $A100 million upgrade.
It will boast 166 rooms, eateries and bars, pools and a health and wellness spa.
The entertainment centre has capacity for 300 guests and outdoor spaces can host events for 10 to 320 guests.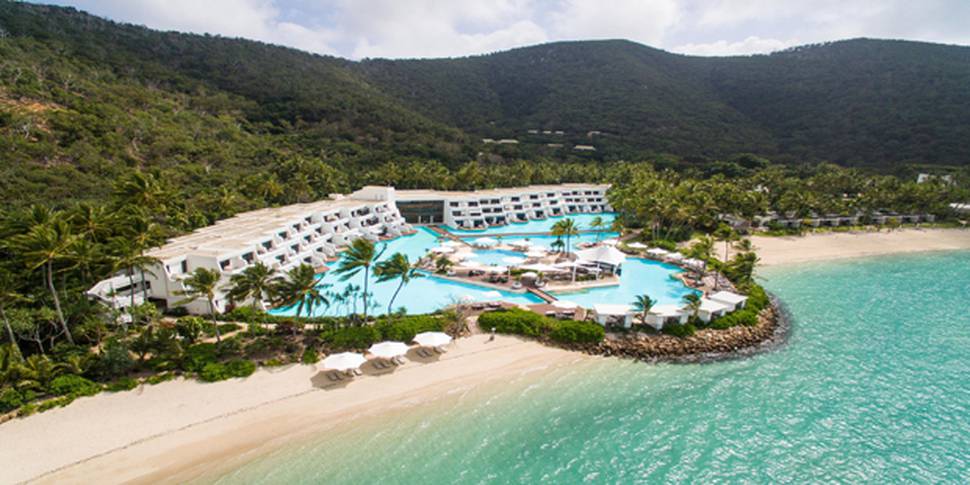 Cairns
Long known as Australia's Adventure Capital, Cairns' skyline is being transformed with the arrival of three new five–star resorts in the next 18 months.
They're the creation of the Crystalbrook Collection, which has made significant investments in Tropical North Queensland's tourism and events sector.
As well as its three "sibling hotels", the company has bought and is redeveloping Port Douglas' superyacht marina. It is building another resort there, and owns a 35,000ha cattle station 215km west of Cairns, which houses Crystalbrook Lodge luxury retreat.
Its first Cairns property, the striking Riley by the Crystalbrook Collection, opened in November. Built around a 1000 sq m lagoon–style swimming pool, Riley offers 311 rooms and suites, three restaurants and a rooftop bar. It has six event spaces which can hold up to 440 guests cocktail–style or 280 seated.
The other Cairns properties will be Bailey and Flynn, opening in 2019 and 2020.
Says its marketing director, Katie Malone: "Cairns and Tropical North Queensland is a fantastic destination for New Zealand events, conventions and incentive groups. We believe Crystalbrook Collection's properties will provide a greatly expanded offering for New Zealand.
"While all three hotels are five–star, each has a different personality and position in the market, enabling clients to select the hotel that best suits the individual group."All of the properties are centrally located, making it easy to stroll the Esplanade and city, taking in the sights and sounds while also providing a perfect location to access the Reef, Daintree Rainforest and to experience some of the region's rich Aboriginal culture."