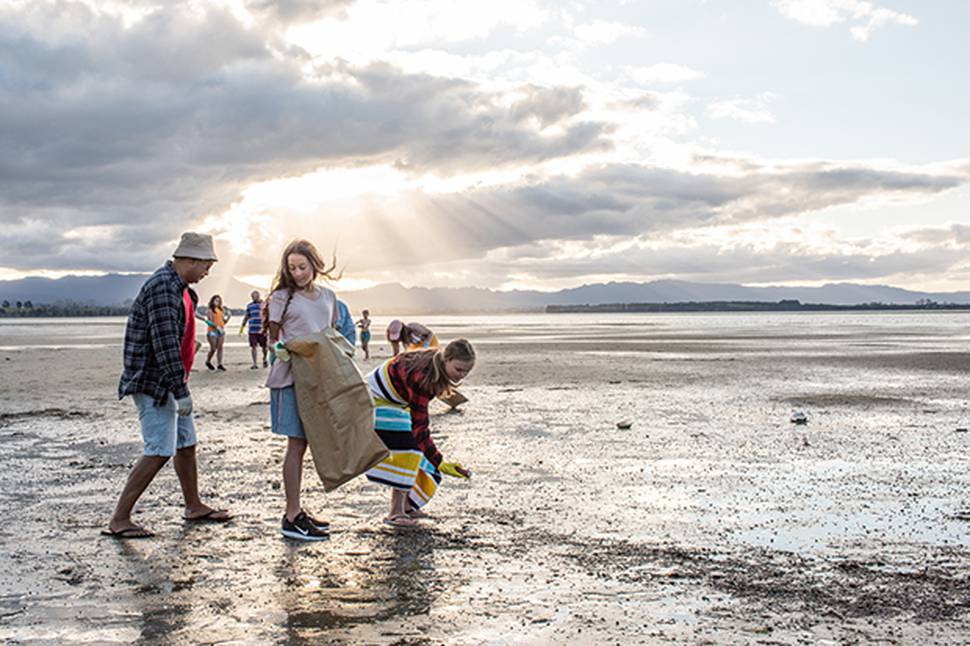 1. Join the 'clean team'
On World Water Day (or any day for that matter), head down to your local beach, stream, lake or river, and pick up some litter. Even better, challenge your friends, family, school, club or workmates to come along too – or why not get the whole neighbourhood involved via social media or your local website?
Alternatively, you can sign up to help out at one of the many waterway clean-up projects happening regularly all around the country - check your local council website to find events or initiatives in your area.
2. Plant a tree
Or better still, lots of trees! Planting riparian areas along waterways helps improve water quality because plants function like a sieve, helping to filter out sediment and nutrients before they enter waterways, reduce land erosion and improvinge habitats for native wildlife.
Dairy farmers have been hard at work planting trees on riparian strips along streams and there are loads of tree-planting groups and initiatives happening all over New Zealand.
Check out the Department of Conservation, Nature Space, Conservation Volunteers or your local council website to find events and initiatives in your area.
3. Donate a tree
Did you know that Kiwis have planted over 23 million trees since 2016! And the goal is to plant at least a million more this year. Donating a tree (or many trees) is a really great way to help improve our waterways - because trees help to reduce erosion, filter out sediment and attract native birdlife. So if you don't have the time or ability to get out and plant trees, donating them is a fantastic way to do your bit!
See Trees that Count to find out how to go about it.
4. Help restore natural wetlands
Wetlands are the 'kidneys' of the land – filtering, absorbing and transforming contaminants before they can affect streams or lakes. Wetlands also help protect land from flood damage by slowing or holding surface water and releasing it slowly over time – and provide a valuable home for native plants and animals.
For the past few years, dairy farmers have been actively protecting, restoring and creating wetlands – which can remove between 75 and 98% of nitrate from the runoff they intercept. Wetlands also trap sediment and phosphorus and can significantly reduce contaminants. But there are plenty of other wetlands around New Zealand that need your help! To find out how you can help restore or create a wetland in your area, check out The Department of Conservation, The Wetland Trust or your local council.
The National Wetland Trust (NWT) – is a non-profit organisation established in 1999 to increase the appreciation of wetlands and their values by all New Zealanders. The Trust aims to get Kiwis"into" wetlands, through education, information and providing a platform for networking across New Zealand. Since 2004, the Trust has organised biannual symposia to bring together all wetland restoration enthusiasts, practitioners and researchers to share their stories and knowledge, build networks and gain inspiration.
The Trustees are all volunteers and work with many communities and individuals, who volunteer their time to progress the Trust's goals. The Trust is seeking to develop long-term partnerships with organisations that are interested in working with and/or supporting the Trust's work.
Visit the website to find out more about the work the Trust does or contact enquiries@wetlandtrust.org.nz for more details on partnering with the Trust.
5. Join the #reusablerevolution
Whether it's disposable coffee cups, plastic bags or plastic water bottles, pledge to give them up for a month, a year or forever - and use eco-friendly alternatives instead. It all means less waste going into our environment – and into our waterways.
6. Put 'nothing but rain down our drains'
Not all drains are treated, so anything you put down the drain can affect our waterways. Avoid putting chemicals or cleaning products down the drain and don't throw any unwanted medicines, antibiotics or vitamins down the sink either - as they can contaminate our waterways and affect aquatic wildlife.
If you have leftover medicines, take them to your local pharmacy for disposal.
7. Dispose of paint and other chemicals responsibly
For water-based paints, don't wash paintbrushes and rollers under a tap. Instead, use a bucket of soapy water to wash them thoroughly, then pour any remaining water into a corner of the garden.
For acrylic-based paints, soak them in paint thinners – but don't dump the paint thinner when you're finished! Let the paint solids settle to the bottom of the jar, then pour the rest into a clean container. Let the solids dry outdoors then dispose of them responsibly.
Some paint retailers will recycle or dispose of unwanted paint and used containers responsibly – or you can donate unwanted paint to community groups.
8. Reward others for doing their bit.
Do you own or manage a business near a beach, river or lake? Some eco-minded cafes have started rewarding customers with a complimentary coffee or ice cream if they bring in a bucket of rubbish from the beach - or a discount on their hot drink if they bring in a re-usable cup. We think those are fantastic ideas - is there something similar your business could do?
9. Join a citizen science group
You don't need to be a scientist to become a 'citizen scientist' – just a passion for helping our waterways and some spare time. By monitoring water quality and sharing data from your local lake, river or stream, you'll be helping to inform decisions about the best way to improve waterway health.
Contact your regional council, or start your own citizen science kit (Check out SHMAK – NIWA's Stream Health Monitoring and Assessment Kit.


10. Help your local Enviroschool!
Farmers, businesses and community groups, why not get in touch with your local Enviroschool?
Let them know you'd like to help them in their aim to "foster a generation of people who instinctively think and act sustainably", whether it's by sponsoring an environmental project or rolling up your sleeves and getting involved.
11. Spread the word at work
You could make your next team-building day or social event something that helps the environment, like planting trees or cleaning up a local beach or wetland. Or why not ask your employer to help offset their carbon footprint by using social funds to purchase trees and plant them on the banks of your local stream.
12. 'clean, check & dry'
Pledge to always clean your boat, fishing gear or shoes before moving to another lake, river or stream. This helps to avoid spreading introduced aquatic plants - which can have a huge impact on our waterways. Always check your gear or boat for weeds or clumps or algae – and leave them behind at that waterway.
Find out more here.
13. Go car-less for a day or start carpooling
Whether it's once a week or once a month, driving less can help reduce the amount of oil that goes through our stormwater drains – as pollution in stormwater drains can end up in our oceans, rivers, lakes and streams.
Why not take a scooter, bike, bus or train instead – it's better for you and the environment!
14. Use 'safe for water' products in your house
One easy, doable way to help New Zealand's waterways is to switch up your house cleaning products to a 'Safe for Water' alternative. For starters, try out this super-simple dishwasher powder recipe:
•1 cup borax
•½ cup washing soda
•¼ cup citric acid
•¼ cup salt
Put all ingredients in a container and shake to combine. Store in an airtight container and use 1 tablespoon for one load of dishes.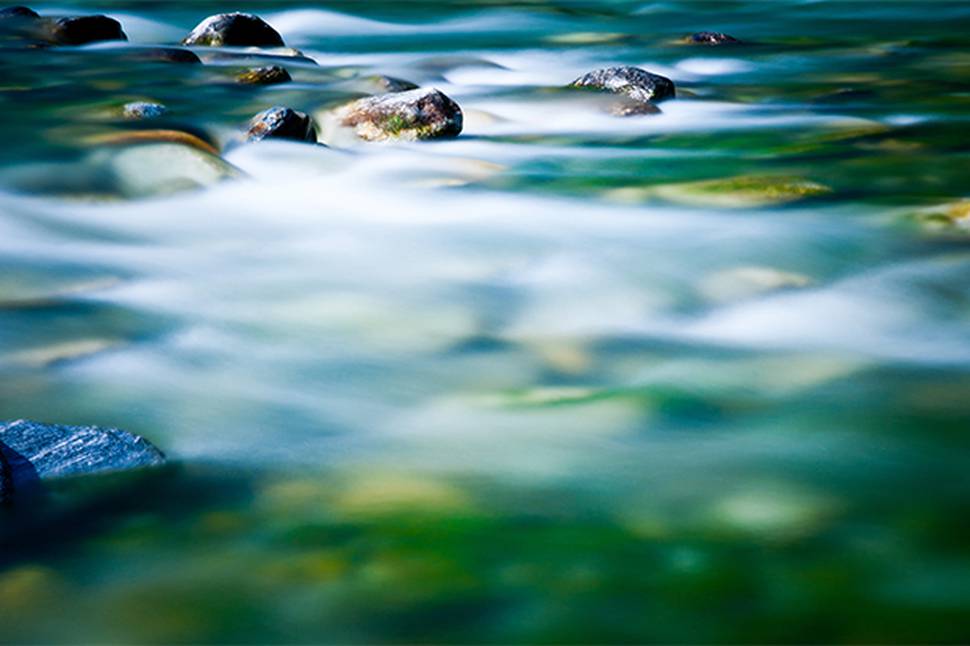 15. Pledge to pledge!
Do your bit by contributing to initiatives to improve our waterways such as:
•Million Meters
•Mountains to Sea Conservation Trust
either a one-off donation or a regular contribution.
16. 'Go bush'!
If you like to be 'hands on', pledge to help NIWA map the locations of riparian restoration projects. This project aims to locate and link riparian projects and enhance waterways through streamside planting.
17. Re-use your grey-water and rainwater
Grey-water is the relatively clean wastewater from baths, sinks, washing machines etc. Pledge to capture and re-use your household's grey-water to irrigate your garden or wash your car. Or if you're building a house, insist that your architect specifies a system to capture rainfall and recycle non-septic household water.
You see, less water leaving your property means less water entering waterways, means less water picking up contaminants, means less water causing stream bank erosion when it rains heavily.
18. Teach your kids about water quality
The more we know, the better we can act. So encourage your kids to learn more about the science behind improving water quality online – or to choose a water quality experiment for a school science project.
And farmers, don't miss out on your chance to share the great environmental work you've done on your farm. Sign up with DairyNZ to be a school farm visit host and help educate children and their parents.
19. Only use native aquatic plants in your aquarium
Submerged plant weeds cause huge problems in many of our waterways so if you flush them down the loo, there is a risk of spread. If you use aquatic plants, ask your pet store for native species. If you do choose introduced species, dispose of them in the garden, not your local stream.
20. Farmers, do your bit too
We know that dairy farmers have been working hard for many years to improve on-farm water quality right across New Zealand – but there's always more we can all do!
For hints and tips to help protect waterways and improve water quality on the farm, check out the DairyNZ website, or download our enviro-walk app that helps you quickly assess environmental risks on your farm.