Napier Port arrived on the sharemarket not with a bang, but with a tug boat blowing its horn.
The NZX bell was rung at a ceremony at the port on Tuesday morning, along with a tug boat making some noise, to signify the port's arrival on the stockmarket.
There was an initial surge in the share price, which was up almost 15 per cent from $2.60 at its opening to $2.98 at the day's end of trading at 5pm.
The event included speeches from Napier Port chairman Alasdair MacLeod, NZX chief executive Mark Peterson, Hawke's Bay Regional Council Chairman Rex Graham and Napier Port chief executive Todd Dawson.
Dawson said it was wonderful to be trading.
"There was strong support which we saw through the book build process, which is all the demand from locals for shares in the port.
"I think it's a responding endorsement of the fact that the port is such a big part of Hawke's Bay."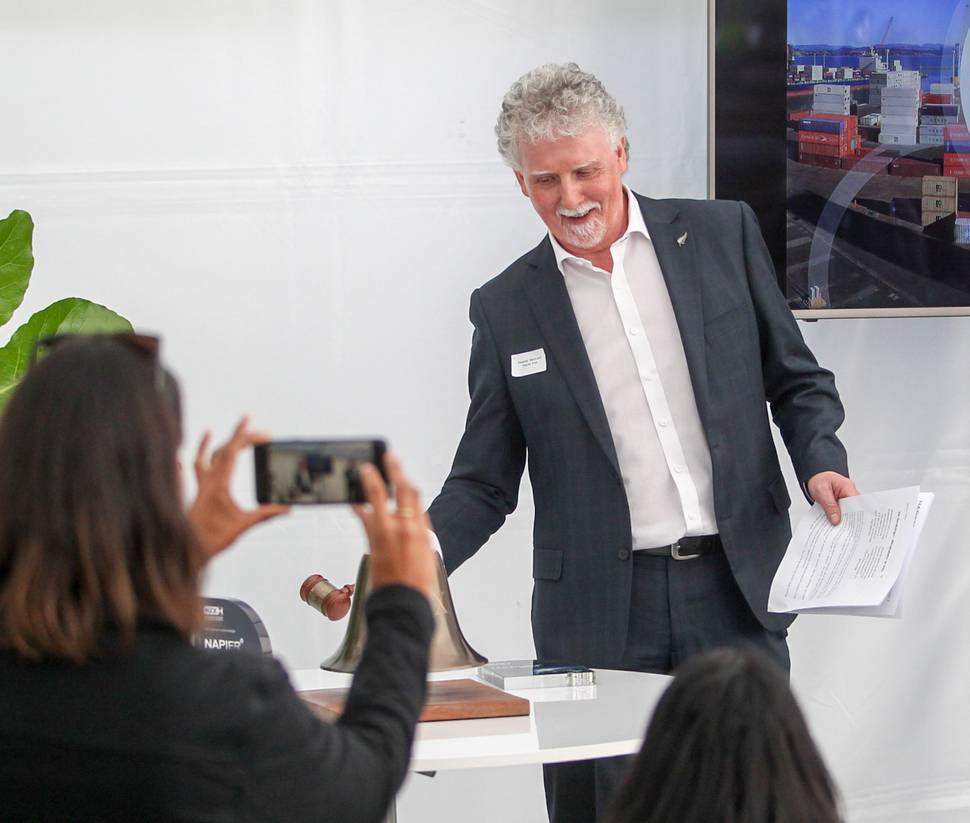 He said the next step in the port expansion was to sign off the construction contract, and work was expected to be under way in the next month or so.
He said he was not concerned about the recent drop in log prices.
"The sharemarket is going to do what the sharemarket is going to do, but the log pricing from what we are hearing has stabilised now.
"It's a commodity which goes up and down, it's a cyclical thing.
"The port is a long-term investment and investors will look all those cyclical demand issues."
Hawke's Bay Regional Council chairman Rex Graham said he understood there were some people in Hawke's Bay who were anxious about the listing.
"We are now able to build a new wharf, which we desperately need to cope with our growing economy.
"We've protected ratepayers, many of whom are still struggling, from the cost of port development.
"We've maintained majority community ownership and control of Napier Port, for the benefit of all Hawke's Bay locals."
NZX chief executive Mark Peterson said Napier Port would hopefully be an example to other regional councils.
"The model being deployed here is a great way for local authority to facilitate growth.
"At the same time councils can retain influence and control, but allow iwi, employees and the Hawke's Bay residents and ratepayers to co-invest."
The Port is the second new equity IPO to list this year after cannabis research company Cannasouth's debut in June.
The Initial Public Offering raised $234m earlier this month, which will be used to pay off debt and build a new wharf.
Twenty per cent of shares were allocated to Hawke's Bay locals. Of eligible Port employees, 97 per cent took up the priority offer. On listing, Napier Port was 90 per cent New Zealand-owned.
Scaling across all investor groups was required.
Hawke's Bay Regional Council authorised Napier Port to sell up to 45 per cent of the port in June, after an in principal decision was made after three days of hearings in December.
51 per cent of written submissions to Hawke's Bay Regional Council were in favour of the partial selldown, whereas the majority of spoken submissions were in favour of the port remaining 100 per cent owned by the council.
The offer was lead managed by Deutsche Craigs and Goldman Sachs, with Forsyth Barr as co-manager.
$110.2 million of the capital raised will be used to repay the port's current debt and provide cash and undrawn debt facilities sufficient to meet the Port's future capital requirements, including the new wharf.