The Productivity Commission has questioned news reports suggesting its recommendations on pricing agricultural emissions would cost an average dairy farmer in the vicinity of $231,800.
The recommendations come in the commission's recently released Low-Emissions Economy final report.
The commission said in a statement it could replicate an estimate of around $230,000 per year, but only by making some "fairly heroic" assumptions - in particular, that no progress was made in reducing on-farm emissions between now and 2050.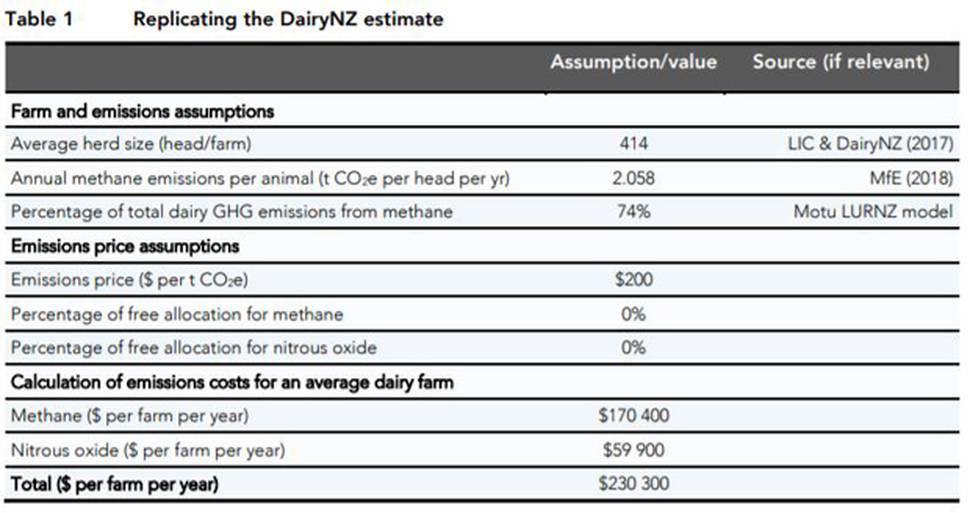 The commission said some of the key assumptions needed to generate the amount reported were inconsistent with its findings and recommendations:
• An emissions price of $200 is in place – the Commission's modelling, included in the report, indicates that to achieve a net-zero target, emissions prices would eventually rise to between $150 and $250 per tonne CO2e by 2050. For a 25 Mt target (similar to net-zero long-lived gases and roughly a 20 per cent reduction in methane), prices could rise to between $75 and $150 by 2050.
• No progress is made in reducing annual on-farm emissions between now and 2050 – the report notes that many farms have scope to achieve modest but material reductions in on-farm emissions through improvements in efficiency and adoption of low-emission practices (eg, reduced use of fertiliser). The possibility also exists of new technologies emerging that can achieve emissions reductions of up to 30 per cent (eg, a methane inhibitor).
• Both agricultural methane and nitrous oxide face the same emissions price – the report recommends that methane is priced in a separate pricing scheme to nitrous oxide (recommended to be included in the NZ ETS). This is especially important since methane makes up about 74 per cent of an average dairy farm's emissions.
• Agricultural emitters receive no free allocation – the report does recommend that free allocations for nitrous oxide in the NZ ETS should be phased out over time towards zero. But with methane in a separate pricing system (either a dual cap ETS or a methane quota system), farms would still receive some permits for emitting methane even in 2050.
The commission said using the information in the above table, it could estimate the annual emissions cost for a dairy farmer at current emissions prices and likely policy settings.
With the current NZU price of roughly $25 per tonne and with 95 per cent of emissions permits freely allocated (as proposed by the Government), an average farm would pay roughly $1400 per year.
The commission's table estimates the annual emissions cost faced by an average dairy farm under several basic scenarios. It says the 2030 scenario and 2050 scenarios involve differential treatment of methane emissions and nitrous oxide emissions as its report has recommended.
DairyNZ said this week that sustainable dairy farming had a critical role to play in New Zealand's future prosperity and wellbeing.
"We are committed to successfully farming within environmental limits, including climate change commitments," chief executive Dr Tim Mackle said.
Federated Farmers vice-president Andrew Hoggard said while there were positive aspects to the commission's report, it showed how fixated New Zealand was on its own emissions and how it wasn't thinking globally.
"Just looking at New Zealand on its own, forgetting it's global warming, not New Zealand warming and not taking into account that our pastoral production systems generate among the lowest food footprint in the world."