Is it a lamp, a work of art, a piece of furniture, or a magical prop from a science fiction film?
It's all that, and better yet, it's the brainchild of a Kiwi inventor who has stunned New York with his interactive lamp that mimics thunderclouds.
Richard Clarkson has unveiled Cloud 2.0, which uses motion sensors to create a unique lightning and thunder show.
"This is a new kind of magic, one not based on illusions and trickery but on sensors and code," Clarkson's promotional material says.
Raised in Hawke's Bay, Clarkson studied industrial design at Victoria University of Wellington before studying in the Big Apple.
The whizz-kid lives in Brooklyn but works in Manhattan, where he's registering his company, which also employs staff back in New Zealand.
The Cloud's speakers can stream music from Bluetooth-compatible devices and multiple Clouds can communicate with one another via radio frequency receivers, allowing data to be sent and received.
"If enough of them see enough motion at the same time, they all have a big thunderstorm together," Clarkson told the Herald on Sunday.
A model with remote controls, colour-changing lights and speakers costs $3,800 plus shipping.
Video: Richard Clarkson's Thundercloud lamp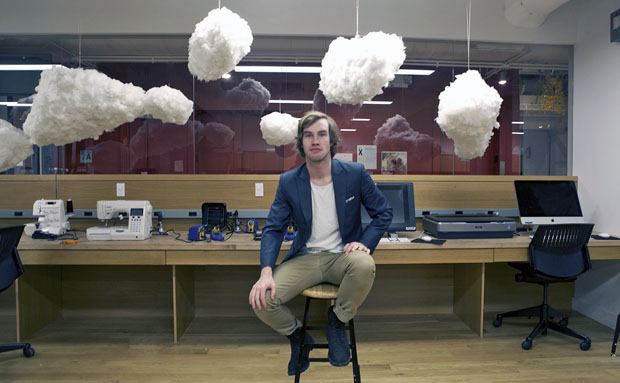 Clarkson says the first Cloud in NZ will be delivered to a Wellington company in about two weeks. Photo / Richard Clarkson Studio
Clarkson said the first Cloud in New Zealand would be delivered to a Wellington company in about a fortnight.
A "lamp only" version is for sale on Clarkson's website from $1,090.
The inventor also worked on one-off Clouds with quirky features, including one that squirts water.
Developing the Cloud presented unique challenges. Apart from writing code and fine-tuning technical details, Clarkson had to find the "perfect fluff".
In a spirit worthy of the best No 8 wire inventors, he hit homeware stores to check out duvets and pillows to find the right look and feel for his cloud, finally choosing a hypoallergenic polyester fibre.
Clarkson moved to New York in 2012 but returns to New Zealand often.