After weeks of taunts by Elon Musk's spunky space start-up, America's most established rocket-launch company is finally pushing back.
In a meeting with reporters on Wednesday, Michael Gass, the head of United Launch Alliance, met critics' questions about its reliance on Russian-made engines head on, saying it would begin to develop its own engine in conjunction with several other firms. And he targeted Musk's SpaceX, saying it was trying to "cut corners" and taking a "dangerous approach" to entering the national security launch business.
Read: SpaceX CEO Musk launches tweet war
The counterattack by ULA, which is made up of defence giants Lockheed Martin and Boeing, includes a media campaign designed to showcase the firm's long-held dominance in the field of space flight and highlight what it calls "results over rhetoric."
"The whole tenor of the campaign is to make perfectly clear that there is a lot at stake when it comes to successful space launches - literally lives are at stake," Gass said.
"We also want to make clear that there is a big distinction between a company that has a 100-year combined heritage in successfully delivering satellites into orbit and a company that is not yet even certified to conduct one [national security] launch."
In April, SpaceX sued the federal government, protesting the award of a multibillion-dollar contract to launch defence payloads, such as satellites. Musk has repeatedly said that the contract, which was awarded to ULA on a sole-source basis, should be canceled and that SpaceX should be allowed to compete.
Since then, he trumpeted his company's ability to provide the launches more cheaply and has repeatedly mocked ULA for using the Russian-made RD-180 engine in some of its rockets at a time of heightened tension between the United States and Russia.
During an appearance last week in Washington at the Newseum, Musk said that "Lockheed and Boeing are used to stomping on new companies, and they certainly tried to stomp on us. . . . We're certainly a small up-and-comer going against giants."
Russian Deputy Prime Minister Dmitry Rogozin has said he would prohibit the export of the Russian-made engine for uses in US military launches. But Gass said that there has been no disruption in supply and that he expected orders to continue to be filled. Two engines are scheduled to be delivered in August, he said, and three more in October.
ULA is also capable of eventually building the engine domestically, Gass said. ULA recently signed contracts with a number of companies to help build a replacement engine that would be manufactured in the United States. Members of Congress and defence officials have said they were concerned about the supply of the engines amid tensions that have arisen between Russia and Ukraine.
"Given the turmoil in Ukraine, we do believe now is the right time for a domestic investment," Gass said.
Gass pointed out that Musk's company still does not have the proper credentials to compete in the business of launching defence payloads.
"SpaceX is trying to cut corners and just wants the USAF to rubber-stamp it," Gass said. "SpaceX's view is just 'trust us.' We obviously think that's a dangerous approach and, thankfully, so do most people."
He also called SpaceX's lawsuit "baseless."
"SpaceX is only trying to get from the courts what it was not eligible to receive during the normal acquisition process," he said. "They are in essence saying change the procurement rules for me."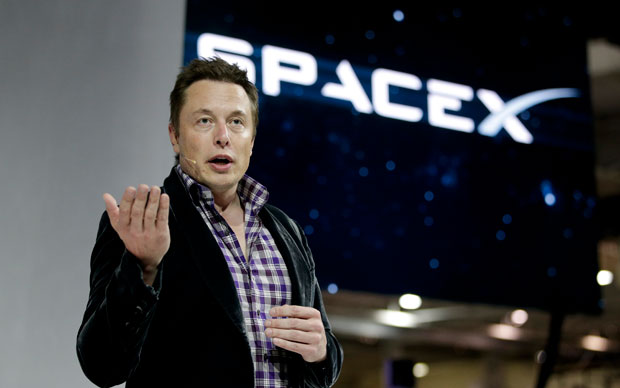 SpaceX CEO Elon Musk. Photo / AP
SpaceX punched back late on Wednesday. "ULA doesn't believe in competition. Monopolists never do," spokesman John Taylor said in a statement. "In ULA's case, it would rather call a press conference to announce an inside-the-Beltway lobbying campaign aimed at distracting lawmakers from the benefits competition brings to the marketplace: better technology, improved reliability and affordable prices."
Taylor added: "The truth is ULA is wholly reliant upon its Russian business partner and in doing so, it has cost the US taxpayers billions and jeopardised the country's national security."
Gass wouldn't name the companies that ULA has contracted with to develop the new engine. He said it wasn't clear whether the company would develop the engine itself or in partnership with the US government. A new engine could take five to seven years to develop, he said.
The White House said on Tuesday that it opposed a congressional proposal to spend $220 million for a new engine, saying the program would be too costly and take too long. "This approach prematurely commits significant resources and would not reduce our reliance on Russian engines for at least a decade," the statement said.
But the White House said it was open to potential public-private partnerships, which it said would "drive innovation, stimulate the industrial base and reduce costs through competition."
- Washington Post