Daryl Anderson loves Meccano.
His Hāwera house has an entire room / workshop dedicated to the metal model construction system, and he has an encyclopedic knowledge about its history.
"It was invented by Frank Hornby back in 1898, that's the same Hornby who invented the toy train system.
"He was a very clever man.
"Back in the 1890s, he was going to work in Liverpool, on a train, and saw some cranes. He had the idea to make something like it that a child could build out of tin plate."
The engineering behind Meccano appeals to Daryl.
"I'm a monumental mason, which is a practical job, using my hands, sort of building in a way, so it fits."
Daryl says he first discovered Meccano as a child, although he didn't own any until he was an adult.
"I had a New Zealand made plastic version of Meccano as a child. There were lots of import restrictions after the war so other manufacturers popped up, with their own version of it. It was having that set which first sparked my interest I suppose."
When Daryl was in his early 20s he bought some secondhand.
"I was at an auction and saw it, so got it. I can still visualise exactly what I got. It wasn't one set as such, it was a collection of bits and pieces."
That collection, says Daryl, soon got him hooked.
"I started making some models, and my kids, they were young then, they played with it too, and it just went on from there."
One of Daryl Anderson's Meccano models which will be on display at the biennial Meccano exhibition in Inglewood over Easter.
It has gone a long way from there in Daryl's life. From one box of pieces at an auction to a packed workshop at home, where there are numerous models on display, being built, and being changed.
"I joined the local Meccano club 30 years ago, and immediately felt at home. Lots of kindred spirits. I've made lifelong friends thanks to this hobby."
The club, the Manawatu/Taranaki/Whanganui Meccano Club, will host the biennial Meccano exhibition at Inglewood town hall over Easter.
Daryl says the exhibition, which attracts exhibitors from overseas as well as all over New Zealand, is a great event to take children to.
"We all put lots of effort into the exhibits, so there is lots to see, but also do. One of the great things about Meccano, is how it be motorised and do so much.
"One of our most popular models is the Meccanograph. It was one of the first Meccano model ideas and in one form or another, has been around for over 100 years now. Children love seeing the different designs it can create."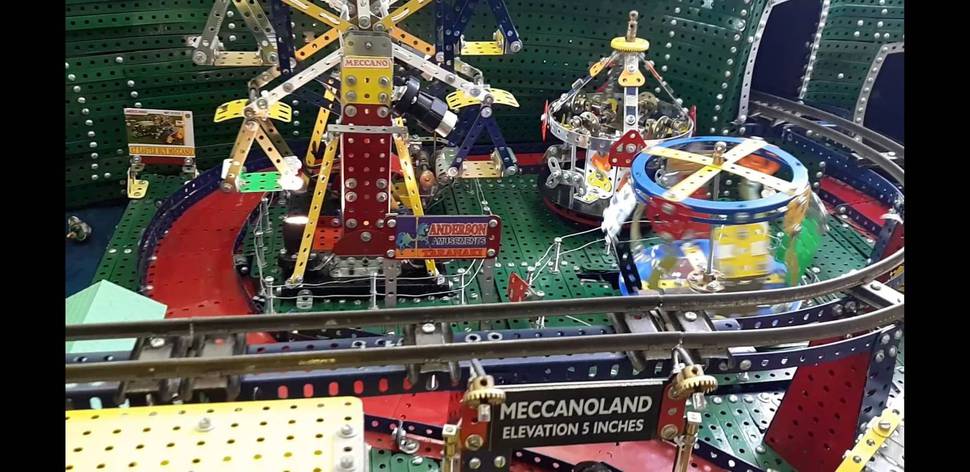 Daryl says he thinks Meccano is a great hobby for any age, and he thinks it is more important than ever to encourage children to explore it.
"Anything which gets them off their electronic devices is great. They need to act and do, not sit and watch.
"Meccano is a great platform for children to explore - as it has so many options. If they like robotics, they can build a robot, if they like theme parks, then they can build one. You can make a marble machine, a boat or a ship, a crane, your imagination is the only thing to hold you back."
■ Meccano Exhibition: Inglewood Town Hall, Cutfield Street. Saturday, April 20-Sunday, April 21. 10am-4pm. Entry: family - $10, adult - $5, children under 15 free.