A commemorative war exhibition is on display at the Eltham Village Gallery.
And When He Was Called, He Went, opened on Monday and features 28 artworks as a large installation by Hamilton multi-media artist Elwyn Stone.
Elwyn created the artworks as a "direct response to the cataclysmic events of war" and to honour the legacy that has been passed onto a generation that has no experience of war.
"It is a window in time through the lens of a woman's perspective on war ... These artworks are a poignant reminder of loss, achievement, transformation and remembrance."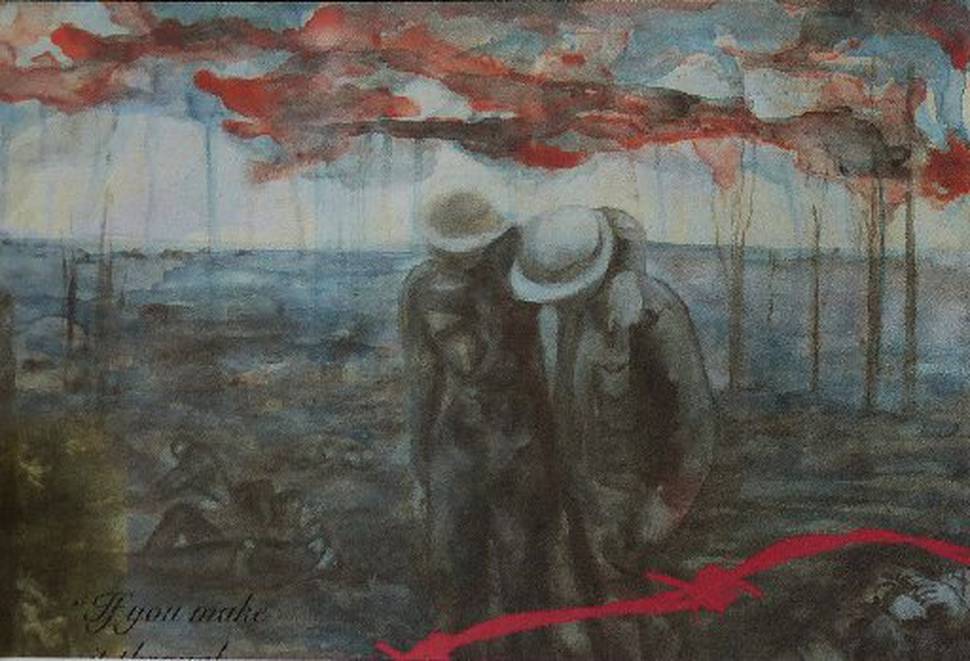 Elwyn says the body of work has also evolved from a personal war story — her own father was a returned serviceman from Stratford and was a gunner in World War II. Rather than focusing on specific battles, the collection aims to depict in a conceptual sense multi-layered images and document New Zealand at war rather than attempt a world view.
Elwyn painted a series of images from a soldier's perspective for the exhibition before researching ways in which light could illuminate and engage the audience. She decided to use a mechanical print process to transfer brush strokes onto a brushed silver board. The final pieces took on a new life becoming iridescent and softer.
The exhibition's centre piece is an installation called Tears For Our Fallen — 100 Tears For 100 years, which is a large crosswrapped in barbed wire suspended from the ceiling. The installation features 100 falling tear drops — each one bearing a poppy to symbolise pain and loss.
Elwyn says the centrepiece installation offers the audience a place pause and reflect on the commemorations around World War I.
The exhibition was put together in 2014 and has since been to several venues in New Zealand, including the National Army Museum at Waiouru.
Elwyn was born in Taranaki and and now lives in Hamilton where she is heavily involved in the art scene.
And When He Was Called, He Went is at the Eltham Village Gallery until May 4.