The contents may have been wet and soggy but there was still plenty to be found inside a 25-year-old time capsule which was lifted at Toko School last Tuesday.
Students let out an excited gasp when the large metal capsule was pulled out of the ground but were disappointed to find most of the contents laden with water.
Upon closer inspection an old ruler and pen were found to be intact and although the maths workbook and dictionary were unsalvageable, many of the handwritten letters were still legible.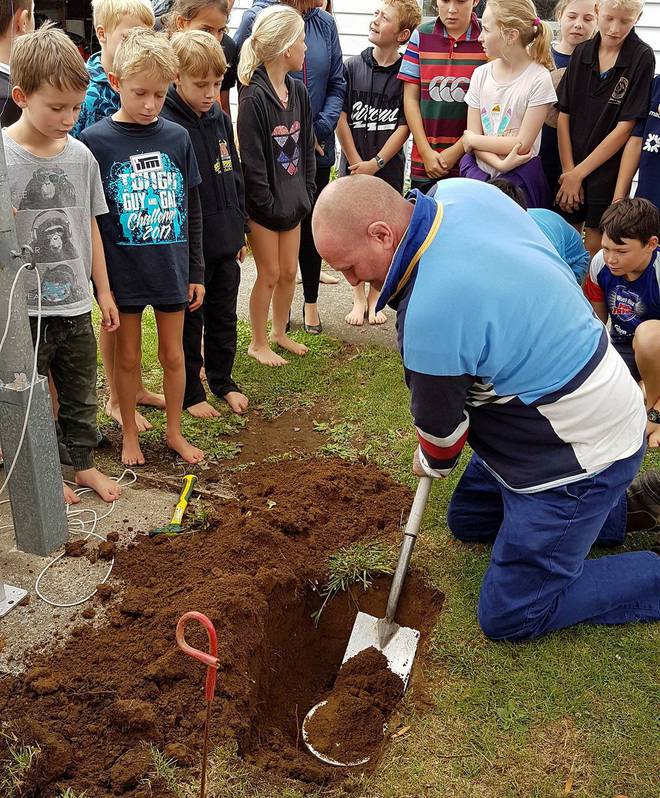 The school is holding its 125 year jubilee at Easter weekend and the time capsule was lifted early so the school could organise displays of what was found.
Toko School and District 125th Jubilee Committee chairwoman Margaret Mason helped pull the contents out of the capsule and took time to carefully peel a part the stories and letters which were all stuck together.
School principal Kim Waite says although it was disappointing to see the contents so damaged, the school had a good sense of what was in there which is the most important thing.
She says they would look at the capsule's contents and decide what kind of things the students would put in their own to capsule, ready to be put down later in the year.
Kim says the contents will be dried out and the school would figure out how to improve on the next time capsule.
Past student Kathryn Johnson (nee Monk) was 10 when she wrote a letter about her life which was placed in the time capsule.
Kathryn wrote that she wanted to either be a nun, artist, a vet or nurse when she grew up. She is now a nurse with three children who lives near Omata. She told the Stratford Press it seemed like yesterday that her class wrote the letters.
"It is really cool and brought back loads of memories ... even though it seems like 1993 was only a few years ago."
Jan Worthington was a teacher in Room One at the time and says she remembers every child at the school contributing something towards the time capsule. "I feel a bit disappointed but when it's dried out it will become more meaningful — we didn't have snaplock bags back in those days. It brings back a lot of memories."
Neville Cleland attended the school in the 1940s and his father used to be on the school committee.
His family has been connected with the school since it opened in 1893.