Children are shrieking with laughter as they speed around a corner on a magic carpet.
The excited mob have piled onto the carpet and cling on for dear life as Dave Hunger drives off down the paddock, towing them behind his tractor.
The children have come to Fernbrooke Farm Amusement Park to enjoy many exciting and wonderful things they would not usually get to enjoy in their day-to-day life.
Dave — a farmer and slightly eccentric inventor — is clearly enjoying the ride too and grins ear-to-ear as he steers the tractor around for a another circuit. Dave has opened his farm up to the public once again this year and the entertainment is endless — from novelty swings, an ET carousel bike ride, maze, novelty bikes, see saws, a swing bridge, bush walk, secret tunnel, weta cave, trampoline and rides on Baby the pet cow.
He's opening up the farm to promote old-fashioned values of family togetherness, adventure and to entice people out of their comfort zone. The idea has been a hit with the wider Taranaki community, with around 1200 people having come through the gates during the seven days it has been open since Christmas.
People who visit give a donation and Dave is rapt that to have raised around $1300 which will be donated to three charities — Grapevine Magazine, Hospice Taranaki and the Child Cancer Foundation. Dave is aiming to have around 20 open days over the summer and says things are going well.
"Things are going really well — there are lots of happy kids and a lot of satisfaction seeing them outside."
Dave first invited the public onto his farm about six years ago but closed down last year to make sure he could ensure safety. He had been approached by people concerned he could risk prosecution if someone was injured.
Since reopening at the start of summer, he has made a few changes, including lots of signs and hand rails, netting on steps and removing the flying fox.
He says the changes haven't taken away the fun elements and the main thing was to get children and their families outdoors and off the couch.
"It's for children to experience an adventure and it's something a lot more stimulating than Xbox or sitting on the couch watching TV.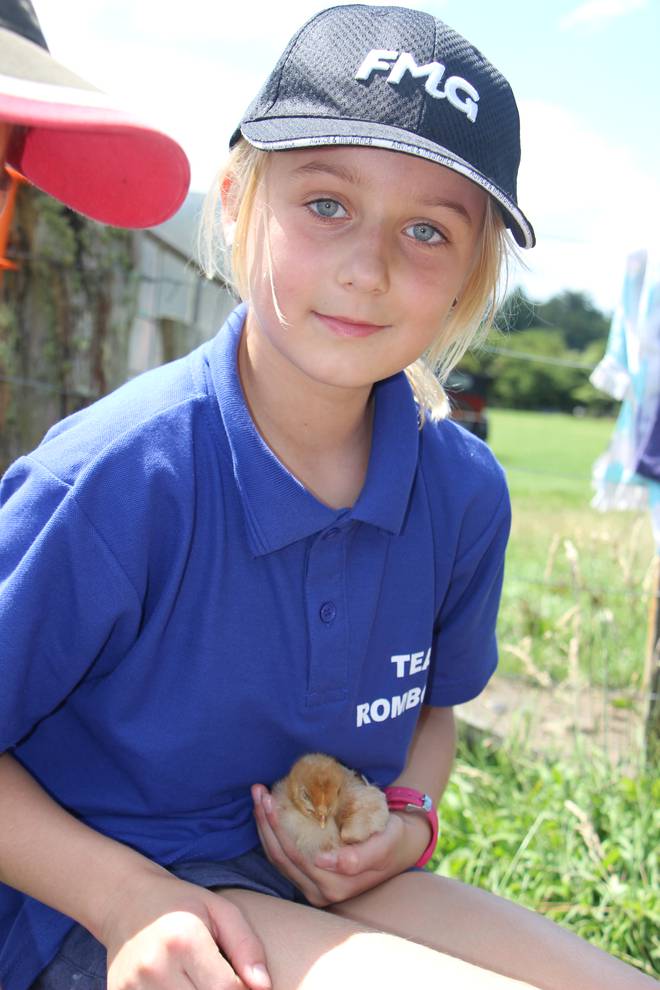 "Its about teaching kids to manage themselves and overcome their fears in a safe and controlled environment."
Dave wants to give back to the community and he hopes to sow the seed of kindness and community mindedness in the next generation. Dave says part of his inspiration for the venture came after reading a Papers Past story written 100 years ago about Ngaere Gardens.
The story was about a man who dug out a pond in the shape of the North and South Islands and invited the community to come and enjoy it.
"People would get in their gigs on a Sunday afternoon and head down to have a picnic there.
"He would open it up for people to come and enjoy it and I thought what a cool testament — a cool thing to do for your community.
"Who knows, what I am doing may inspire others to do kind things for their community one day — it may take 100 years. You just don't know the seeds you are planting in peoples lives."
Dave usually enlists a couple of volunteers to help out with running the park, including his son Andrew Hunger.
Andrew, who also attends the farm as part of his role with the Mountain Vineyard Church Oscar school holiday programme, says he loves watching the children enjoy themselves and learning something new.
"I think it's pretty cool. Dad has always had great focus and an out-there approach to things."
Andrew says his father puts a lot of time energy and money into the park and works hard to create new and interesting things for families to see and do. He is proud of his dad and what he offers the community.
"He has a really generous spirit."