It was a dressing-room celebration befitting what has been described as one of football's greatest ever matches.
Tottenham Hotspur manager Mauricio Pochettino and his players carried on from the frenzied finish to the match, when they walked into the sheds moments after defeating Manchester City in a dramatic Champions League quarterfinal at the Etihad Stadium.
Spurs' jubilance was caught on camera, moments after the Londoners advanced to a first European top-flight semifinal in 57 years - winning the tie on the away goals rule despite going down 4-3 in Manchester.
In the video, Pochettino can be seen mimicking the "cojones" celebration of Atletico Madrid manager Diego Simeone and punching a clipboard, before waterbottles and jerseys go flying and the players burst into song - serenading teammate Moussa Sissoko.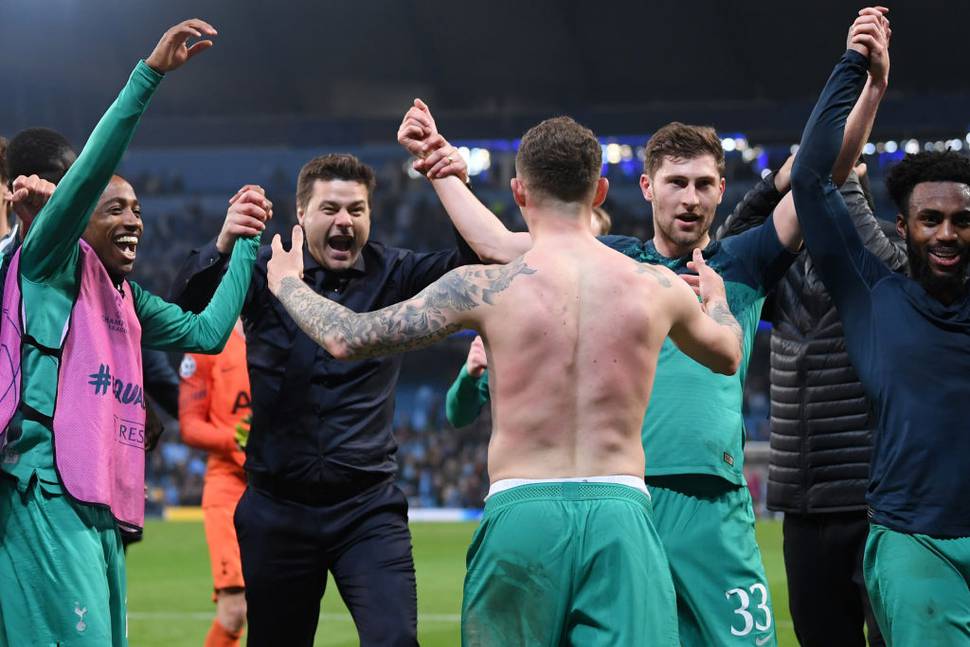 Sissoko, who was injured in the first half, was under the impression that Spurs had been knocked out - as he disappeared into the dressing room after Raheem Sterling's last-minute goal put Manchester City 5-3 up, and into the final four.
In a dramatic twist, however, Sterling's goal was overturned by VAR and City were eliminated.
"I was on the bench when I saw the goal that made it 5-3," Sissoko told L'Equipe. "I was so upset that I returned directly to the dressing room. I was alone, no one had accompanied me, no TV screen was broadcasting the game. In my head, we were eliminated. Then one of the staff members entered the dressing room and told me, 'Incredible, we did it!'.
"I said, 'How did we do it?' At that moment, he told me that the goal had been disallowed.
"So I put on a t-shirt, I forgot about my injury and I ran outside to join the others, not to miss the celebrations for such a historic moment. It was an incredible, emotional shock."
Spurs played in the semifinals of the European Cup in 1962 but have never reached the final four of the European Champions League.
They next face surprise package Ajax while Liverpool take on Lionel Messi's rampant Barcelona in the other semi.