One medal is guaranteed and more will be on the menu when seven New Zealand boats contest their respective medal races at the Princess Sofia Regatta in Palma tonight (NZT).
Andy Maloney will be racing for gold in the Finn class, going into the top 10 medal race with a six-point lead over four-time world champion and reigning Olympic champion Giles Scott from Great Britain.
It will be a two-horse battle for gold between Maloney and Scott but Josh Junior is in prime position to collect bronze, going into the double points medal race with a handy 12-point lead over fourth.
Elsewhere, Alex Maloney and Molly Meech are second heading into the 49erFX medal race, Gemma Jones and Jason Saunders fifth in the Nacra 17 and there will be three New Zealand crews in the 49er top-10 showdown, illustrating the strength and depth of the Kiwi 49er team.
Paul Snow-Hansen and Dan Willcox narrowly missed out on the men's 470 medal race, slipping from third to 11th overnight.
Andy Maloney and Junior have sailed consistently well all week, and Maloney was third and fourth today, but Scott closed the gap by winning both of today's race.
"I sailed pretty well," Maloney said. "I read the shifts a lot better than yesterday and managed to tack in the right places most of the time so made some good moves around the race course. It's pretty exciting to go into the medal race tomorrow in first with Josh third.
"We have both sailed really well this week tactically and we are obviously going quick. It would be awesome if we could both come away with a medal at the first European event of the season."
Junior will get a close-up view of the battle for gold but also has to be wary of others around him to secure bronze.
"Andy and Giles have a bit of a lead on me so there's no chance of me winning any more but it will be a pretty exciting battle for Andy to try to keep Giles behind him," he said.
"These two should have a good tussle.
"For me, it's probably about making sure I stay in third place. If all goes well, we can come away with a couple of good medals."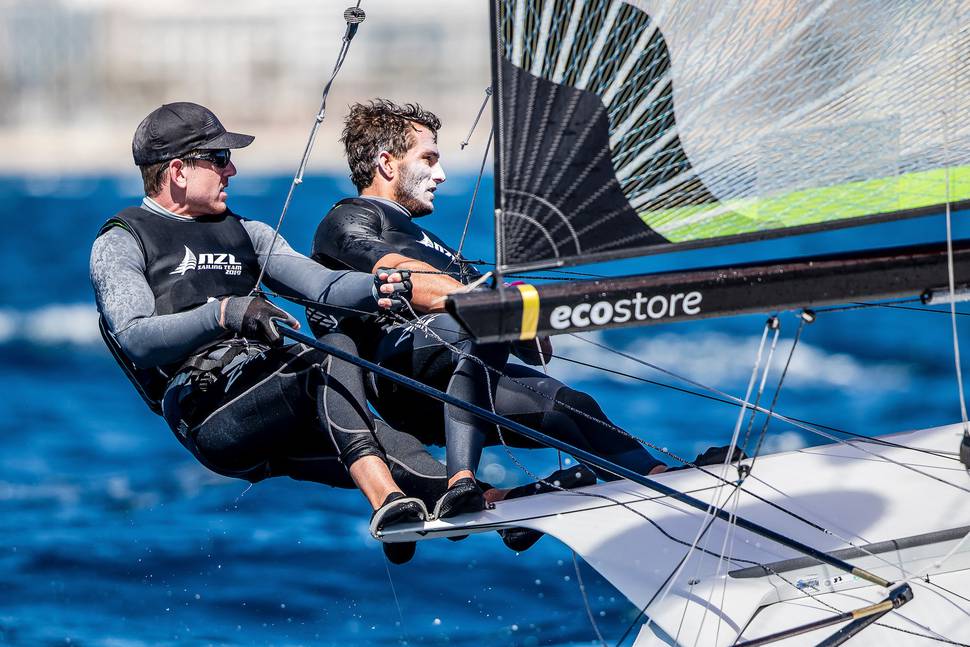 Maloney and Meech also have a good chance of picking up another medal, following on from the silver they collected at February's World Cup Series event in Miami.
Martine Soffiatti Grael and Kahena Kunze of Brazil hold a 17-point lead over the New Zealand pair - the two crews were first and second at the 2016 Rio Olympics - but the British combination of Charlotte Dobson and Saskia Tidey are only one point behind in third.
Maloney and Meech collected two fourth places and a seventh in their three races today in big waves and fresh conditions ranging from 13-20 knots.
"It was a pretty full-on day for us," Meech said. "Overall, we have been pretty consistent in this regatta, which has kept us in good stead going into the medal race.
"We'll go out there and do our best. It's going to be exciting to go our there knowing we are in the mix for the medals."
It will take something special for a New Zealand boat to win one in the 49er, and the British pair of Dylan Fletcher and Stuart Bithell have already wrapped up gold, but the medal race will be notable for the fact three of the 10 boats will have the New Zealand flag on them.
Logan Dunning Beck and Oscar Gunn are the best-placed of the Kiwis, jumping from 13th to sixth overnight on the back of three good results, including a win in the final race of the day.
Peter Burling and Blair Tuke are four points behind in seventh and Josh Porebski and Trent Rippey are ninth.
"We had a really, really good day today," Dunning Beck said. "It was a really good feeling, especially on Oscar's birthday, to win the final race of the day. The points are close. We can go up and down so we will have to put together a really good race ... but we are in the hunt.
"It's going to be fantastic to see three Kiwi boats out there. This is one of the biggest 49er fleets ever and to have three Kiwi boats in the medal race is almost unheard of. We will take up the majority of the start line between us and hopefully we can finish one, two, three."