He was plying his trade in South Africa but that doesn't mean Sam Mason-Smith wasn't keeping a tab on the proceedings of the national summer league in New Zealand last summer.
"I followed Hawke's Bay and they seemed to be lacking in the goal area so I hope to contribute this [summer] as I did in the [season] before," says Mason-Smith, who returns to the Thirsty Whale-sponsored franchise team before they kick off their ISPS Handa Premiership season against Eastern Suburbs at Riverhills Park, Auckland, at 4pm today.
Hawke's Bay United didn't win a home game last season and with their eighth placing failed to make the playoffs for the first time in six years.
A mixture of experienced and exciting young players is in coach Brett Angell's predominantly new-look mix this season.
All teams are in action this long Labour Day weekend after heavyweights Auckland City FC and Team Wellington got the season rolling with a Charity Cup match last weekend.
Mason-Smith was all teed up for the premiership last summer when he received a contract to foot it for Stellenbosch FC in South Africa.
The 26-year-old striker made 15 appearances in the second-tier national first division league and scored one goal.
"It didn't quite work out so that's why I'm back at Hawke's Bay United," he says, saluting the franchise for doing everything to pave the way for his trip abroad shortly before last season started.
"I've no regrets at all," says Mason-Smith, relishing the opportunity to venture into a professional domain and coming out wiser for it.
The brand of game South Africans play didn't suit the Englishman, who gave it his best shot, regardless.
"The league was very fast and the African style of football was very different to what I've been used to anywhere else so I couldn't quite adapt to it," he says of the melody of raw power, individual skills and sizzling pace.
However, that didn't stop Mason-Smith from showing his worthiness in this part of the world.
On the way back here, he stopped to play nine games for the Geelong Soccer Club in State League One in the Victoria, Australia, after arriving at the twilight end of their season.
He found the net six times to help them claim the crown early last month.
It was enough to make Mason-Smith their top scorer in a "low-scoring" league where Geelong's defence reigned supreme.
In some respects, he will have an advantage, akin to co-assistant coach Paul Ifill and Cory Chettleburgh who are fellow Wairarapa United teammates, because he's familiar with Angell's philosophy.
"I know what to expect from him and I know what he wants in training and on match days," says Mason-Smith, who has been training here for almost a month.
No doubt the youngsters will embrace the culture of putting up the shutters and then reshaping into counterattack mode.
Former Wellington Phoenix playmaker Ifill, who is back after a stint with Tasman United, Mason-Smith, Chettleburgh and Cameron Lindsay form that nucleus of experience.
Quite capable of foraging at the coal face himself, Mason-Smith can bank on Ifill's ability to plant the ball but also from Jordan Lamb, of Hamilton, who has wheels and has a tendency to relay passes to his shoulder.
"There's a lot of youngsters in there but it's going to be challenging for us as a squad but we'll be competitive enough," he says, optimistic about the season.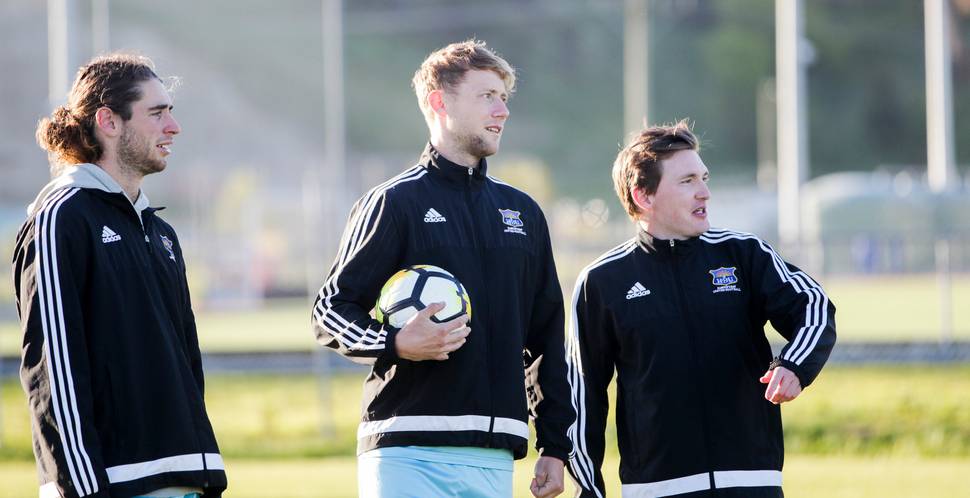 Training at Park Island, Napier, has remained intense with no ambiguity from Angell on how he expects his troops to perform.
"Obviously we're still looking to gel fully and that hasn't happened yet ... but it's the first game of the season and we need to be ready," says Mason-Smith.
That youthfulness should translate to some robust passages of play on the park to keep everyone on their toes.
"We'll bring a lot of energy," he says, revealing their yo-yo fitness tests attest to that exuberance of youth.
"It brings a lot of enthusiasm so what we need to do as senior players is to keep it in check and use it when needed."
Bay United are bracing for Eastern Suburbs to assert themselves as an organised and cohesive outfit because of the injection of talent from the Ole Academy in Porirua, on the outskirts of Wellington.
"There'll be a lot of familiar faces because they've been playing in the winter season and now in the summer," he says.
The Danny Hay-mentored Eastern Suburbs, Mason-Smith feels, will try to dictate terms with a possession-based style of game.
"They'll be quite dynamic in their play but we'll need to be patient and be sure we have enough quality to exploit possibly their weaknesses."
■ EASTERN SUBURBS (from): Andrew Withers (GK), Alexander Clayton, Kelvin Kalua, Nando Pijnaker, Adam Thomas, Harrison Moss-Edge, Tim Payne, Owen Parker-Price, Andre de Jong, Mohamed Awad, Elijah Just, Dalton Wilkins, Dominic Woolridge, Michael Built, Patryk Misik (Canada), Tinashe Marowa, Justin Biega (GK, Australia), Hayden Johns.
Coach: Danny Hay.
■ HAWKE'S BAY UNITED (from): MacKenzie Waite (GK), Anders Erikkson (Sweden), Cameron Lindsay, Joseph Zupo (Canada), Daniel Allan, Cory Chettleburgh, Sam Mason-Smith, Liam Schofield (United Kingdom), Sho Goto (Japan), Maxime Oliveri (France), Ben Lack, Birhanu Taye, Dilan Nanayakkara, Jordan Lamb, Bjorn Christensen, Karan Mandair, Jorge Akers, Alex Britton (RGK).
Coach: Brett Angell.
Ast coaches: Jamie Dunning, Paul Ifill.