The Silver Ferns skipper may need more than 15 minutes to find her feet again in the black dress, writes Cheree Kinnear.
It took Laura Langman just 15 minutes to adjust to life as an international netballer when she made her debut in 2005. And despite her 141 tests, and a raft of awards and titles since, the seasoned midcourter expects it will take that long when she slips on the black dress for the first time in more than two years against England this afternoon.
Banned from representing her country after committing to play in Australia's Super Netball competition in 2016, Langman received an international lifeline last month when she was granted a one-year exemption and named in the 2018/19 Ferns squad at the behest of new Ferns coach Noeline Taurua.
Then, to top it all off, on Thursday afternoon she was named as Katrina Grant's replacement as Ferns captain, being selected for the top role by her teammates.
"It's been a bit of a whirlwind ride but [I'm] really excited and extremely humbled to have been given the nod," Langman told the Weekend Herald.
"Not many people get a second chance.
"It's definitely exciting, what I feel is quite special this time around is you're here, you've gained all this experience, but you still have the body that's willing to do it. I'm really grateful for the opportunity."
It has been quite a ride for Langman, who first made headlines when she was named in the Waikato/Bay of Plenty Magic team at the tender age of 16 to play in the former transtasman ANZ Championship.
Less than a year later, the prodigy was selected for the New Zealand under-21 side, before being elevated to the Ferns squad were she set the scene for what became an incredible international career.
But the 32-year-old's netball future was put in doubt when she was controversially barred from Ferns selection after joining long-time mentor Taurua at the Sunshine Coast Lightning.
After helping lead the franchise to a title in its debut year, Langman suddenly called time on her two-year contract to step away from the sport and return to New Zealand.
Although signalling her availability and interest to play for the Ferns again, Langman was snubbed by Netball NZ as the national body stood firmly by their selection criteria.
Since Langman's initial departure, the Ferns had fallen further into a downward spiral - which seemingly started with the appointment of former Ferns coach Janine Southby, who resigned in July after a damning review from Netball NZ pinpointed several issues with her coaching style and leadership.
After suffering a shock defeat to Jamaica to lose the Taini Jamison Trophy for the first time, the Ferns slumped to a horror fourth place finish at the Gold Coast Commonwealth Games this year.
Yet, the Ferns' fall on the international stage was far from surprising.
Fans and former players alike had desperately called for Langman's selection, and Langman revealed that Netball NZ had indeed been in talks with her before the Ferns' failed Games campaign but she believed the timing wasn't right.
Whether it was timing or a lack of faith in Southby, Langman was quick to jump on the bandwagon again when talks of Taurua's recent appointment first emerged.
Granted a one-year exemption by Netball NZ to play in Australia while remaining eligible for New Zealand selection, Langman was finally given the nod to return to the black dress last month.
Despite some criticism that her return alongside fellow veteran Casey Kopua would block the pathway for upcoming Kiwi talent in the squad, the midcourter backed her decision and has since been relishing being back on deck.
"There have been lots of moments just walking into camp and onto court were I just can't believe I'm back," Langman said during a Silver Ferns training camp this week.
"When you get back into an environment like this, the heart starts pumping and the passion comes back."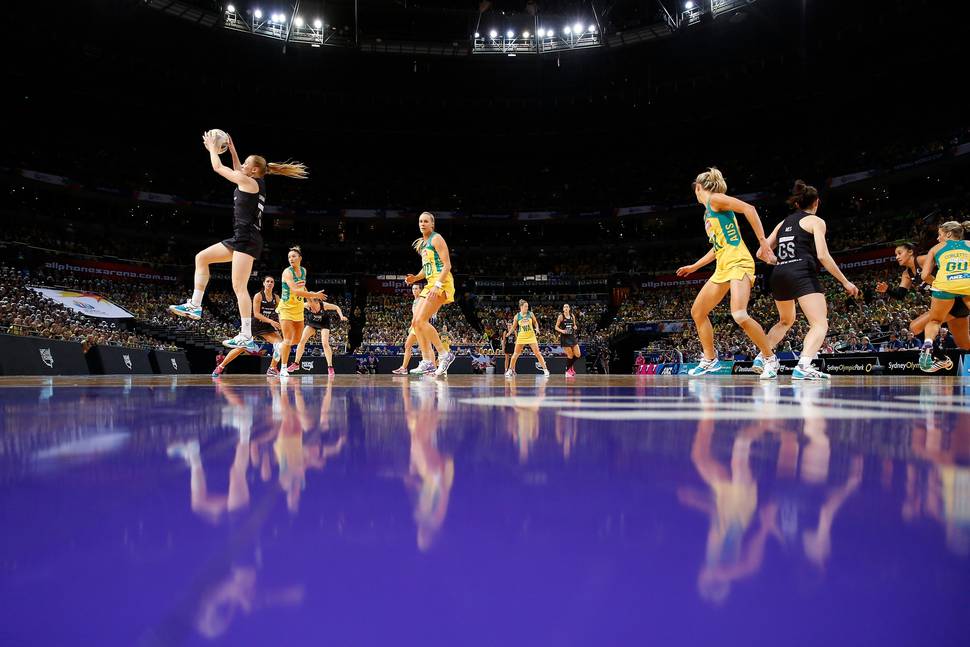 With appearances at three Netball World Cups and three Commonwealth Games, it didn't come as a surprise that Langman was described as the loudest voice in the room just 48 hours into the Ferns' training camp.
Langman, who is just five tests away from passing Irene van Dyk as the most-capped Silver Fern, brings extensive experience to the side, along with an influential competitive temperament that wasn't overlooked by her peers.
Elected to lead the ailing side into battle by her fellow teammates and officials through an unconventional 3-2-1 voting system, Langman will captain the national side until the end of the Constellation Cup in October before the roles are reviewed, and possibly reappointed, ahead of next year's Netball World Cup.
Although firmly believing that there were other players better suited to the role than herself, Langman was honoured to be named the "designated coin tosser" and felt comfortable with the new load which had been placed on her shoulders ahead of her return.
"I think it's an opportunity for [Katrina] and I to develop the leaders of the future. It's a real honour to be given the nod, especially from my peers," she said.
"I feel like I have a better understanding of the expectations of this role. I think the strength in a leadership position is the strength of the team and I feel like everyone's contributing. It'll just be the coin toss, I need to nail that."
Although Taurua's collective approach was received with some controversy, the new head coach said she believed it was the best approach for the team - considering the circumstances of such a limited and demanding turnaround.
Undoubtedly chuffed with her team's choice, however, Taurua believed Langman would set the standard within the Silver Ferns.
"Laura's come out on top and she's got the voting of her peers and I think that's a massive way for her to enter not only into the job but the first test," Taurua said.
"I know Laura is and does set the standard of what it is to be a high-performance athlete both on and off the court - but also [her] intensity, passion, [and] leadership skills are going to be what the Silver Ferns need.
"With people like Laura at the helm, she epitomises those standards, she lives to those standards, and she will set the standard within the squad ... having her as a piece of the puzzle is massive for us."
With a stunning track record - having not missed a single Silver Ferns test in the 11 years before her Australian exodus - all eyes will be on Langman today with the skipper expected to be on the court for the full 60 minutes of the opener against England.
Before the Ferns met England last August, the Roses had managed just four wins in 87 attempts against New Zealand. In their six meetings since, they've won four, including a dominant 54-45 victory at the Commonwealth Games.
And since suffering their first casualty earlier this week with tenacious defender Temalisi Fakahokotau ruled out with a ruptured ACL, the new leaders of the Ferns have been careful about promising a Silver Ferns comeback too soon.
For her part, Langman insists she is no silver bullet for the Ferns' problems, and argues it will take time for the side to rise back through the ranks.
"I know I've got a lot of work to do personally and first and foremost I need to do my own job so I'm really looking forward to getting out there," Langman said.
"I think it's about being realistic, individually we've all taken different journeys to get to here ... coming up against the [Commonwealth Games] gold medallists is no easy task. I think for us it's not about what happens, but how we react.
"Everyone's in agreement that we want to be better than we were the day before and that's no different for myself."
No matter what the result, Langman's return will be remembered as a monumental moment in Netball NZ history - even if it takes her more than 15 minutes to find her groove.