Biting the nails already.
So to calm the nerves, a run through the Warriors team sheet before Saturday night's highly anticipated sudden-death NRL finals clash against the Panthers in Sydney.
Roger Tuivasa-Sheck
It would be a disaster if the captain couldn't play because of an ankle injury. RTS has had a wow of a season, from the moment his round one try-saving tackle inspired a win over the Rabbitohs – and has featured mind-blowing displays of jinking and running.
Penrith will need a well-aligned and enthusiastic kick-chase. But they will also look for any signs the ankle is still a problem.
(All-action Tuivasa-Sheck is my Warriors player of the year, ahead of the phlegmatic Blake Green.)
Ken Maumalo
A quasi middle forward, who unfortunately gets left stranded on the wing by his centre Solomone Kata. When Maumalo makes big metres up the middle, the Warriors usually go well.
Expect someone like fiery Panthers prop Reagan Campbell-Gillard to put big shots on the big wing.
The one-time super-blooper isn't the Warriors player of the year, but he deserves to be in the discussion.
Solomone Kata
Built like the proverbial brick you know what. An acquired taste who is to creativity what a king-sized burger is to fine dining.
Can struggle to get involved, but takes a power of stopping. There are people in remote jungle tribes who know that Kata will try to burrow over the tryline from dummy half, which is probably why it hardly ever succeeds.
Peta Hiku
An awful upright, grasping defender at times, the man most likely to lose this game for the Warriors with Waqa Blake and Viliame Kikau running his way.
But he forms an effortless attacking combo with Tohu Harris and threw a pass against Canberra that people are still talking about.
Penrith linchpins Nathan Cleary and James Maloney – a dodgy defender himself – will make sure the Panthers test Hiku to the max.
David Fusitu'a
A try-scoring star thanks to the attacking craft of Shaun Johnson, Harris and Hiku...and the giant Fusitu'a's own ability to get airborne.
His long-term deal at the club says it all in an era where wings are growing in importance. But he is up against a test class wing in Josh Mansour, who will take plenty of stopping himself.
Blake Green
One of the great buys in Warriors history, infusing the team with a new personality through his calm organisation, and more than capable of the odd attacking thrust.
Not the sort of player to inspire adulation, yet deep down Warriors supporters will absolutely love a bloke who has perfected playing a foil to representative halfbacks at a series of clubs.
The winning State of Origin combo of Maloney and Cleary will have no fears taking the ball to the line, making for interesting comparisons.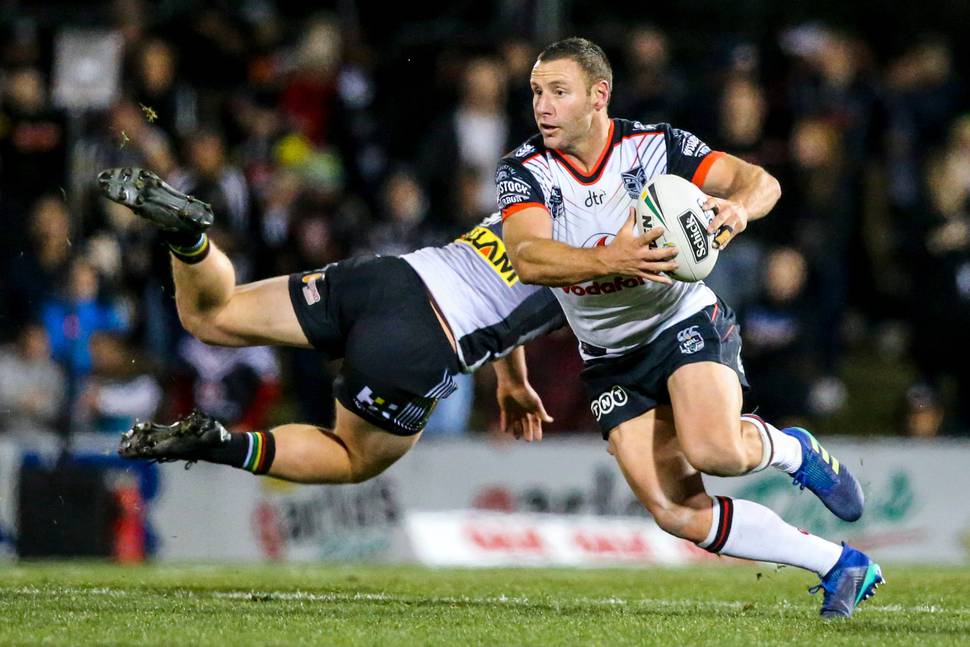 Shaun Johnson
A huge moment in Johnson's career. When he's good, he's too good for most opponents, and when he's bad he disappears.
Johnson is a far better organiser this year, his all round kicking essential, his high-speed, stop-start dancing a nightmare to defend.
Penrith know he will tempt Mansour off his wing, in order to hit Fusitu'a with a fast pass, which in turn could create holes for Johnson to attack. Dealing with Johnson is very much a team business, of working as a unit.
And will the Warriors be brave enough to persist with Johnson's amazing, hanging short drop outs under sudden death pressure?
Agnatius Paasi
The Warriors will find ways to get up the field. What really counts is how they defend the middle, and prop Paasi will be expected to make aggressive initial contact on the lanky State of Origin frontrower Campbell-Gillard and chunky x-factor test forward Trent Merrin.
Issac Luke
If Luke fires up, the Warriors will be well on the way. The dummy half runner has produced fantastic games in 2018, even if the Rabbitohs great is no longer the sure bet of old.
His amazing strength means tacklers must fight on to prevent a late offload, and he can win penalties out of nowhere.
Penrith are strong finishers so I have a hunch Luke may conserve his energy in an effort to sap the Panthers in the second half.
James Gavet
Gives the impression that he runs on emotions. Like Paasi, must front up on defence. It's about the physical impact rather than the numbers. The Warriors props' early defensive intent is often a significant signpost.
Adam Blair
The man most likely to do something amazing, inspire teammates...or whack a Panthers playmaker late. Still has bounce to his game at 32.
Tohu Harris
Combines effortlessly with Hiku on attack. Also brings the great Melbourne traditions. A no fuss maestro with and without the ball.
Simon Mannering
One amazing game against Brisbane aside, the revered 300-game veteran is fading and under a sternum injury cloud. A point of inspiration for his teammates, as he chases a first title in his final season. Trouble is, he could easily be out-shone by rising Kiwi James Fisher-Harris.
Reserves
Jazz Tevaga
A true maverick by modern standards. Great to watch, breaks the game open.
Bunty Afoa/Isaiah Papali'i
Both forwards come out of local football, a difficult transition, and are showing some weariness. Afoa is a basic operator who charges into the tough places. Papali'i has more craft. A fiery burst from Afoa could be vital.
Gerard Beale
If Hiku's defence falters, will Beale get an early call?
Coach Steve Kearney
10/10 for "Mooks" so far considering where he and the club have come from...Kearney has surprised a lot of us, got the team into the finals, and it has been a lot of fun along the way. But the pressure ramps up now.