Ryan Crotty's terrible run of misfortune continues. The All Blacks and Crusaders midfielder suffered his sixth concussion in less than 18 months at ANZ Stadium last night and his immediate future in the game must be in doubt.
Crotty was knocked unconscious in the opening minutes of the All Blacks 38-13 Bledisloe Cup victory over the Wallabies when centre partner Jack Goodhue's head crashed into his jaw as the pair made a tackle.
The affable Crotty, 29, blacked out but recovered to walk from the pitch, albeit with a loose tooth.
He has been ruled out of the return fixture at Eden Park on Saturday and will follow the usual return to play protocols with regards to concussion but there is no doubt the All Blacks will take a very cautious approach to Crotty's comeback.
They have done that in the past with fullback Ben Smith and will do everything they can to protect Crotty, who has played such an important role for the Crusaders on their runs to the Super Rugby title over the past two years.
"It concerns us, definitely," coach Steve Hansen admitted today. "He's already seen a specialist and they've given him the all-clear. From our understanding, as long as you fully recover and don't go back when you're not fully recovered, then you're okay.
"He's just unlucky – last night was real freaky, friendly fire from Jack Goodhue straight in the face and it would have knocked most of us out."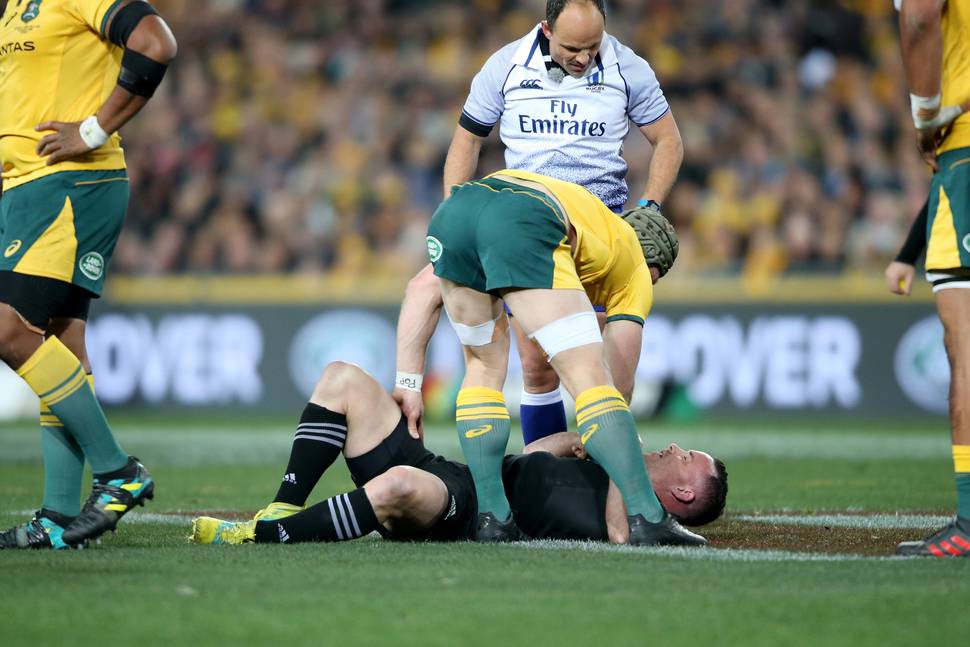 What will make Crotty's situation more difficult is the sensitive nature of the injury – the fact that his long-term health is at risk - and the fact that no date can be put on a return to the game.
Crotty's sister, Shea, has already posted her concerns on social media, and teammate Sam Cane offered an insight into what can be a lonely and difficult process for a player.
"It's tough to see … every other injury has a time frame," Cane said. "You know when you're going to be back or what the prognosis should be. There is so much of an unknown with head knocks. It seems like you can only be one away, if it's the wrong one, from it being the end. I've seen that with a few mates. It certainly helps you appreciate every week and every game while you realise how fickle it can be.
"The worst thing people can do is when people say 'how's your head?'. That's the obvious question, it's your way of caring, but you're always self-analysing anyway.
"It's a lonely process."
Probably the sole positive from the injury was the way Wallabies loose forward David Pocock reacted. Known as a caring individual, as well as being a superb player and tough competitor, No 8 Pocock stayed with the prone Crotty until help arrived.
Cane said: "It speaks pretty highly of his character and the type of guy he is if he's willing to put the battle to one side in that moment and put another player's welfare first."
For Crotty, another stint of rehabilitation looms, and the convention is he will start exercising as soon as his symptoms, if any, subside.
Anton Lienert-Brown, who played extremely well as Crotty's replacement, will come into the frame to start at No 12 at Eden Park in the continued absence of Sonny Bill Williams, who has a shoulder injury. But the All Blacks selectors are also looking at Ngani Laumape to fill that role.