Now that the Ioane brothers have given their assurances they will be staying at the Blues, it's too hard to resist wondering what their team could have looked like had they enjoyed similar success in retaining other local players or those previously contracted by Auckland or the Blues.
Player retention and attraction has long been a losing battle for the Blues. At any given point in the last decade there have been Aucklanders starring all over Super Rugby for teams other than the Blues.
So many schoolboy stars have either been overlooked or pulled by market forces to teams other than the Blues.
Some players who have been whisked elsewhere have been surprise developers, but whether it is fair or not - whether it is bad luck, bad management or a combination of the two - there is a damning picture when there is such a heavy Auckland influence in the four other teams while the Blues languish at the foot of the table.
A Blues team drawn from current Super Rugby players with an Auckland influence is perhaps the best way to illustrate the region's lack of pull.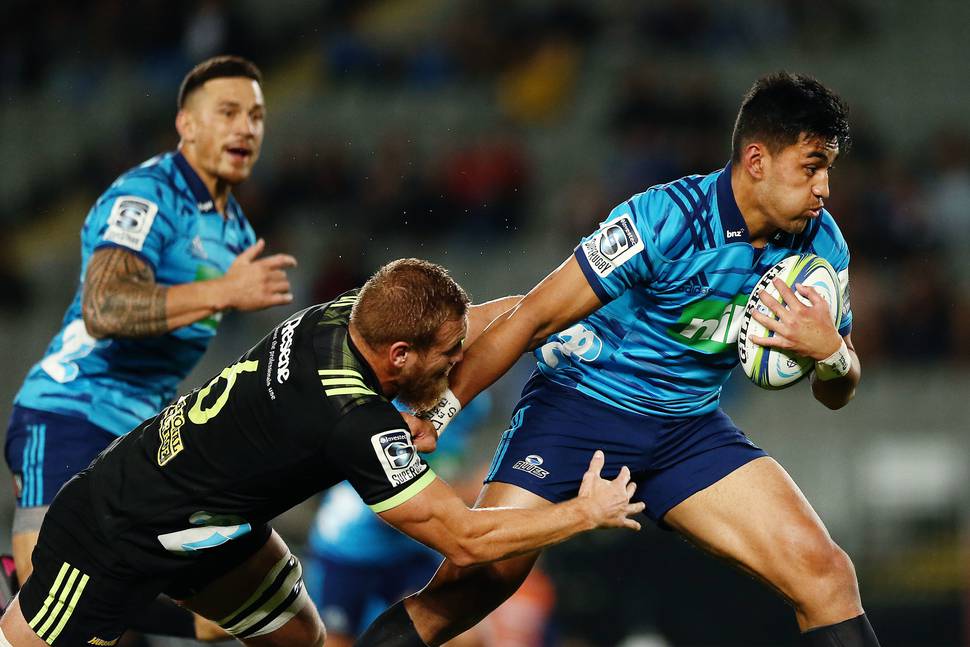 New All Black Karl Tu'inukuafe was schooled in Chiefs region at Wesley College, but he came into the semi-professional ranks through the Takapuna Club and then North Harbour.
It was while he was a schoolboy at Sacred Heart that Taniela Tupou set the internet on fire and earned the nickname Tongan Thor.
Auckland and the Blues made noises about signing the tight-head prop but he joined the Reds and is now a Wallabies regular.
Hurricanes lock Michael Fatialofa, who has proven to be one of the best work horses in the competition, was educated at Mount Albert Grammar School, won a place in the New Zealand Schools team in 2010, but shifted to Southland in 2011 to play provincial rugby.
Crusaders loose forward Jordan Taufua is a former Sacred Heart pupil and Highlanders openside Dillon Hunt, who was called up by the All Blacks last year, was at Westlake Boys' High School.
Crusaders back-up first-five Mitchell Hunt was contracted to Auckland in 2015. They saw him at Nelson College, recognised his ability and brought him up for a season.
But he only started one game at first-five, unable to win game time ahead of captain Simon Hickey.
New All Black Jack Goodhue boarded at MAGS but shifted to Canterbury when he left school to begin a degree at Lincoln University.
He's a Northlander by birth and shifted back to play for the Taniwha in 2017, but kept his Super Rugby contract with the Crusaders rather than see if it was possible to shift to the Blues.
Vince Aso is a former pupil at St. Peter's College at Auckland and was good enough to make the New Zealand Schools team in 2012, before he joined Auckland the following year.
In 2014 and 2015 he made the New Zealand Under-20 team but was not picked by the Blues, instead joining the Hurricanes.
He's now on the verge of All Blacks selection as a midfielder who can also cover the wing.
The final returnee to this fictional team would be Waisake Naholo who was contracted to the Blues in 2013.
He only played one game, struggled under the high ball deluge administered by Morne Steyn and was only seen one more time that season before he was released the following year.
If those players could magically be brought to the Blues, alongside the likes of James Parsons, Ofa Tuungafasi, Patrick Tuipulotu, Augustine Pulu, Sonny Bill Williams and Rieko and Akira Ioane, then it is doubtful the table would look like it currently does.
BLUES DREAM TEAM
15: Waisake Naholo [Blues]
14: Vince Aso [St. Peter's College/Auckland]
13: Jack Goodhue [MAGS/Northland]
12: Sonny Bill Williams
11: Rieko Ioane
10: Mitchell Hunt [Auckland]
9: Augustine Pulu
8: Akira Ioane
7: Dillon Hunt [Westlake Boys' High School]
6: Jordan Taufua [Sacred Heart]
5: Michael Fatlialofa [MAGS]
4: Patrick Tuipulotu
3: Taniela Tupou [Sacred Heart]
2: James Parsons
1: Karl Tu'inukuafe [North Harbour]
To get the day's top sports stories in your inbox, sign up to our newsletter here