Watch out world, again.
After gaining a slightly fortuitous 2-0 series lead, the All Blacks didn't just blow France away in the third and eventually one-sided encounter on Saturday night.
They also introduced Scott Barrett and Damian McKenzie as major players on the world stage, within sight of their World Cup defence next year.
The scary thing, for the chasing pack, is that both are bench players, and maybe not even that in some eyes.
Lock Barrett and No. 10 McKenzie had already been introduced to test rugby of course, but they had breakout performances on Saturday night replacing the unavailable Brodie Retallick and Beauden Barrett, world player of the year winners.
I don't expect McKenzie's sparkling display and fine goalkicking has changed how the All Blacks believe they will configure their best match day 23s. He was always in the plan, as a devastating and versatile impact player.
Barrett's performance in this just-completed series might change the thinking though, beyond any expectation.
The All Blacks sometimes play a lock off the bench and sometimes a tight-loosie. Lock Barrett, who is very mobile and athletic for the position, has developed so well that he has gone beyond the arm twisting stage and has forced their hand.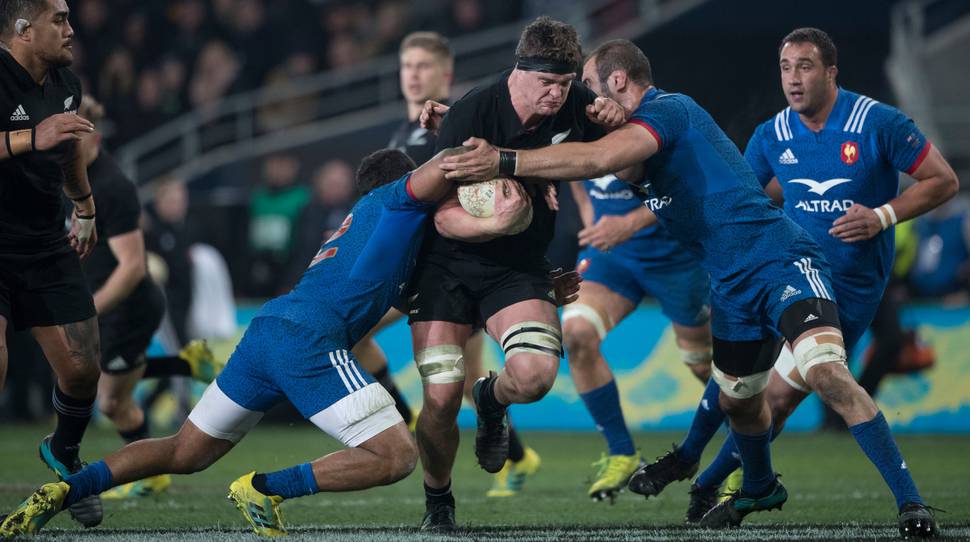 He is good enough to start. Like Retallick, he's also a good passer. Like Sam Whitelock, he is good in the air. Like both, he loves the battle.
Barrett was amazing in Dunedin, and the important thing is it didn't come from nowhere. Scott Barrett, the third Barrett until now, had already produced excellent games in the first two tests. It was a 9.5 out of 10 job this time however, so good that he has actually put Whitelock and Retallick on notice.
Barrett did it all, 10 carries, a whopping 19 tackles, ripped the ball off opponents and on and on....in the opening minutes Barrett went on a one man mission to keep the French at bay.
There is one major factor against Barrett and he can't do much about it — size. The Crusader is a touch short and light compared to some of the behemoths who roam today's test fields - Eben Etzebeth, Pieter-Steph du Toit, Lood de Jager, Retallick, Whitelock, Devin Toner, Scotland's Grays and co.
None have a bigger ticker than Barrett though. The French series confirms the All Blacks have a brilliant trio of locks, with only South Africa matching them in depth.
Jordie Barrett will long be remembered for losing his way in Dunedin, but big brother Scott may come to regard the city as the place where he found his test feet.
The clamour for Richie Mo'unga to leap frog Damian McKenzie as a test No. 10 is both understandable and off the mark.
It would be criminal not to give McKenzie's exceptional potential every chance to flourish in the test arena. Absolutely criminal. The All Black selectors should be congratulated for persevering.
McKenzie does make the odd mistake, we all know that. There was an intercept pass, long tactical kick misfire and muffed re-start in the third French test.
McKenzie, as a starting point, needs to allow greater margin for era in his long and diagonal kicks towards the touchline. And the All Blacks still miss the pinpoint re-starts Dan Carter provided.
But the little Chiefs wizard has also done things in this series that no one else is capable of. The All Blacks are trying to stay ahead of the pack by moving up a gear, and McKenzie is a key driver of that attack.
Give McKenzie enough time, and those errors — which could prove costly in big World Cup games — will be, should be, drastically minimised or eliminated. His course management, to steal a golf term, should improve naturally.
Here's my constant bottom line with McKenzie: sports fans could still be talking about him in 50 years time, the way a player like George Nepia is remembered with such awe and fondness. Mo'unga, for all of his more traditional class, isn't in that class.
But for all of McKenzie's will-o'-the-wisp magic, it was Scott Barrett who left the strongest impression on Saturday night. And that's saying something.
Turn the other Cheika, Michael...
There were more allegedly controversial rulings, in test matches on both sides of the Tasman on Saturday night.
Wallabies boss Michael Cheika upset with a ref in defeat? Now there's a shock.
As for the French - they didn't get the rub of the green in New Zealand, but in the final analysis they simply weren't good enough.
To get the day's top sports stories in your inbox, sign up to our newsletter here