It is a constant source of amazement that the All Blacks are able to harness competitive tension positively to inspire and unite players rather than see their culture split apart.
The latest pair to be able to check their ego at the door is Damian McKenzie and Richie Mo'unga who are both now vying to become recognised as number two in the All Blacks' first-five pecking order.
This week, with automatic first choice Beauden Barrett unavailable due to concussion, could have seen the tension rise between the two youngsters.
The desire for one or both to be protective of their knowledge, reluctant to work for the greater good of the team and to resent the other for being given the role they wanted was always there.
These two, after all, have been in competition long before they reached the All Blacks.
They were well known to one another on the Christchurch First XV scene a few years back with McKenzie at Christ's College and Mo'unga at St Andrew's.
They were also both in the 2014 New Zealand Under-20 side and here they are now both desperate to prove their worth as the All Blacks' key playmaker and take possession of that No 10 shirt.
Potentially the situation could have been tense and negative but Mo'unga and McKenzie appear to have been like Aaron Cruden, Barrett and Colin Slade before them and put aside all personal disappointments and ambition to help each other become better players and the All Blacks a better team.
"We really push each other at training and that is the beauty of this team," said Mo'unga.

"Every week you are striving to be your best and every week I am pushing Damian and he knows that and he is pushing me too.
"That grows the team and that grows the individual I think and as much as I would like to be starting I am really happy for Dmac and I know he is going to do a great job."
And the reality for McKenzie is that he is indeed going to have to do a great job to stay ahead of Mo'unga in the All Blacks' pecking order.
He was handed a tough assignment last week in Wellington, injected into the game after just 12 months behind an All Blacks pack that was failing to deliver the right attacking platform and a general mindset among his peers that they needed to push the ball wide quickly to exploit the numerical advantage they held as a result of France having been shown a red card.
As much as there were mitigating circumstances, McKenzie contributed to some of the All Blacks' untidiness and uncertainty by not delivering the desired sort of authoratitive game management the coaches were looking for.
Having played so much of his professional football at fullback, game management and tactical leadership are the weaknesses in McKenzie's game.
He's a brilliant line runner, a clever distributor and creator of space for others and his instinctive brilliance is compelling.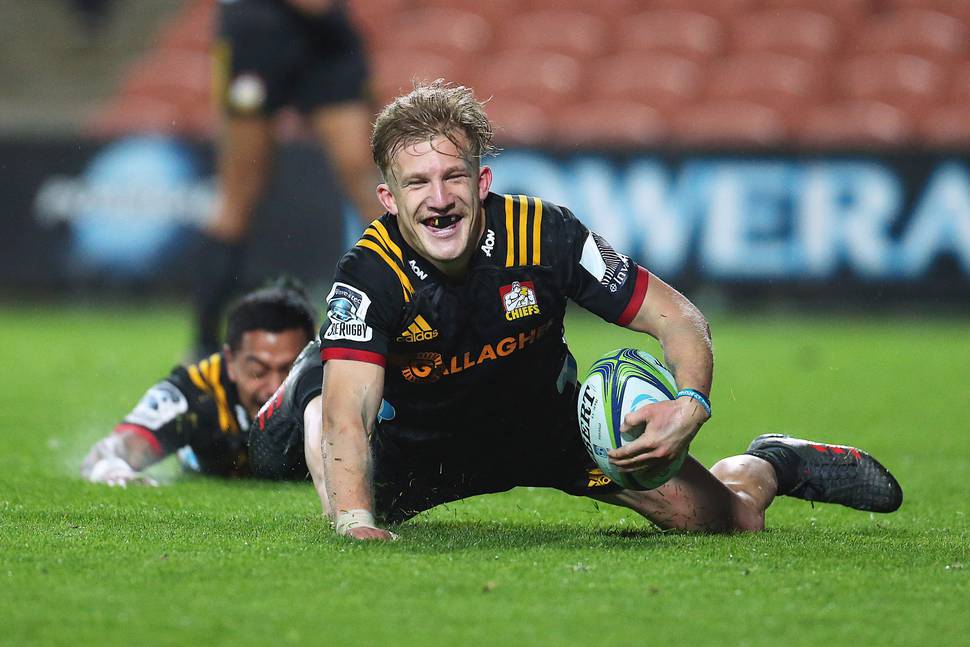 The coaches want him to display all those qualities but around a more structured framework of having put the All Blacks into the right places on the field.
Essentially, they want to see him better choose when to take risks and when to be willing to play the percentages.
Conversely game management is Mo'unga's key strength and hence the reason it is going to be an ongoing battle between him and McKenzie this season and their need to continue to coperate with one another will intensify.
A point Hansen hinted at when he revealed, indirectly, how close the two men are on the pecking order.
"If it had gone the other way it would have been because we wanted Damian to be available to play fullback as well," said Hansen.
"For this one we have made the decision that we want him to be a guy who can play first-five for us. We know Richie is going to be a good player and he has been playing well.
"So we decided we would take Damian at first-five which meant we needed Jordie at fullback. It is a good opportunity for him to grow and learn from the lessons from the last game."
Visualisation: 1903 to 2018 - Every test the All Blacks have ever played