Massive victories don't come more hollow than the All Blacks' romp over the French at Eden Park.
The tourists were robbed, pure and simple, and so was the paying public. The French captain Mathieu Bastareaud could legitimately report a crime, unlike in 2009 when he sent Wellington police on a false assault trail.
Anyone interested in proper sport could demand their money back.
What an absolute joke. I felt like screaming, the way All Blacks halfback Aaron Smith does.
The French weren't brought down by phantoms at Eden Park. It was a real live referee who did them in. The night was turned into a waste of time if you see test matches as a legitimate contest, rather than an All Blacks roadshow.
READ MORE:
• Rugby: France accuse All Blacks of foul play, winger Remy Grosso has double skull fracture
• Steve Hansen: France 'didn't deserve' unlucky yellow card
• Live chat with Wynne Gray: Did the All Blacks really employ 'illegal' tactics?
Rookie test whistler Luke Pearce was travelling pretty well until the 51st minute, when the Brit lost the plot by twice failing to get video scrutiny sending France to a disastrously heavy defeat.
You can marvel at the late game All Black magic as much as you like, and there was plenty of it. The All Blacks were absolutely sensational in the end.
But they'll build a new stadium in Auckland before you seen an international team slaughtered by yellow card foul ups this bad.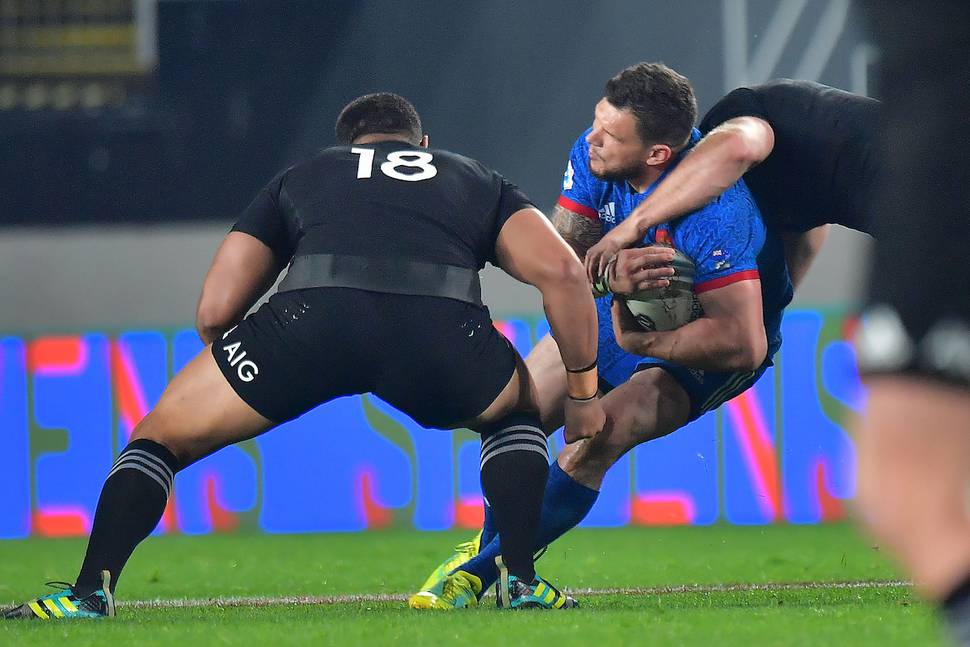 The All Blacks could have, should have, been a man or even two down for 10 minutes instead of a man up, when the game was still in the balance.
These were momentum-shifting moments, and the French are a momentum side.
There are so many tricky grey areas for rugby officials, but they cannot get dismissal decisions so wrong at this level. The infuriating thing is how easy it would have been to get them right via veteran TMO specialist George Ayoub.
In a nutshell, Pearce and his mates failed to scrutinise the incident which led to the incorrect yellow card, for a high tackle, against French lock Paul Gabrillague when the score was 11-all. The All Blacks scored straight way.
Okay, the course of the game was already altered, so the next bit of the playing numbers equation is theoretical.
But to compound matters, they didn't bother looking at the incident moments later which left Remy Grosso, Sam Cane and Ofa Tuungafasi dazed.
Rugby's efforts to make an inherently dangerous game a bit safer was knocked into oblivion, as French wing Grosso wandered towards hospital, having suffered a double high tackle with no consequences to the home side.
Cane hit Grosso around the jaw with a swinging arm - dead set yellow card. Tuungafasi made contact with his shoulder/head area, and Grosso threw the ball at the prone prop in protest.
The Tuungafasi offence maybe wasn't so clear, but it was the giant prop's responsibility not to get in the wrong place. It is unlikely two players would get yellow carded for the same incident, but this doesn't dilute the injustice.
Pearce will live to fight another day, but impressive Aussie Angus Gardner will control the second test, and Ireland's John Lacey the third, thankfully.
In Johannesburg, coach Rassie Erasmus and captain Siya Kolisi made a terrific start to the new Springboks era with a high scoring comeback win over England.
It was hard not to feel the emotion, as Kolisi took the reins as the Springboks' first black captain.
Little Springboks halfback Faf de Klerk was sensational, driving his team with the speed and energy which first five-eighths Handre Pollard lacks. New wing Sibusiso Nkosi, strong and quick, looks a top prospect.
England's Kiwi recruit Brad Shields came on after 35 minutes, in the unfamiliar role of lock. He had a couple of okay moments, but was nondescript and part of one scrum which was smashed by the 'Boks.
There might be a way back for England in their three test series away from home, but the French are doomed now that the All Blacks have their tails up. It shouldn't be that way.