There were moments, 16 years ago today, when the Crusaders ran up 96 points against the Waratahs at the old Lancaster Park – a record that still stands – when the players in red and black must have felt like they were having an out-of-body experience.
It was a result, in the old Super 12 competition – which many believe was the best, most competitive and most easily understood and which came before the Super 14, 15 and 18 iterations – that still reverberates today.
Read Cameron McMillan's retroactive blog of Crusaders 96 Waratahs 19
When the unbeaten Crusaders, ranked No1 in the competition, played the No2-ranked Waratahs in the final round-robin match of the competition on May 11, 2002, a massacre ensued. The score was 63-0 at halftime; the home side scored nine converted first-half tries and were given a standing ovation by a sell-out crowd (a sell-out! When the Crusaders were guaranteed a home semifinal the next week!).
Jonathan Kaplan, the South African referee, described it later as "the greatest half of rugby ever witnessed".
The final score was 96-19. The Crusaders failed to reach the century but such was their domination and the freakish element to the result that many of their supporters who were present or viewed it will recollect it better than a match a fortnight ago.
Australian rugby writer Greg Growden wrote: "This was a ridiculous rout... a game that was as madcap as a lopsided fathers v sons beach touch-footy romp."
Bob Dwyer, the Waratahs coach, had named a changed side for the match – presumably with the following week and his own team's semifinal in mind. How he must regret that – not only for the embarrassment handed out to his side, and by extension Australian Rugby (and a case can be made that this result foreshadows their struggles which last to this day), but for the fact the Waratahs lost that playoff match on their home ground in Sydney 51-10 to the Brumbies.
It wasn't a mistake-free performance by the Crusaders. A look at the replay shows a 21-year-old Richie McCaw, who made his All Black debut a year earlier, missing two tackles in the first few minutes.
There were dropped passes and missed tackles by the Crusaders, but their ability to turn defence into attack and to capitalise on nearly every single opportunity meant the Waratahs were out of the match before the mid-way point of the first half. Caleb Ralph scored four tries. Marika Vunibaka, the Fijian weapon on the other wing, scored his team's first try after four minutes, and the points didn't stop until the 73rd.
In the words of commentator Grant Nisbett as Andrew Mehrtens converted his team's fourth try: "This is turning into an embarrassment for the Waratahs."
There were more prescient comments from the veteran broadcaster, including: "This is a statement from New Zealand rugby, not just the Crusaders. Let's hope this continues right through this season and next year too."
The next year the Wallabies lost the Bledisloe Cup to the All Blacks and have yet to get it back. This match highlighted a vulnerability within Australian rugby and it has been ruthlessly exploited since.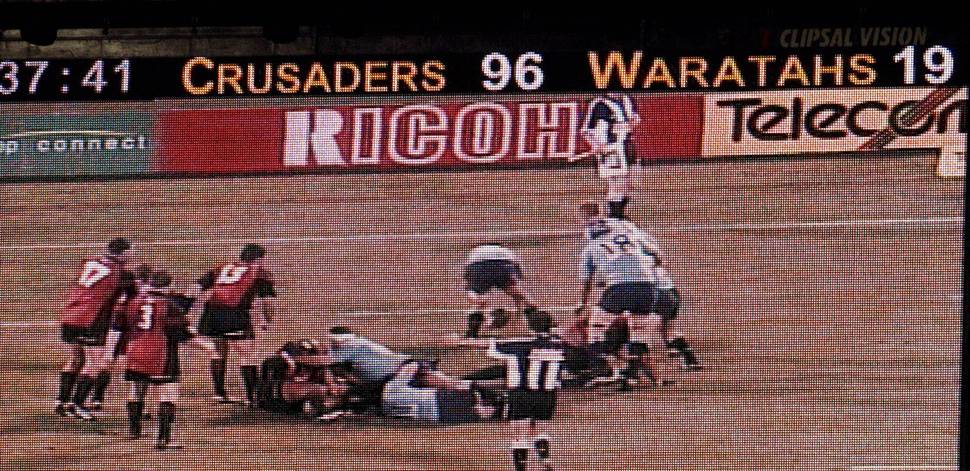 The Brumbies, Reds and Waratahs have won Super Rugby titles since, but it's difficult to believe a New Zealand team ranked No2 in the competition could capitulate like this.
Aaron Mauger, a tidy and efficient midfielder, was never one for expansive gestures or celebrations while playing for the Crusaders or All Blacks, but his somersault to put the ball down over the line following a no-look behind-the-back in-pass from Ralph spoke volumes.
In an interview with the Herald four years ago, Mauger, now coaching the Highlanders along with former Crusaders hooker Mark Hammett, who also featured in the match, said of his first-half try: "I don't know, the moment sort of took over, really. I had never really celebrated tries before but I thought I would try something a little bit different. I didn't quite get the dismount right as well so I copped a bit of flak for that, but it was a pretty magical moment, really."
Nisbett's commentary of the try was: "That is almost arrogance from the Crusaders. They are making a joke out of this Waratahs side."
Mauger said he and his side had no idea that such a result was possible, and there is surely no surprise in that.
"We trained really well that week and it was coming into finals… so it was the time of year when trainings are shorter and sharper, a bit more intense. so I suppose the flow-on effect was that we were really well prepared for the game.
"Certainly we didn't have any idea about how well it was going to unfold out on the field but in the first or five minutes we got over the line and things seemed to unfold from there. It probably felt like they weren't quite there in the moment so we took advantage from that. About 30 minutes in it felt like a bit of a training run, we just had it all our own way and they were probably a bit demoralised really with what was happening.
"I don't think they threw the towel in but they couldn't come up with any answers. It was pretty enjoyable to be a part of.
"The boys were just in the flow. Everyone was confident, things were going well and we were just living off that momentum. I remember cross-field kicks going to hand, people passing back in, no-look passes to support players.
"There was real synergy in the movements. Sometimes those things come off, sometimes they don't, but the fact that the first two or three came off gave the boys the confidence to carry on and just continually express ourselves throughout the game. The fact that it kept working, the points kept piling on."
Records still stand from the match – highest score, equal most tries scored (14), and most conversions (13 to Mehrtens).
And there is a legacy too in what those Crusaders players, most of whom were All Blacks, achieved then and what they are still achieving.
Mauger, who started the match in the midfield alongside brother Nathan, and Hammett are coaching the Highlanders. Scott Robertson is the head coach of the Crusaders.
Fullback Leon MacDonald is a former coach of the Crusaders who has moved back to Nelson to coach the Tasman Mako. Loose forward Rueben Thorne is the new coach of Canterbury.
Daryl Gibson – an All Black on the reserves bench that night – is the head coach of the Waratahs and will be hoping for a very different result this Saturday at AMI Stadium.
It was a match made in heaven for Crusaders fans. One said to me recently that being present for a game full of constant highlights made for a physically tough viewing experience – fans were constantly standing to applaud.
And yet for perfectionist coach Robbie Deans, improvements probably would have been required. In a brilliant piece of mental warfare, he had his team on the field doing passing drills when the Waratahs returned to the middle from halftime.
In retrospect, Mauger said: "It's pretty hard to pick faults in a team which puts 96 points on what then was the second placed team, the Waratahs… I suppose you could have had a go at us for [allowing them to] score 19 points in the last 20 minutes."
Crusaders 96: (Caleb Ralph 4, Leon MacDonald 2, Marika Vunibaka 2, Scott Robertson, Aaron Mauger, Daryl Gibson, Greg Feek, Justin Marshall tries; Andrew Mehrtens 13 cons.)
Waratahs 19: (Des Tuiavii, Francis Cullimore, Marc Stcherbina tries; Matthew Burke 2 cons.)
Crusaders: 1. Greg Feek, 2. Mark Hammett, 3. Greg Somerville, 4. Chris Jack, 5. Norm Maxwell, 6. Reuben Thorne ©, 7. Richie McCaw, 8. Scott Robertson. 9. Justin Marshall, 10. Andrew Mehrtens, 11. Caleb Ralph, 12. Aaaron Mauger, 13. Nathan Mauger, 14. Marika Vunibaka, 15. Leon MacDonald. 16. David Hewett, 17. Corey Flynn, 18. Sam Broomhall, 19. Johnny Leo'o, 20. Ben Hurst, 21. Daryl Gibson, 22. Ben Blair

Waratahs starting XV: 1. Dunning, 2. H Edmonds, 3. Noreiga, 4. West, 5. Bowman, 6. Tawake, 7. Tuivaii, 8. Lyons. 9. Whitaker, 10. M Edmonds, 11. Cullimore, 12. Harris, 13. Burke ©, 14. Staniforth, 15. Rogers.