Kane Williamson's ascendancy to become New Zealand's leading test century-maker seemed inevitable.
At 2.40pm on Friday, with a cut through gully for a single at Eden Park, he broke the deadlock between himself, Ross Taylor and the late Martin Crowe as the first Kiwi cricketer to reach 18 test tons.
The ball was bobbled in the field and non-striker Henry Nicholls called Williamson through to history.
He accepted Nicholls congratulations, removed his helmet and raised a stoic bat to sustained applause.
Williamson's humility resonates with the cricketing public. The more self-effacing he becomes, the more he is respected for being himself.
James Anderson eventually trapped him lbw for 102 from 220 balls after a five-hour-plus vigil.
A standing ovation ensued.
Crowe made his last test century, 115, on July 5, 1994, against England at Old Trafford.
However, he has held – and shared since Williamson and Taylor's feats - the national record since making his eighth ton against Australia at Adelaide on December 12, 1987.
He passed Glenn Turner and Bevan Congdon.
Thirty years, three months and 11 days later we have seen a changing of the guard.
Taylor may overtake Williamson, given the 34-year-old's prolific form since his eye operation of late 2016, but, at 27, the New Zealand captain seems poised to hold the honour for a generation.
Williamson's milestone is the next step in a test career that began as the eighth New Zealander – and youngest - to make a hundred on debut with 131 on November 7, 2010, against India in Ahmedabad.
He has brought metronomic consistency since, with centuries against every country that has played the longest format.
Ahead of the 2015 World Cup, Crowe was asked about Williamson's development.
"We're seeing the dawn of probably our greatest ever batsman."
He chose Williamson over a field of candidates which included himself, protégé Taylor, Turner and Bert Sutcliffe.
Williamson reached the record century mark in 114 innings across 64 tests; Crowe made his 17 in 131 innings across 77 tests.
Not that the mark will matter a jot to Williamson. He will be more concerned about enforcing his side's dominance over England.
Williamson is embarking on an extraordinary career, by world rather than New Zealand cricketing standards.
His latest accolade seems more like a progression than a definitive gauge of ability.
To put that in context, his innings of 132 at Lord's in May 2015 saw Williamson become the sixth batsman, after Sachin Tendulkar, Don Bradman, Neil Harvey, Graeme Smith and Garry Sobers, to score 10 or more test centuries before turning 25.
His coming of age could be traced to the Basin Reserve on March 27, 2012, when he spent 228 balls and almost five and a half hours to defend against a South African attack comprising Dale Steyn, Morne Morkel and Vernon Philander.
He earned a century, a cracked box courtesy of Steyn, and respect.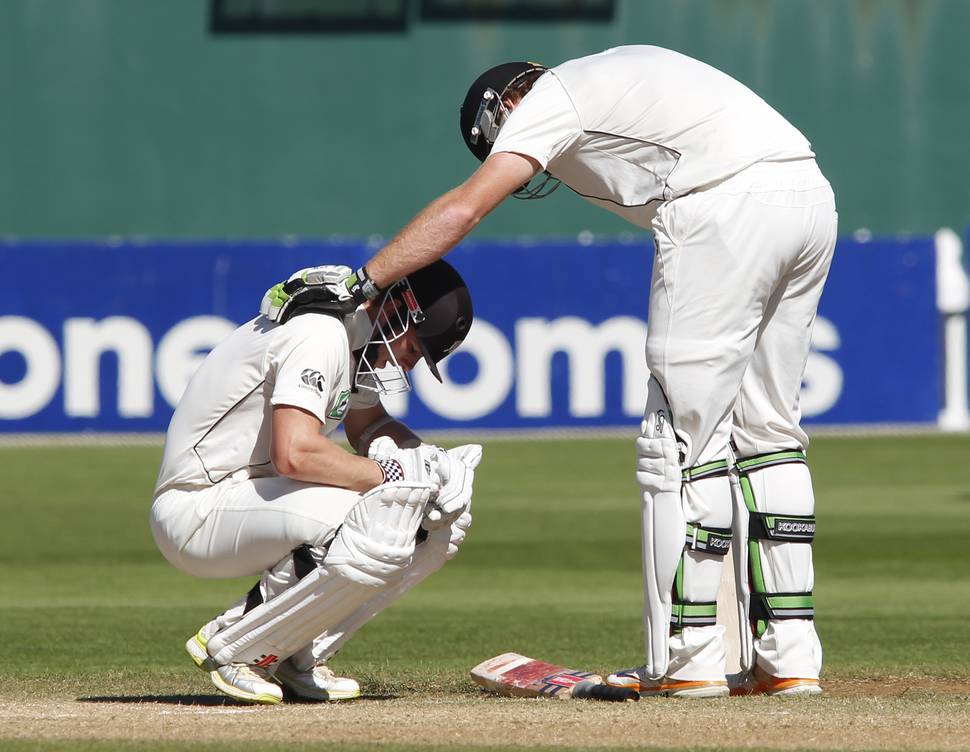 In contrast, he flayed Australia's attack of Mitchell Starc, Mitchell Johnson, Josh Hazlewood and Nathan Lyon to all parts of the 'Gabba in November 2015.
Complementing the majestic stroke-making was Williamson headed off at stumps on the second day with his helmet on, refusing to accept the job was anywhere near done.
Unfortunately, his teammates could not stick with him.
Williamson's parents Brett and Sandra were in attendance on Friday, keeping a low profile in the west stand.
They were seated a handful of pitches away from the outer oval where they witnessed their son's maiden first-class century for Northern Districts against Auckland on March 20, 2009.
"I know there's something magical about the three figures for fans," Brett said of his son's feat.
"But for Kane, it would be about setting a platform… and the celebration is what comes naturally to him.
"It's a little bit of history, you can't deny it, but the other guys have done a great job batting around him."
"It's pretty amazing," Sandra added.
"Kane's definitely not a stats man, but it's always interesting to see this-record and that-record getting broken."
Williamson wants to be defined by the way he gets runs, rather than the volume he scores.
His appetite to improve saw him seek advice from No 3 specialists such as Hashim Amla, Rahul Dravid, and Kumar Sangakkara.
He based his batting more on pragmatism than being a stickler for technique.
"I try to look at things logically," he once told the Herald.
"I look at threats and practise against them. With technique, 90 per cent of the time you are changing things for the sake of it.
"There's no real benefit to that, because even during an innings things change and you're also coming up against different conditions and teams."
In essence, he loves the sport and the bonds it forges.
That is reciprocated by peers, opponents, past players, coaches, media, and fans.
It would be extraordinary to find anyone berating his attitude.
His ethos makes cricket a better game.