It took three weeks, but Auckland finally gave the Volvo Ocean Race fleet some wind to sail in.
While the in-port race last week was a slow affair, the yachts were flying at about 20 knots as they departed Auckland on Sunday to take on the Southern Ocean.
With a fully repaired Vestas 11th Hour Racing back in the mix, the fleet's full compliment left Auckland to a big reception to start their 7600 nautical mile (14,075km) journey.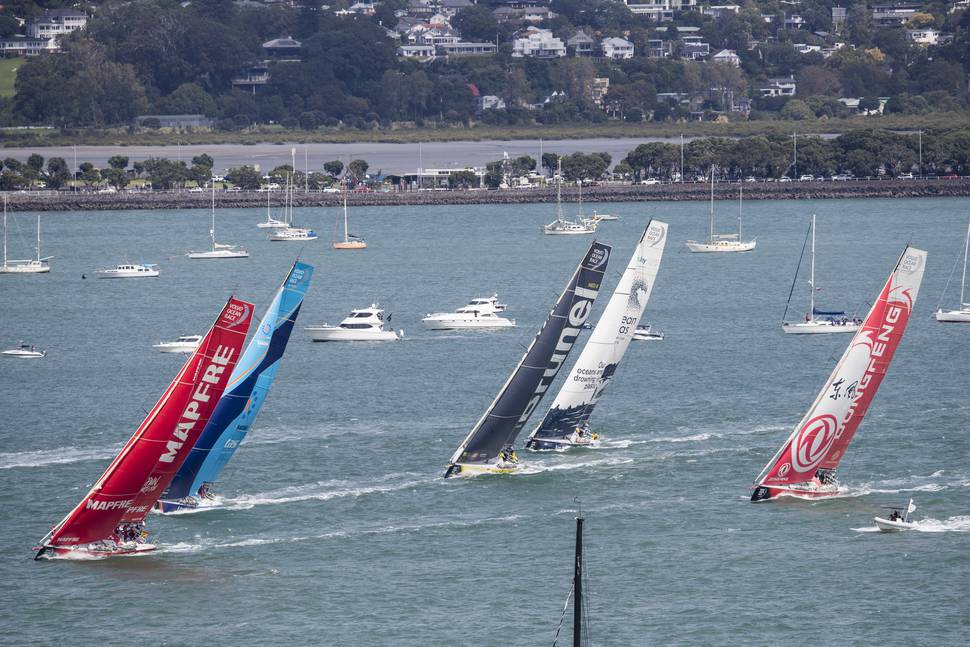 As the yachts did a lap of the Waitemata Harbour before making their way toward East Cape, spectators stood like fence posts along the front of the Cloud, the Devonport wharf and up North Head.
On the water, spectator boats lined the length on the course for the lap before following the fleet out toward Rangitoto Island and into the choppy conditions.
With those on spectator boats getting plenty of spray from the rolling swell, they were given just a miniscule taste of what their race crews were headed into.
For them, things will only get worse as they face winds of up to 130kpm, freezing temperatures and massive swells for anywhere from 20-28 days before reaching Itajai.
"It's pretty exciting to head down to the Southern Ocean…it's been a really busy week so it's been good to finally switch off the phone now knowing that we're off," Peter Burling said ahead of his Team Brunel departing.
As a tradition part of the leaving ceremony, each team had someone on board heading out of Auckland who would jump off into the harbour. Among those brave enough to take the plunge in Auckland were ex-All Black Keven Mealamu (aboard Vestas), champion kayaker Lisa Carrington (Brunel) and Paralympic gold medallist sprinter Liam Malone (Turn the Tide on Plastic).
In leaving Auckland, the fleet were now over the halfway point in the race, however more than 50 per cent of the points were still on the table.
The race from Auckland to Itajai was arguably the most important leg of the event. It's a double-points leg, meaning the winner bags 14, while there was also a bonus point on offer for the first team around Cape Horn.
Blair Tuke's MAPFRE led the standings after six legs, five points ahead of Daryl Wislang and DongFeng Racing.
Volvo Ocean Race standings after six legs
1. MAPFRE - 39 points
2. Dongfeng Race Team – 34
3. Scallywag – 26
4. Team AkzoNobel – 23
5. Vestas 11th Hour Racing – 23
6. Team Brunel – 20
7. Turn the Tide on Plastic – 12
To get the day's top sports stories in your inbox, sign up to our newsletter here