There are a select group of New Zealand cricketers whose careers for one brief moment took them to the pinnacle of the sport in this country.
These are the "one test wonders" - and we celebrate them because for that one moment in their lives they were the best this country could produce for the international stage.
They are the conduit between those who go on to revered test careers… and the rest of us who toil at club or social level long after such dreams have passed.
Herald writers David Leggat, Chris Rattue, Cameron McMillan and Andrew Alderson give an insight into some of these men - they spoke to many of them and hear of their experience for better or worse, and how they feel looking through hindsight's lens.
There are 30 in total, 14 who are alive, and 12 who are retired. This is the story of one of those players.
Richard Jones
Age: 44
New Zealand test cricketer number: 223
Played: Pakistan at Wellington, December 26-30 2003
Return: 16 and 7
Christmas 2003 was an unusual time for Richard Jones.
On Christmas Eve, he was at his girlfriend (now wife) Sally's family farm north of Wellington. The phone rang.
''Jonesy we need you to come to training tomorrow morning at the Basin. I said 'sorry?''' Richard Jones recalled.
'''Cairnsy's gone down with the flu. I said 'what time', I'll cruise down. So, nothing ventured nothing gained.''
He got to the team hotel the next morning, still nothing clearer on the situation.
Then it was off to the nets and as the spare guy he batted last.
''You're at the bottom of the food chain so they got a couple of kids who took Christmas off to have a trundle at the Black Caps. Good preparation for Shoaib Akhtar.''
About 8.15 the next morning his phone rings. It's Cairns.
''Hey Jonesy, good luck today, hope it goes really well.''
Jones was in, all a bit rushed but he was a New Zealand test player.
He was in good form that season, having moved down from Auckland a couple of summers earlier for a change of scene. It was going well. He was 30.
Jones knew he wouldn't budge the opening pair Lou Vincent and Mark Richardson. The skipper Stephen Fleming was at No 3, which meant....
''No 4. I'd never done that before, I thought this'll be interesting.''
And there was Akhtar, among the quickest bowlers of all time.
And R. Jones first innings? Bowled by Abdul Razzak, a medium pace allrounder, for 16. Dragged it on.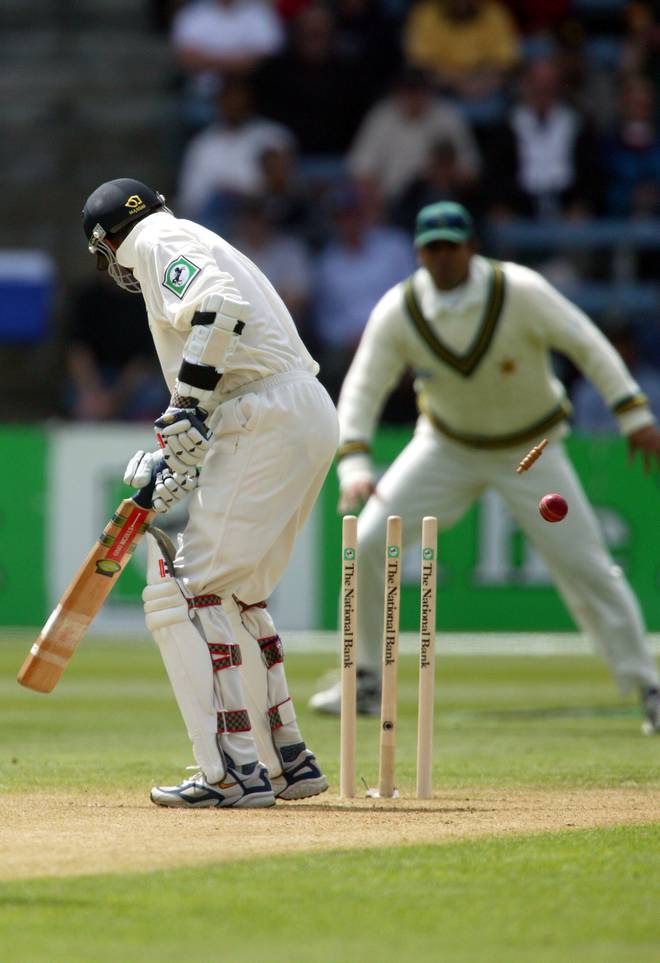 ''I was absolutely gutted. Did all the hard work getting through Mohammed Sami, who felt slower because he was bowling at 150kmph while the other guy (Akhtar) was at 155.''
Second time around, Jones got to seven, then he was caught down the leg side off Shoaib.
Akhtar took 11 for 78 in the match. The fastest Jones ever faced?
''Oh yeah, easy. He had the northerly and he bowled rapid.''
Pakistan needed 274 to win, it should have been difficult but Yousuf Youhana (88 not out) and Inzamam-ul-Haq (72 not out) made easy work of it.
And that was that, no big farewells, the team broke up and moved on to the next assignment. Jones, who had been on the ODI tour to Pakistan earlier that season, returned to domestic duties and when his time came, he finished with a bang.
Back in Auckland by then, his last three first-class innings were 123 against Central Districts, then in his final first-class match, 89 and 170 not out to push Auckland to a seven-wicket win over Canterbury.
He averaged 46.86 and 59.56 in his last two seasons, getting seven of his 19 first-class hundreds in those two summers. His opening partner in that last game? Current test opener Jeet Raval.
Jones has an importing business on the North Shore. He's still involved in cricket as a member of the New Zealand Players' Association board.
So how does he look back on his one test?
''I was incredibly lucky. It is special to be able to play a test, it's one of those things you don't realise how lucky you are at the time.
''Don't get me wrong, I would have loved to play a lot more, but you've got to put the stats up. Sometimes you might only get one chance so you've got to make the absolute most of it.
''I felt privileged to have a test cap, absolutely stoked and no one can take that away from me.''
The one test wonders series:
Stuart Gillespie - 'I had visions of carrying the drinks'
Andre Adams - 'Your country needs you'
Peter Truscott - A vote shy of another test
Andy McKay - Dismissing the Little Master
Gary Robertson - The one wicket that shouldn't have been
David Sewell - No average performance
Rodney Redmond - One of the great one-test careers
Greg Loveridge - The bowler who never bowled
Michael Mason - 'An experience you'll never forget'
Ian Leggat - A minute in the middle
Richard Jones - A Christmas call-up
Bruce Morrison - The call that finally came