There are a select group of New Zealand cricketers whose careers for one brief moment took them to the pinnacle of the sport in this country.
These are the "one test wonders" - and we celebrate them because for that one moment in their lives they were the best this country could produce for the international stage.
They are the conduit between those who go on to revered test careers… and the rest of us who toil at club or social level long after such dreams have passed.
Herald writers David Leggat, Chris Rattue, Cameron McMillan and Andrew Alderson give an insight into some of these men - they spoke to many of them and hear of their experience for better or worse, and how they feel looking through hindsight's lens.
There are 30 in total, 14 who are alive, and 12 who are retired. This is the story of one of those players.
Michael Mason
Age: 43
New Zealand test cricketer number: 226
Played: South Africa at Basin Reserve, March 26-30, 2004
Return: 3 runs and 0-105
On a calmer Wellington day, maybe Michael Mason's test career could have played out differently.
Mason earned his test debut when Daryl Tuffey and Ian Butler were ruled out of the third test of the 2004 series against South Africa, with New Zealand holding a 1-0 lead.
He beat out Auckland paceman Kyle Mills, who would become Black Cap number 227 a few months later in England.
It's natural to be nervous on the eve of a test debut but Mason had an extra reason for a sleepless night.
"The day before, I was training well but got a little bit of a niggle in my back, a little spasm. I was quite nervous and doubtful but the physio said 'nah, you'll be alright for tomorrow'. I was still nervous and doubtful. I don't think I slept that well and had lots of nervous energy. Just thinking 'I hope I'm going to be fit the next day' because I'd pretty much been told I was playing," he said.
"And then I had to run into the Wellington gale. I was always pretty confident running into the wind but that was more than a wind. I'd jump into the air and get blown back before you bowl it. I battled into that. The guys told me they noticed on the TV that I was bowling a foot behind the mark. So the rhythm wasn't quite there on the day."
By the time he got a chance downwind the ball was getting old and the South African batsmen were set. Mason finished with 0-73 from his 16 overs in the first innings.
New Zealand needed just a draw to claim the series but Graeme Smith led the way with a century in the fourth innings as the Proteas chased down 234 for a six wicket win.
Mason went at more than five an over with 0-32 in the second innings. He did manage to score three runs against a lethal bowling attack of Makhaya Ntini and Andre Nel in his first test innings but was run out for a duck by Jacob Oram in New Zealand's second dig.
"A bit unfortunate I only played one test but it was an experience you'll never forget," Mason said.
That wasn't it for Mason's international career however. He played 26 ODIs from 2003 to 2010 including career best figures of 4-24 against Sri Lanka in Christchurch in 2007 and earned a spot in the 2007 Cricket World Cup squad.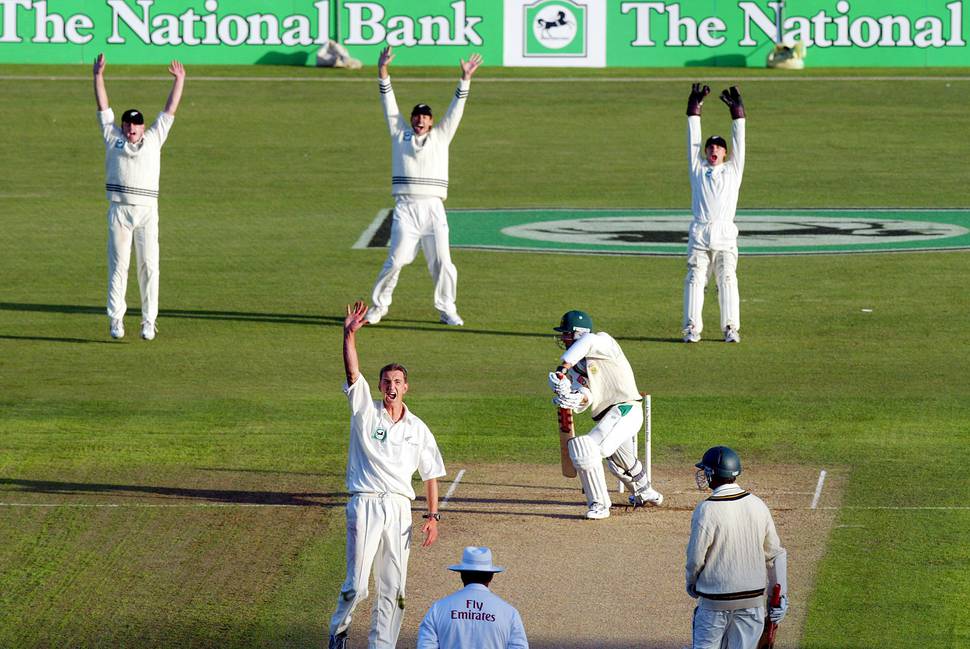 It's probably no surprise his career highlight was in the coloured clothing but it is surprising that it wasn't with the ball in hand.
Number 11 Mason was on strike with New Zealand needing one run from the final over against Sri Lanka in a 2006 ODI in Queenstown. It took until the final ball of the Sanath Jayasuriya over before Mason clipped a boundary over the bowler's head for the winning runs.
"That was pretty cool until the last two balls. The sixth ball when I ran down the wicket seemed like a bit of a life or death situation. Everything was going in slow-motion. One of those movie moments when everything goes slow. The only other time had slow-motion was when I lost control of my car and it was heading for a bank. So that must have been quite important for me to get that one run."
He retired in 2012 in another moment out of a Hollywood script. In his final match for Central Districts he took 3-52 and hit 41 not out to lead the Stags to a two-wicket win over Auckland in the Ford Trophy final. He finished his career with 288 first class wickets with an impressive bowling average of 26.56.
The 43-year-old currently coaches the Manawatu senior team as well as the junior rep teams out of Palmerston North.
"I'm still trying to develop as a coach. This is my sixth year and you never stop learning. You come out of first class cricket thinking you know a lot when it comes to coach but you don't really."
The one test wonders series:
Stuart Gillespie - 'I had visions of carrying the drinks'
Andre Adams - 'Your country needs you'
Peter Truscott - A vote shy of another test
Andy McKay - Dismissing the Little Master
Gary Robertson - The one wicket that shouldn't have been
David Sewell - No average performance
Rodney Redmond - One of the great one-test careers
Greg Loveridge - The bowler who never bowled
Michael Mason - 'An experience you'll never forget'
Ian Leggat - A minute in the middle
Richard Jones - A Christmas call-up
Bruce Morrison - The call that finally came