There are a select group of New Zealand cricketers whose careers for one brief moment took them to the pinnacle of the sport in this country.
These are the "one test wonders" - and we celebrate them because for that one moment in their lives they were the best this country could produce for the international stage.
They are the conduit between those who go on to revered test careers… and the rest of us who toil at club or social level long after such dreams have passed.
Herald writers David Leggat, Chris Rattue, Cameron McMillan and Andrew Alderson give an insight into some of these men - they spoke to many of them and hear of their experience for better or worse, and how they feel looking through hindsight's lens.
There are 30 in total, 14 who are alive, and 12 who are retired. This is the story of one of those players.
Greg Loveridge
Age: 42
New Zealand test cricketer number: 199
Played: Zimbabwe at Hamilton, January 13-17, 1996
Return: 4 runs
Greg Loveridge has the unfortunate tag as the bowler who never bowled in his only test. But he gets to reflect on that from a rather fortunate position as a rich lister worth $90m.
Loveridge's total on-field involvement in the five-day format lasted less than 30 minutes.
At least he got to day three – which just happened to be his 21st birthday. Due to a wet start to the first ever test between the Black Caps and Zimbabwe, Loveridge, a right-arm leg-spinner, got his first and only taste of test cricket with the bat in hand and New Zealand puttering along at 226 for eight.
"I walked out to bat, No 9, in my first test and batted for about 20 minutes. Strangely enough I wasn't nervous," he told the Herald in 2008.
"Henry Olonga pitched one up and I hit him for four. The next one he dropped short and it hit me in the finger and that shattered my knuckle in three or four places."
The Central Districts bowler attempted to bat on but hopes of continuing on in debut were literally shattered.
"I felt sick trying to hold the bat. I went off and had it X-rayed and they only looked at the top of the [index] finger and they said it was fine. I tried to bowl in the nets the next day and blacked out. It wasn't pretty, I had surgery the next day. Mate, that was it."
The match finished a draw with Zimbabwe going close to chasing down 257 for victory, finishing 208 for six at stumps on the final day. Roger Twose rolled his arm over as a replacement for Loveridge, taking his first test wicket – a honour which was meant to be for the right-arm leggie in Hamilton.
After four first-class games Loveridge was picked for his debut in Hamilton after, yes a finger injury denied him the chance a few seasons earlier.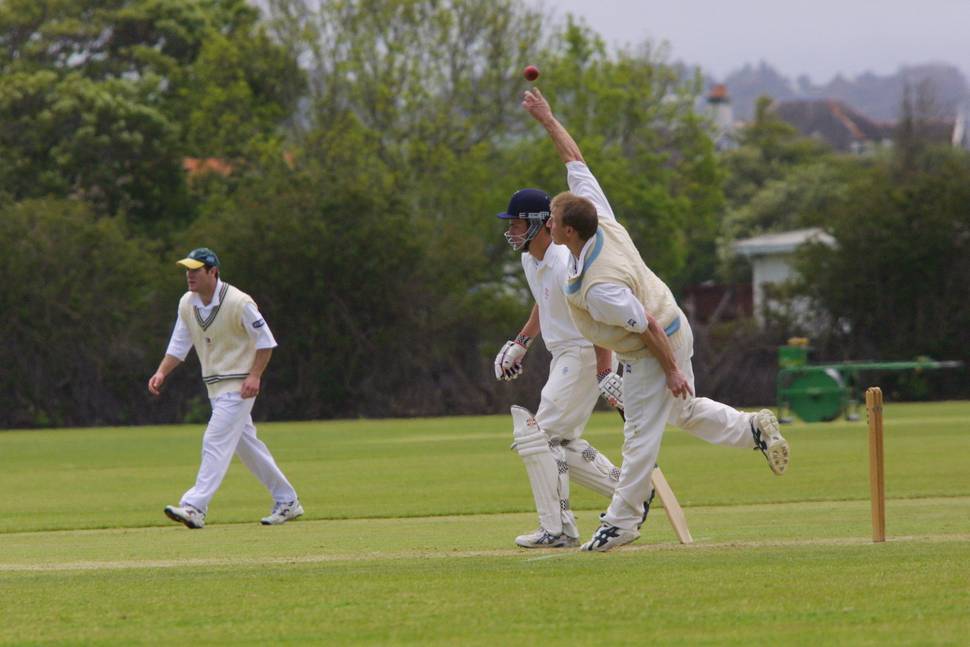 "I played one first-class game for CD at the end of 1994-95 and had been in New Zealand squads. I'd bowled pretty well for New Zealand A' against the Australian Academy. Out of the blue I got called up for the New Zealand training squad that toured India. I bowled well in the nets and got Martin Crowe out a couple of times. As a result of that I got put in the New Zealand team when Dipak Patel got injured. I went off to Darwin and broke my finger fielding and missed the tour."
His cricket dream didn't die with a broken knuckle in his test debut but he had the massive misfortune in that rehabilitation happened concurrently with the start of New Zealand Cricket's Academy, an institution that could not have failed the player more if it set out to.
"It was terrible for me. I was still getting up to speed from the finger and, while that was happening, New Zealand Cricket got rid of everybody that had had anything to do with me and the Dayle Hadlee regime came in. I was sent off to Adelaide to work with Terry Jenner [Shane Warne's mentor]. He changed my action and that was it, I never got it back."
Loveridge then took up a Commonwealth Scholarship at Cambridge graduate college, St Edmund's and there he began to fall in love with cricket again. He returned to play first class cricket for Central Districts until the end of the 2002-03 season while also taking up club cricket stints in South Africa and for Sachin Tendulkar's club side in Mumbai.
After retiring from the game he took on a job general manager at Bob Jones property company Robert Jones Holdings Ltd and now sits on the Rich List with an estimated worth of $90million, according to the National Business Review.
The one test wonders series:
Stuart Gillespie - 'I had visions of carrying the drinks'
Andre Adams - 'Your country needs you'
Peter Truscott - A vote shy of another test
Andy McKay - Dismissing the Little Master
Gary Robertson - The one wicket that shouldn't have been
David Sewell - No average performance
Rodney Redmond - One of the great one-test careers
Greg Loveridge - The bowler who never bowled
Michael Mason - 'An experience you'll never forget'
Ian Leggat - A minute in the middle
Richard Jones - A Christmas call-up
Bruce Morrison - The call that finally came