There are a select group of New Zealand cricketers whose careers for one brief moment took them to the pinnacle of the sport in this country.
These are the "one test wonders" - and we celebrate them because for that one moment in their lives they were the best this country could produce for the international stage.
They are the conduit between those who go on to revered test careers… and the rest of us who toil at club or social level long after such dreams have passed.
Herald writers David Leggat, Cameron McMillan and Andrew Alderson give an insight into some of these men - they spoke to many of them and hear of their experience for better or worse, and how they feel looking through hindsight's lens.
There are 30 in total, 14 who are alive, and 12 who are retired. This is the story of one of those players.
Peter Truscott
Age: 76
New Zealand test cricketer number: 105
Played: Pakistan at Christchurch, February 12-16, 1965
Return: 29 runs and one catch
Peter Truscott was within one casting vote of advancing beyond this list.
Sunday, February 14, 1965 was the rest day during his test debut.
New Zealand were 130 for seven in reply to Pakistan's 206 after two days of the third test at Christchurch.
Truscott had been adjudged lbw to pace bowler Asif Iqbal for three.
His roommate John Reid took a phone call.
Reid, the New Zealand captain, was summoned to a selection meeting for the upcoming tour of India, Pakistan, Britain, the Netherlands, Bermuda and the United States.
In Reid's absence, Truscott picked up the Wisden sitting on the table between their beds.
"There were three sheets of paper in it," Truscott said. "So obviously you have a look. The first was a touring team list and I was in that. The second was another list and I was in it, but bracketed with Terry Jarvis. The third list just had Jarvis on it.
"It would've been a good trip to go on."
The touring team was named between the first and second innings of the drawn test.

Jarvis began the first of his 13 tests against India at Chennai on February 27.
Reid rated Truscott, but there had been a selection fiasco at the start of the Pakistan tour when Wellington protested his inclusion in a President's XI because it coincided with a Plunket Shield match. However, when Truscott was released for provincial duty, he was made 12th man.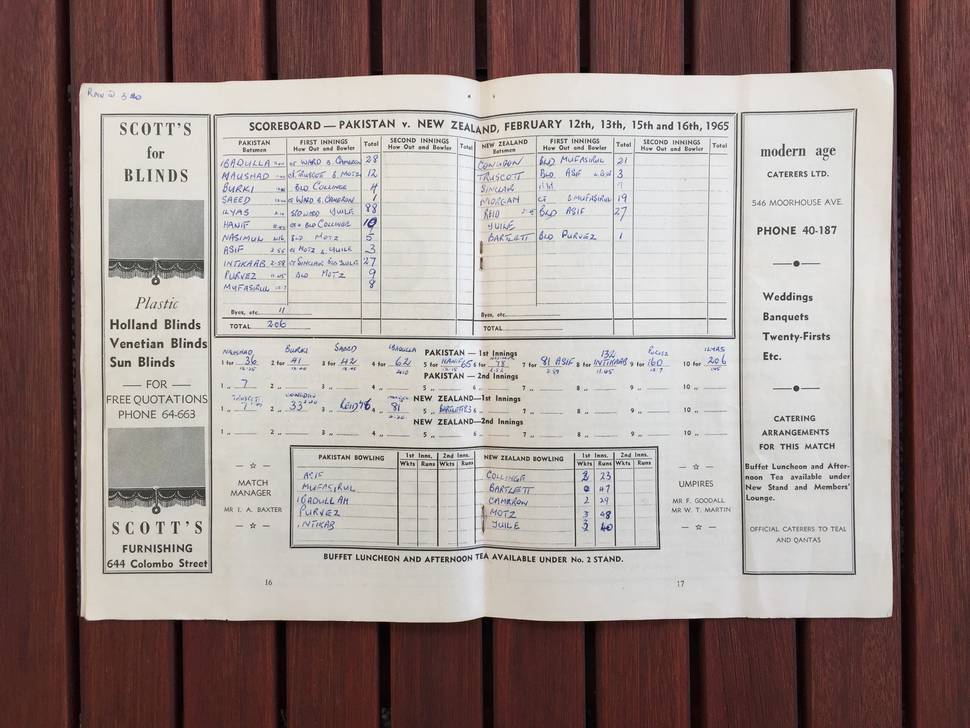 In his book A Million Miles of Cricket, Reid wrote: "Truscott was, and is, a potential New Zealand opener, and he was pushed into the third test with the Pakistanis.
"He did not do enough to warrant selection for the tour which began a fortnight later; but I cannot help wondering how different the story might have been had he been given his chance earlier, and in the match we wanted him to play in."
Truscott respected "Bogo" Reid.
"He was a good friend of mine. He was a member of the Karori club, captain of Wellington at that stage, and a brilliant sportsman. He was good to room with, too."
Truscott said his memory of the test is "a total haze".
"We assembled in Christchurch on the Monday.
"I wanted a bit of practice against fast bowling so Gary Bartlett bowled to me in the nets. He gave it to me alright.
"His dragged his back foot, and almost dragged his right arm on the ground before slinging it down. I was fielding at silly mid-on in the test and a number of Pakistani batsmen turned a bit pale with the ball going past their heads."
Then came Truscott's turn to don the pads.
"On reflection, my self-confidence was lacking. People were saying 'good luck' but my mental toughness was not there.
"Asif bowled in-duckers, I can still remember that, and I got out on the third ball of the over. The first two in-swingers went down the legside and I let them go.
"I said to myself 'the next one will be straight' and it was, but I still didn't play a shot out of sheer nerves."
Truscott's memory is jogged by a programme his mother kept, including a scorecard centerfold detailing play until midway through the second day when New Zealand were 83 for five and her son was back in the pavilion.
The debutant also caught opener Naushad Ali at silly mid-on from a miscued hook off the bowling of Dick Motz.
Truscott returned to work after the test. He played the next season for Wellington - he also featured for the President's XI against England - before settling in Perth as a bank accountant with his family.
His cricket career ended there.
Truscott later ran a hotel in Nelson, a motel in Whangarei and enjoyed stints in real estate.
The 76-year-old is now retired in Orewa with wife Sue, where he loves nothing more than a cold beer in his conservatory and playing a mini-golf on his artificial turf putting green overlooking the Hibiscus Coast.
The one test wonders series:
Stuart Gillespie - 'I had visions of carrying the drinks'
Andre Adams - 'Your country needs you'
Peter Truscott - A vote shy of another test
Andy McKay - Dismissing the Little Master
Gary Robertson - The one wicket that shouldn't have been
David Sewell - No average performance
Rodney Redmond - One of the great one-test careers
Greg Loveridge - The bowler who never bowled
Michael Mason - 'An experience you'll never forget'
Ian Leggat - A minute in the middle
Richard Jones - A Christmas call-up
Bruce Morrison - The call that finally came