Rafael Nadal has accused organisers of the Australian Open of jeopardising the futures of tennis players by forcing them into dangerously busy schedules.
The No.1 seed was forced to retire in the fifth set of his quarter-final clash with Marin Cilic after suffering a leg muscle injury.
A frustrated Nadal linked the tournament's heavy schedule with the high number of injuries this year.
Read more: Marin Cilic beats Rafael Nadal to reach Australian Open semi-finals
"Somebody who is running the tour should think a little bit about what's going on. Too many people are getting injured," Nadal said in a post-match press conference.
"I don't know if they have to think a little bit about the health of the players. Not for now that we are playing, but there is life after tennis.
"I don't know if we keep playing in this very, very hard surfaces what's going to happen in the future with our lives."
Nadal first called for the trainer in the fourth set and received treatment for a leg issue. After going down a break in the final set, the former champion decided he couldn't continue and shook Cilic's hand.
According to the ATP, Nadal has retired from matches eight times during his career and twice at the Australian Open.
"It's a negative thing, but I [am not] going to complain because [it] happened to me more than others," Nadal said.
"But on other hand, I was winning more than almost anyone. That's the real thing. But who knows, if I didn't have all these injuries ..."
"It is difficult to know exactly what it is now. Is difficult to know exactly the muscle. [It] just happened minutes ago. This type of injury is difficult to know immediately, no? We need to wait a couple of hours. Tomorrow I am going to do a test, an MRI here, then we will know."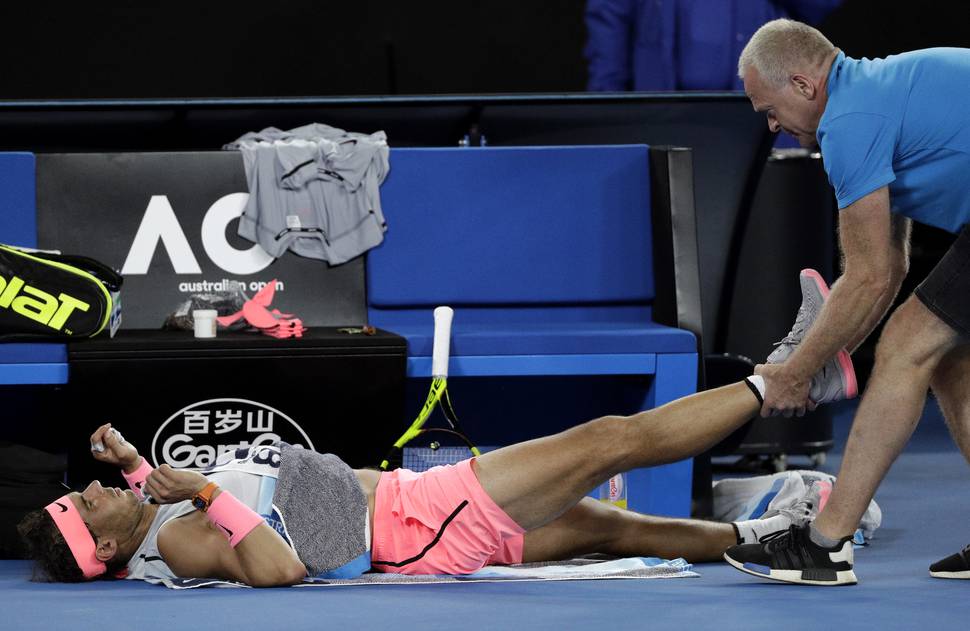 The 16-time Grand Slam champion was visibly disappointed and lamented his unlucky spell with injuries throughout his career.
"It is not the first time an opportunity that is gone for me. I am a positive person, and I can be positive, but today is an opportunity lost to be in the semi-finals of a Grand Slam and fight for an important title for me.
"In this tournament [it] already happened a couple of times in my life, so it's really, I don't want to say frustration, but [it] is really tough to accept, especially after a tough December that I had without having a chance to start in Abu Dhabi and then Brisbane.
"I worked hard to be here. We did all the things that we believed were the right things to do to be ready. I think I was ready. I was playing OK."
Nadal was also forced out of several tournaments at the end of last season due to an ongoing knee injury.
Other tennis stars including Andy Murray, Novak Djokovic, Stan Wawrinka, Kei Nishikori and Milos Raonic have also struggled with injuries in the past 12 months.