Maria Sharapova was back at Melbourne Park for the first time since failing a doping test in 2016 — and her first round match-up was a commentator's nightmare.
Sharapova beat Germany's Tatjana Maria, producing a scoreboard that looked designed to ensure the Russian star was always in front.
Adding an extra wrinkle, the chair umpire was Croatia's Marija Cicak.
The five-time world number one breezed through the opening set before recovering from going down a break early in the second to win 6-1 6-4.
Speaking after her match, Sharapova admitted that she was struggling to cope with the unpredictable Melbourne weather.
"With the weather changes, you never quite know how to pack for Melbourne," she said.
"I feel like I packed extremely bad on this trip. When it is hot I dress for the cold weather and when it is cold I'm in a summer dress. I don't know what is going on."
She refused, however, to be drawn into a debate on the merits of her role announcing the Australian Open women's draw last week.
Tournament organisers were criticised for using Sharapova so prominently as she carried the trophy onto the court before being interviewed by Channel Seven's Hamish McLachlan.
Given she returned last year from a 15-month drugs suspension for using the banned substance meldonium, many thought it was inappropriate for her to take centre stage at the very tournament where she tested positive.
McLachlan was slammed for labelling Sharapova's drugs suspension a "time out", while the Russian star called it a "period of time".
Sharapova had nothing to say to critics of her involvement in the draw following her opening round win, saying she merely took up an offer that was extended to her.
"I was invited to be part of the draw by (tournament director) Craig Tiley and the tournament organisation and I kindly accepted," Sharapova said.
Djokovic crushes young American
Novak Djokovic dropped a bomb off the court on day one — and on Tuesday needed less than two hours to stamp himself as a serious contender on it.
The six-time Melbourne Park champion crushed American Donald Young 6-1 6-2 6-4 in his first official match in six months to march into the second round, AAP reported.
Apart from an adjusted service action, the Serbian superstar showed no signs of the elbow injury that has sidelined him since Wimbledon as he booked a potential date on Thursday with flashy Frenchman Gael Monfils.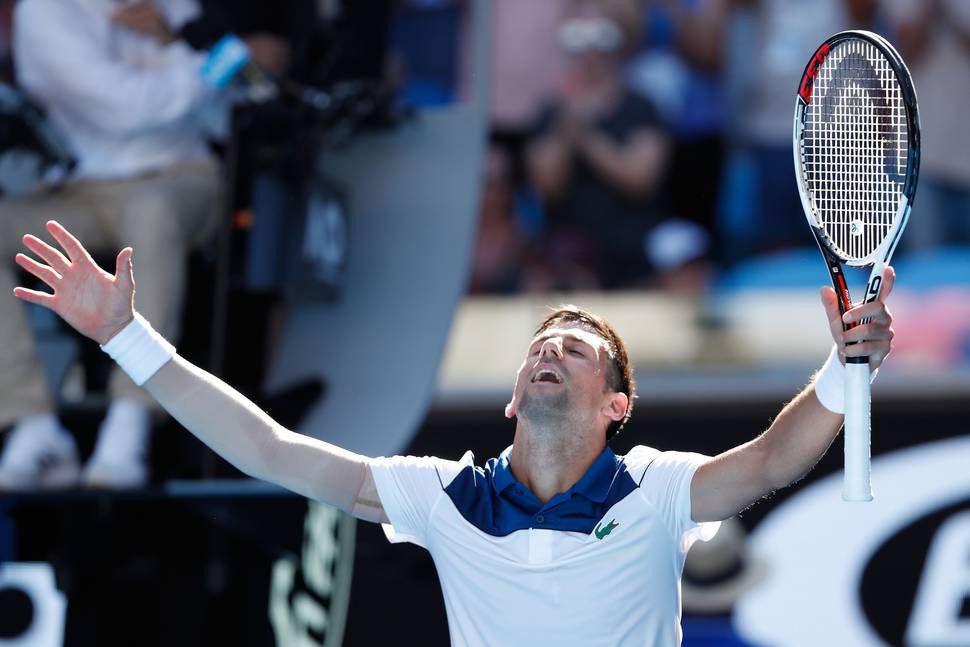 "It's always great to be back on the court. There's no better place to start playing than here in Australia. I love playing here," Djokovic said.
"It's been a long period for me without any competition. The first match after six months, you never know how you're going to start out of the blocks.
"I was so grateful I had this opportunity to be here because a month ago I didn't know because my elbow was not ready."
The 12-times grand slam champion said his time away from tennis allowed him the opportunity to reflect on his career and life, and devote treasured time to his growing family.
He and wife Jelena celebrated the birth of Tara, a sister for three-year-old Stefan, in September.
"I spent as much quality time with my family. Obviously becoming a parent for a second time is a great blessing," Djokovic said.
"So I had my hands full, even though I didn't have a racquet in my hand.
"They're not with me. I miss them, but I missed tennis as well."
His family may not have been courtside at Margaret Court Arena for his successful comeback, but Djokovic's celebrity coach Andre Agassi was.
Agassi is sharing Djokovic's coaching duties with recently retired Czech Radek Stepanek.
"I thank him from the bottom of my heart," Djokovic said of Agassi, himself a four-time Open champion.
Djokovic created headlines on Monday by reportedly demanding a dramatic pay rise for players on the ATP tour.
A host of stars refused to comment on the behind-closed-doors players meeting — and there's just as much mystery surrounding what we can expect from the Serb on-court as he returns after six months on the sidelines with an elbow injury.
Open blasted for 'terrible change'

The Australian Open has a sterling reputation but a change at this year's tournament is driving tennis fans crazy.
The tournament's official website and app have been plagued with problems in the first day and a half of action, leaving visitors confused and upset.
The website had regularly displayed incorrect players in matches and after what the Open's official Twitter account put down to "technical issues which we are working to rectify".
More seeds tumble
Seeds just continue to fail to bloom at the Australian Open with 2016 semi-finalist Milos Raonic booted in the first round.
World No 86 Lukas Lacko - from Slovakia - dominated the 22nd seed Canadian with winners down the forehand side on his way to the 6-7 7-5 6-4 7-6 (4) defeat.
It wasn't without a thrilling finish with the Slovakian winning on a Hawkeye review.
He didn't hang around - not even sitting down before grabbing his bag and leaving Showcourt 3.
Raonic's big serve - which included 34 aces - wasn't enough to save him.
He joined 20th seed Roberto Bautista Agut on the first round loser's list after Bautista Agut's 6-1 7-5 7-5 defeat against fellow Spaniard Fernando Verdasco.
Aussie fumes after match-defining call
Australia's Jordan Thompson lost his cool at the umpire after a tense moment in the fifth set against Nicolas Kicker from Argentina.
Down two sets to love, Thompson had fought his way back to square things up at two sets apiece.
He broke early in the deciding set to go up 2-0 and saved a game point when it was advantage Kicker.
He hit a deep forehand to Kicker's backhand wing and the South American clunked his return into the net, only for the chair umpire to overrule and call Thompson's shot out. The 22-year-old's decision to challenge the call was vindicated when Hawkeye showed the ball was in.
But rather than claim the point and send the score back to deuce, the point was instead replayed because the umpire deemed Kicker's backhand return was impacted by her out call and he didn't make a full effort to get it back in play.
Thompson was furious, going down on his haunches and putting his hands on his head in disbelief.
He believed Kicker didn't have enough time to react to the umpire's call because the ball was a half-volley, meaning he must have played it on the assumption it was good. But the official saw it differently.
"He missed it," Thompson complained. "It [the umpire's call] was after he hit it. You guys never do your job. Never."
The incident sparked a dramatic collapse from Thompson, who lost the replayed point and the next five straight games to go down 5-2 before losing 6-3 6-1 4-6 3-6 6-3.