By Nick Hoult, of The Telegraph
As they lionised the Australian cricket captain on Saturday, broadcaster Channel 9 counted 23 different tics, fidgets and movements by Steve Smith as he stands at the crease.
That's almost one for every Test hundred he has scored.
Smith's innings — he was 229 not out at stumps on Saturday with his side 549-4 — added another layer to the Donald Bradman comparisons that have dominated the past few days.
Read more: 'Best since Bradman' - Majestic Steve Smith leads Australian dominance
Bradman too was unorthodox bringing his bat down in a "rotary" movement, starting at wide third slip before coming down straight.
Smith is similarly unique and blessed with incredible reflexes like Bradman, who famously trained his brain as a child by hitting a golf ball against a water tank with a stump.
More remarkable is the fact that for a modern player Smith rarely hits the ball in the air, just like the Don, cutting down risk and making him even harder to set fields against.
Mark Taylor, the former Australia captain, likened Smith's quirkiness to the golfer Jim Furyk whose swing was once described as an an octopus falling out of a tree. Smith has so many movements it looks like he has eight arms whirring around.
At one point during his double century Channel 9 interviewed Steve Smith's fiancée Dani. She revealed how she spends hours feeding the bowling machine in their garden as her partner's relentless pursuit of excellence creeps into their homelife.
At the Waca it was England feeding the bowling machine, with the setting on floaty medium pace, as Smith made them line up the deliveries in exactly where he wanted as he scored his first double hundred in Australia and 22nd Test century.
There was such an air of inevitability about it all. England backed off Smith from the moment he restarted his innings on 92 with only one slip, a deep point and a deep midwicket to their most potent bowler, James Anderson.

In Adelaide, England thought they had found a way of winding up Smith by being aggressive as soon as he came to the crease with ball, verbals and a field placings. Stationing Anderson, their most senior player, at short mid-on right in Smith's eyeline when he was non-striker rattled him and put him off his game, then the ball swung under the lights in the second innings. Smith made 40 and six.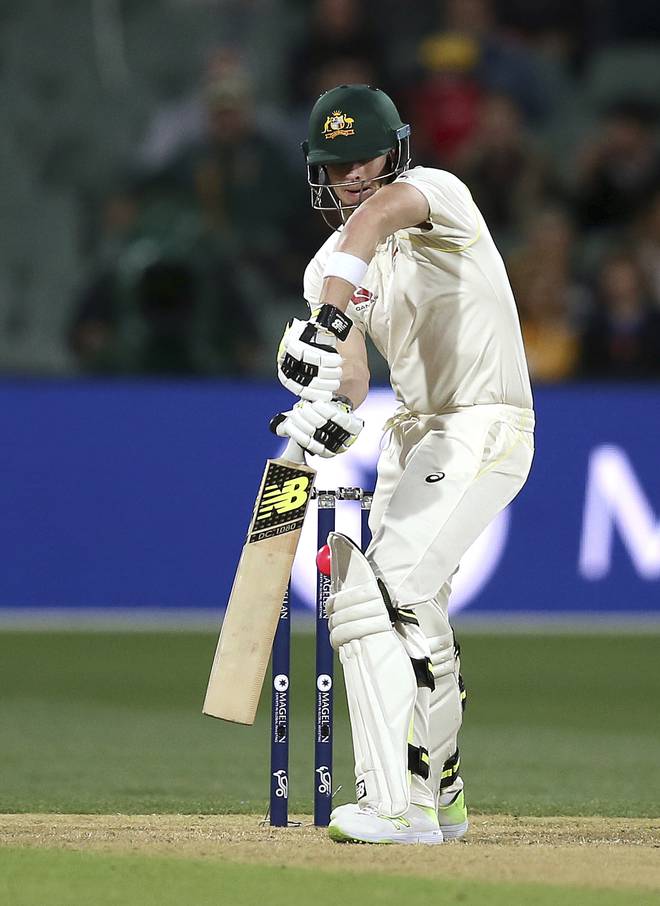 But England were far more respectful in Perth. Their own late innings collapse took the wind out of them and on a pitch with no lateral movement they had nowhere to go with their lack of pace and a decent spinner once again exposed. By the time Anderson tried the wind up at short mid on again Smith was 127 and above it all.
This was the fastest of Smith's Test hundreds, coming off 138 balls and scored at will. He drove more than 50 runs through the covers and moved across to hit on the leg side when England threw it wider of off stump.
When a desperate England resorted to bowling off-spin at both ends at the Waca it was a lowering of the English flag to half mast. When England played against Smith in Perth seven years ago they ridiculed him as the joker in the team. Nothing summed up how roles have been reversed more than when Smith said on Saturday night that "Dawid Malan was the pick of their spinners".
Smith became only the fifth Australian captain, one of course being Bradman, to have scored two Ashes double hundreds. His average at stumps on Saturday, 62.89, moved him into second place in Test history behind Bradman. His 22nd Test hundred came in his 59th Test match; only Bradman has done it more quickly for Australia (38).
Read more: The battle to be the next Bradman
This was Smith's 14th hundred as captain in his 29th Test. It took Bradman 24 Tests to score the same number.
Smith has ground England down in Perth and after such a beating it seems impossible to summon the aggression of Adelaide in Melbourne, where he averages 127, scoring a century in each of the last three Boxing Day Tests. Sydney is his home ground and set for an Ashes coronation with another Smith masterclass seemingly already written in the stars.
What is England's answer? For Bradman it was Bodyline. For Smith? Send your suggestions to Andrew Strauss, at Lord's.
At home, if England take Smith out of London, where pitches are slow and there is little seam and swing, they have his number. Smith averages just 24.08 in Ashes cricket at grounds in England outside the capital. Green tops, swinging balls and British Midland cities. That's how to get him out.
Perhaps the England & Wales Cricket Board has to be ruthless and strip the Oval and Lord's of Ashes Tests in 2019.