It was a good day for New Zealand at Seddon Park today, and although there's plenty of time left, the West Indies are in a jam.
They will pick up their first innings at 215-8 today, still 158 behind New Zealand and this in a test they must find a way to win to square the two-match series.
The recipe is simple for the tourists; rattle on as many runs as they can from the tail, then bowl out of their skins when New Zealand look to press onto an impregnable position.
New Zealand, in turn, will look to avoid suffering what they inflicted on the West Indies this morning.
There can be few more frustrating experiences for a bowling side than do a good job to get among the lower order then get stymied by a 10th-wicket partnership, in this case 61 between swing bowlers Tim Southee and Trent Boult.
It is a mark against the Windies only exceeded by the unbroken 78 by Tom Blundell and Boult at Wellington a week ago. It is hard to quantify the damage that did to the West Indies.
There they were facing a total of about 320; instead it ballooned to 373.
Erv McSweeney and Bryan Waddle review Day 2 of the 2nd test against the West Indies at Seddon Park
''As a bowler I guess you know well and truly when the tail comes out and gets a few away it can become very frustrating,'' Boult said tonight.
''You pitch it up and they miss it; other times they smack it back over your head. I'm sure they weren't too happy, but from our point of view very satisfying.''
Not for the first time in this series, the West Indies lost wickets in a clump, to undermine solid work from stand-in captain Kraigg Brathwaite.
The good friend and former classmate of pop star Rihanna, along with Shimron Hetmyer and Shai Hope, made good progress for a time.
Then Hetmyer, who is a lovely striker of the ball, a mini-Brian Lara, fell to an athletic return catch by Boult.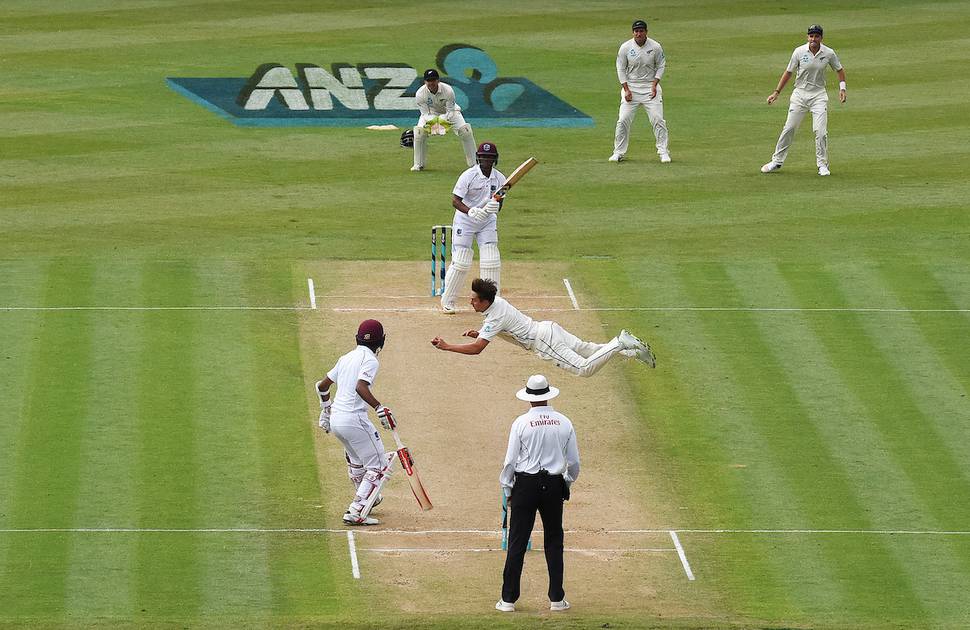 Hope was caught at first slip off a nice Southee delivery and when Brathwaite, after getting to 66 and looking assured, fell to a Southee catch, with a double twist at the second grab at short cover, the West Indies had lost four for 45 in 16.4 overs.
Take away Brathwaite, the anchor of the side and who averages 56 against New Zealand in five tests, and this is a stroke-laden batting group. Hunkering down for a long haul is not their strong suit.
Wicketkeeper Shane Dowrich added a racy 35 to push the West Indies to the brink of avoiding the follow on and debutant Ray Reifer showed resilience to graft 107 minutes to stumps.
New Zealand's bowlers shared the eight wickets and chip-chipped away like Woody Woodpecker through the afternoon to work themselves into a strong position.
Southee was the pick of the bowlers but they worked well as a quartet, although Neil Wagner won't have enjoyed his treatment.
The West Indies batsmen seem to have collectively decided to take on his short ball. Brathwaite did it expertly; others less skillfully but just as effectively.
The West Indies attacking batting mindset was explained by Reifer, who comes from a strong cricketing lineage in Barbados.
''I guess that's the way most of our guys play,'' he said.
''On this wicket we could probably bat a bit more time and just get in, as it's different to our surfaces back home.''
Too right, and too right. The worry for the tourists though is that the New Zealand horse has bolted.