A social media message from Joseph Parker to heavyweight rival Anthony Joshua saying he would like to relieve the Englishman of his two world title belts has sparked an immediate and dramatic response.
New Zealander Parker, the 25-year-old WBO world champion, sent a tweet to Joshua last night which read: "my belt's never for sale but I'll add your two to my collection when you're ready".
The rather gentle opening gambit as the two boxer's representatives continue talks on a unification fight early next year received a similar response, Joshua replying: "Sips tea, continues to read tweets & refreshes email... Still No Offer."
Parker's promoter David Higgins quickly joined the discussion, saying he would be happy for Parker to take 40 per cent of a potential purse, with Joshua claiming the "upside" and 60 per cent.
Joshua didn't reply to that but he did turn his sights on fellow Englishman Tyson Fury, who is considering a comeback after two years of inactivity, when he wrote: "& get fit you fat f***."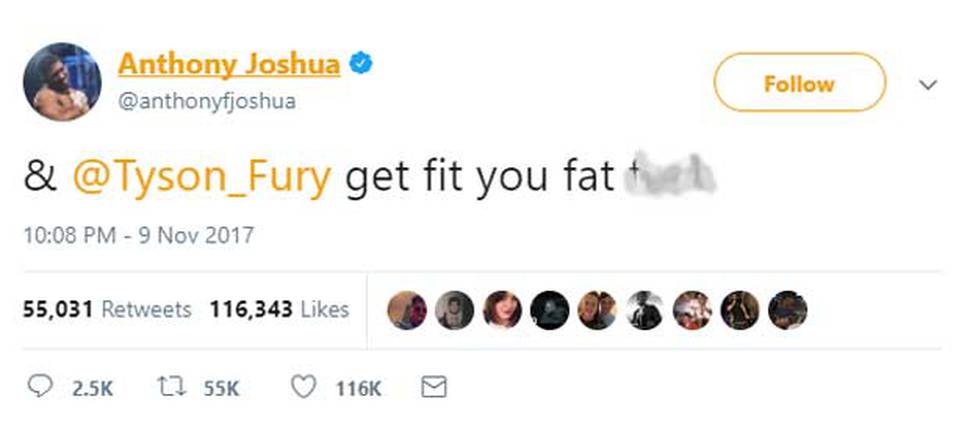 The 28-year-old then lashed out at a video blogger, with whom he had earlier recorded a message to Deontay Wilder, the WBC world heavyweight champion.
The posturing from the major players in the heavyweight division revealed a different side to the normally cool and respectful Joshua, a man who has built a huge following in the United Kingdom.
And there was a concession of sorts from Higgins in his statement he would be willing to accept 40 per cent of a purse. He said this week negotiations would start at 50-50 but it's clear that Joshua, who has fought in front of crowds numbering about 80,000 in his last two fights, is the major drawcard of the division.
Continuing a theme, he told Sky Sports UK: "The starting point is 50-50. But as a mark of respect, we would accept a bit less. But we will not accept an insult. Why should we?
"We're in talks, 100 per cent. Joseph wants the fight but the deal has to be fair and reasonable. If they treat it like a regular voluntary, that devalues it.
"We're not selling our belt. We are going to take Joshua's belts, and we will be paid for our time."
Parker hopes to fight Joshua in March or April next year, with Eddie Hearn, Joshua's promoter, also in talks with Wilder, possibly for later in the year.
Parker is in Auckland starting a camp with trainer Kevin Barry. If the Joshua fight isn't made he will take on Aussie Lucas Browne in Sydney or Melbourne instead.