When the NFL owners elected Roger Goodell as commissioner in August 2006, the news was delivered to Goodell by the respected owner of the Pittsburgh Steelers, Dan Rooney.
Goodell was registered as "Roger Washington" at the Renaissance North Shore hotel in the Chicago suburb of Northbrook, Ill., where the owners were meeting to choose the successor to the retiring Paul Tagliabue.
Goodell was in his room at the hotel when the owners completed their vote on the fifth ballot. Rooney headed up the elevator and knocked on Goodell's door.
When Goodell answered, Rooney simply smiled broadly and the two hugged.
"I was doing some work, trying to be distracted," Goodell said that day. "Fortunately I'd just put my pants on."
Rooney was a kingmaker among NFL owners. He was a confidant and close adviser to commissioners. He was a Super Bowl champion many times over and the architect of the sport's most important diversity rule, which bears his name. He was a pillar of the league, revered by virtually everyone in it.
The NFL lost one of its giants today with Rooney's death at age 84.
"Dan was a cornerstone of the National Football League and leaves a lasting mark on the game he loved both on and off the field," Carolina Panthers owner Jerry Richardson said in a written statement.
The NFL became the nation's most popular and prosperous sports league in large part because of the contributions of the Rooney and Mara families.
They won Super Bowls, the Rooneys with the Steelers and the Maras with the New York Giants. But more importantly, they put the league first, setting up a share-the-wealth financial system ensuring that a franchise in Green Bay could compete with one in New York.
"Dan's immeasurable contributions to his team, our league and to our country will be a lasting legacy of man and leader respected by so many," Atlanta Falcons owner Arthur Blank said.
"Personally, I'll always be grateful for the guidance and friendship he provided to me over the years."
The flag at Pro Football Hall of Fame in Canton, Ohio, will be at half-staff Friday "in honour," said its president, David Baker, "of one of the greatest men to ever serve this game."
League business waited for no one. Except Rooney. More than a decade ago, when Rooney still was piloting himself to some owners' meetings and he was running late because his private plane had a flat tire upon landing in Detroit, the owners held up the start of a meeting for Rooney's arrival. They couldn't begin without him, after all.
"Few men have contributed as much to the National Football League as Dan Rooney," Goodell said.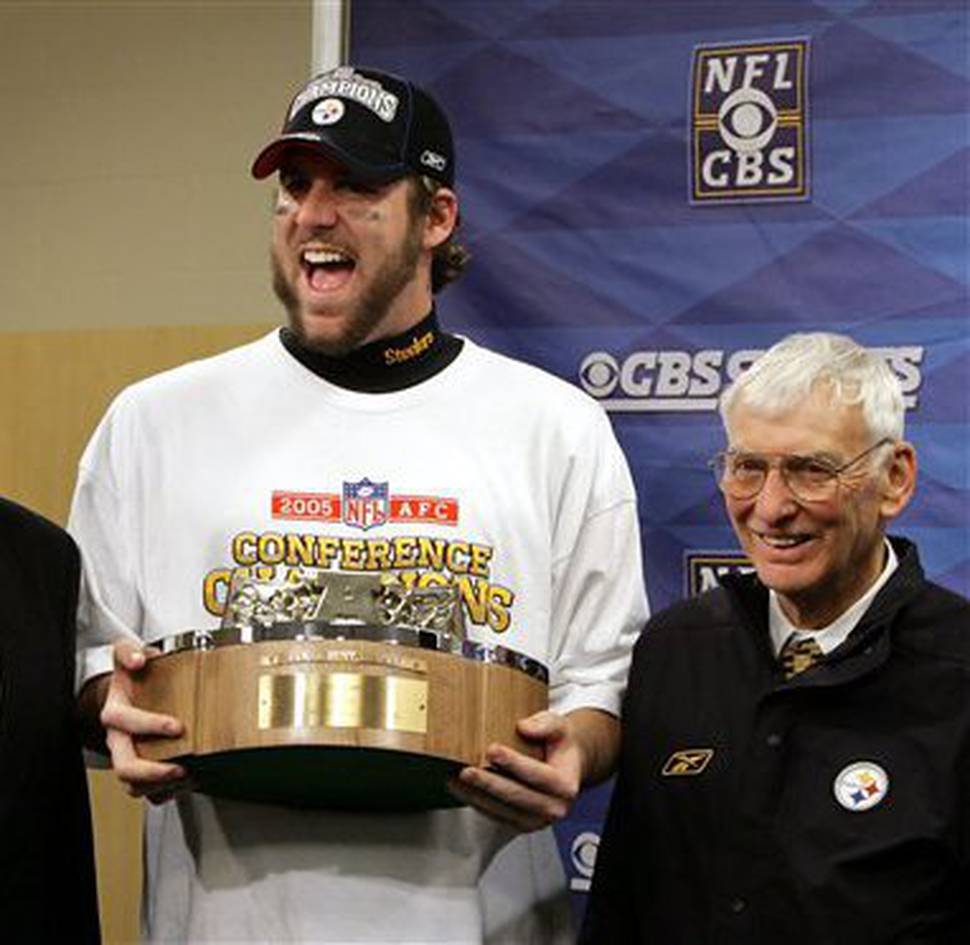 "A member of the Pro Football Hall of Fame, he was one of the finest men in the history of our game and it was a privilege to work alongside him for so many years. Dan's dedication to the game, to the players and coaches, to his beloved Pittsburgh, and to Steelers fans everywhere was unparalleled. He was a role model and trusted colleague to commissioners since Bert Bell, countless NFL owners, and so many others in and out of the NFL.
"A voice of reason on a wide range of topics, including diversity and labor relations, Dan always had the league's best interests at heart. For my part, Dan's friendship and counsel were both inspiring and irreplaceable."
But Goodell and NFL owners weren't the only ones issuing statements of praise today for Rooney.
There was one from former president Barack Obama, who appointed Rooney the US ambassador to Ireland. He was nominated in 2009 shortly after the Steelers secured their sixth Super Bowl triumph.
"Dan Rooney was a great friend of mine, but more importantly, he was a great friend to the people of Pittsburgh, a model citizen, and someone who represented the United States with dignity and grace on the world stage," Obama said.
"I knew he'd do a wonderful job when I named him as our United States Ambassador to Ireland, but naturally, he surpassed my high expectations, and I know the people of Ireland think fondly of him today.
"And I know the people of Pittsburgh, who loved him not only for the Super Bowl championships he brought as the owner of the Steelers, but for his generosity of spirit, mourn his passing today. Michelle and I offer our condolences to the Rooney family, some of the most gracious and thoughtful people we know - even as we celebrate the life of Dan Rooney: a championship-caliber good man."
The Rooney Rule, requiring that each team hire at least one minority candidate for key job vacancies such as head coach and general manager, is named for him, a result of his work on the league's workplace diversity committee.
"Dan Rooney is one of the true pioneers and pillars of the National Football League and deserves a lot of the credit for the success that our sport has enjoyed for a very long time," Buffalo Bills owners Terry and Kim Pegula said in a joint statement.
"On top of that, he was as classy and nice of a man you will ever come across."
Rooney had turned over the day-to-day operations of the Steelers to his son, team president Art Rooney II, years ago, easing into a new role as the franchise's chairman. But he remained active and around the team. He continued to participate in leaguewide decision-making.
He lived in a modest home in Pittsburgh within walking distance to Heinz Field, and he often would walk to games.
His contributions will not be forgotten by anyone in the sport.
"I am deeply saddened to learn of the passing of Ambassador Dan Rooney," Washington Redskins owner Daniel Snyder said.
"Dan was always available and eager to help everyone. He was an icon in our league and a great friend to our game, and his immeasurable impact and presence will be felt for decades to come. I will dearly miss his counsel and his friendship."