There were plenty of fireworks on the first day of finals at the 2017 Aon Maadi Cup.
Perfect rowing conditions greeted athletes, hoping to snare one of the prestigious medals up for grabs at New Zealand's largest rowing regatta.
The action-packed day of racing also saw two of the premier trophies awarded - the Dawn Cup and the Springbok Shield for the under-18 coxed quad.
St Paul's Collegiate struck a blow for the small schools to clinch their maiden Dawn Cup victory, with a dazzling display to conclude a mouth-watering first finals day.
The Hamilton-based school, with only 150 female students to draw from, were rewarded for an aggressive and fully-committed display, to cross the line first in the coxed four event in 7m 15.52s, defeating silver medallists Nelson School for Girls by an impressive 3.40 seconds.
Putting up a stout defence of their title, Diocesan School for Girls wound up with bronze, but the day was all about the performance of stroke Grace Watson, Kate Littlejohn, Olivia Warlow, Jasmine Fountaine and cox Victoria Chanwai.
Watson, who is only a second-season rower and a New Zealand Secondary Schools netball representative, said: "It's unexplainable, it's amazing. We just wanted to do the best we could, we knew we had a chance if we pulled off the best performance of our lives and I think it's safe to say we did."
St Andrews College claimed their first Springbok Shield success for 34 years, to provide a rousing finale to the boys' action.
The Christchurch-based team of Ben Taylor, Zadickary Rumble, Mitchell White, Thomas Russel and cox Tom Flavill lived up to their pre-race billing as overwhelming favourites, to produce an imperious performance and maintain a stunning three-year unbeaten run as a coxed quad crew.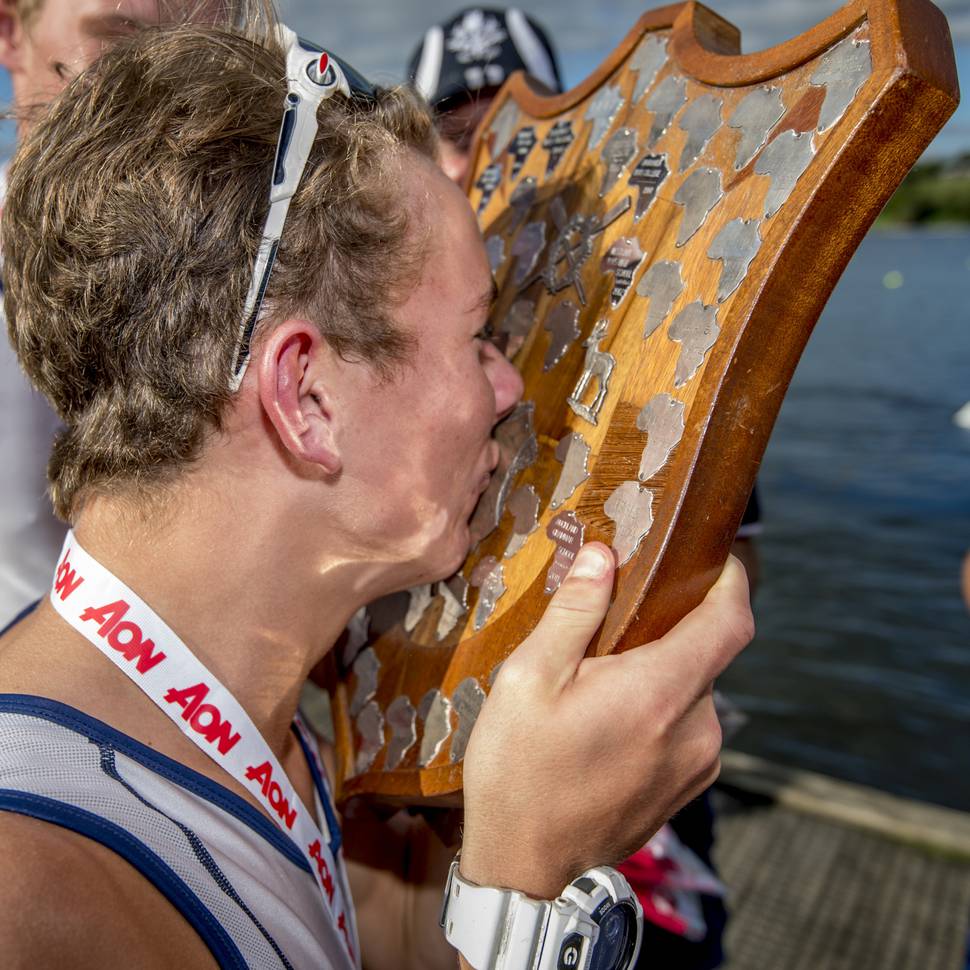 Bursting out to a full-length lead after just 250m, it was then a demonstration, as St Andrews produced one of the all-time great Springbok Shield performances, to win by a huge margin of more than seven-and-a-half seconds in 6m 33.82s.
For stroke Ben Taylor, it was an unforgettable moment, after father Andrew featured in the previous winning St Andrews winning crew in 1983.
"It was pretty big for me and definitely emotional," said Taylor. "We were pleased with the heats, and we just wanted to back that up and put in a performance.
"We have been together for fourth seasons and we have worked hard for this."
In a tight scrap for silver, Westlake Boys (6m 41.57s) edged St Kentigern's College in the all-Auckland battle by 0.93s, to complete the podium positions.
With her outstanding haul of four gold medals at the 2016 Maadi Cup, Veronica Wall was the star of the show 12 months ago and the Ashburton College athlete once more excelled to claim double gold on first finals day this year.
Wall, who made history last year by claiming an unprecedented under-16, under-17 and under-18 single sculls treble, plus coxed four gold, started her day by winning the under-18 double sculls, alongside Grace Wilson.
The champion duo were prepared to play the waiting game, before powering past St Peter's School with 300 metres remaining, to clinch a comfortable win in 7m 29.44s. St Peter's had the consolation of silver, with Tauranga Girls third.
Wall later completed her golden double, securing a routine victory in the under-17 single sculls by a monster margin of more than nine seconds.
For the first half of the race, Kathryn Glen of Villa Maria College bravely challenged, before Wall, powered by her long rhythmic stroke, eased clear to win in 8m 09:23s. Glen earned the consolation of silver, with bronze bagged by Andrea Fick of Westlake Girls.
"It's been a really good day," said Wall, at the halfway stage of her quest to win four medals. "It was definitely nerve-wracking today.
"My double partner, Grace, and I have been racing since we were novices, and we really wanted to go out there and row well.
"There was some pressure, because my name is out there, but I'm comfortable with who I am and what I do."
Wall returns on Saturday to compete in the finals of the under-18 single and under-18 quad.
Gus Olifers took pride of place as the winner of the opening final - the boys under-17 single sculls. The Trident High School student produced a dominate display, as he grabbed control of the race from halfway, to claim a race win for a victory margin of 1.76 seconds in 7m 48.06s.
It was an impressive performance by the Matt Hill and Graham Watt-coached athlete out of the powerful Whakatane stable of school rowing, who only took up the sport two years ago, because "I was a bit unfit and needed to do a sport".
In a titanic tussle of silver, Manawa McLaughlin of New Plymouth Boys High edged Fergus Ritchie (Lindisfarne College) by 0.34s.
Saturday marks the final day of racing. The six-day regatta will conclude with the two premier events - the Maadi Cup and the Levin Jubilee Cup for the under-18 coxed eights.