Cricket fans are living in the Age of Kane and we might as well celebrate it.
The intoxicating days of Brendon McCullum's leadership are in the rearview. This is Williamson's team now. It might not be such a mercurial brew but one thing is guaranteed: the skipper will not go down without putting every sinew into trying to keep the Good Ship New Zealand afloat.
During an at times difficult year for the team, Williamson's skill with the bat has remained undiminished.
Ravi Ashwin on the subcontinent might be a puzzle still to be solved, but there are few other chinks in the armoury. Not a classicist in the mould of Martin Crowe, Williamson instead drains bowlers' batteries through a raft of check drives, flicks through the leg side, punches through the off and late, late defence. At his best he makes batting look simple and bowlers impotent.
There is a big break in the test calendar now. More time to sit back and appreciate this once-in-a-generation talent.
It is widely assumed that Williamson will break every New Zealand batting record there is to own. How far can he go in the race for world domination? Here, we chart Williamson's key moments as he progresses up the test run-scoring charts, marking him against the top 50 New Zealand run-getters and the top 100 overall.
* Denotes active international player. Williamson would not have passed these players at the point they are mentioned (in some cases, such as Tom Latham, he has always been ahead) as their careers are effectively moving in parallel.
2010
August 10:
Williamson plays his first match for New Zealand, an ODI against India in Dambulla. He scores 0, a score he will repeat three days later against Sri Lanka. If it was Williamson's plan to lull the world into a false sense of security, it was brilliantly executed.
Test runs: 0
November 4, 2010: Williamson makes his test debut for New Zealand at 20 years and 88 days. He is the 20th youngest New Zealander to play a test behind, in order from youngest to oldest, Daniel Vettori, Doug Freeman, Giff Vivian, Richard Collinge, Brendon Bracewell, Graeme Vivian, Tim Southee, John Beck, Ken Rutherford, Martin Crowe, Adam Parore, CL Cairns, Vic Pollard, Bill Playle, Martin Donnelly, David Sewell, John Sparling, Mark Haslam and Dennis Smith.
Test runs: 0
November 7, 2010: Williamson scores 131 in his first innings in test cricket, batting at No 6. He shared a 194-run partnership with Jesse Ryder (103) and became the eighth New Zealander to score a century on debut, after Jack Mills, Bruce Taylor, Rodney Redmond, Mark Greatbatch, Mathew Sinclair, Lou Vincent and Scott Styris. He has since been joined by Hamish Rutherford and James Neesham.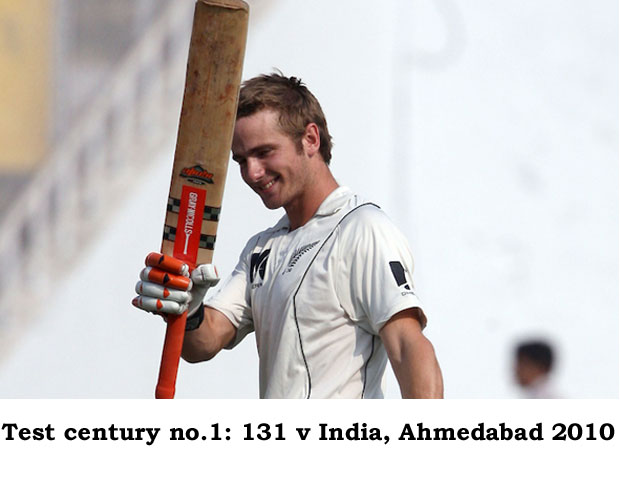 Test runs: 131
November 20: First duck, caught Virender Sehwag b Pragyan Ohja.
Test runs: 204

2011
January 7:
Plays his first test on home soil, against Pakistan in Hamilton. Scores 50 in the first innings and 1 in the second.
Test runs: 263
December 12: Williamson ends his second year in the side on a triumphant note, with New Zealand winning their first test in Australia since 1985. It was not a hugely productive tour for him though, scoring 19, 0, 19 and 34.
Williamson's status as New Zealand's wunderkind is starting to look a little hollow as his average sits around 32 - serviceable, but hardly stunning.
Test runs: 488

2012
March 15:
Williamson is out for a duck at Seddon Park against South Africa, Dale Steyn the bowler. Williamson's average sinks to 27.94, the lowest it will ever hit.
Test runs: 503
March 27: New Zealand are outclassed by South Africa at the Basin Reserve but scramble a draw thanks to the fighting qualities of Williamson, who ends day five 102 not out, his second test century. Batting at No 4, Williamson survived a ferocious attack from Steyn, who (wrongly) thought he'd had Williamson caught in the gully. One delivery from the quick hit Williamson in the area nobody wants to be hit. The cracked abdomen protector, signed by Steyn, takes pride of place in Williamson's home.
"I'm not quite sure Kane has realised what he has done just yet," Brendon McCullum said at the time. "It will go down as one of the gutsier innings and one of the more fighting efforts on the last day against this sort of attack."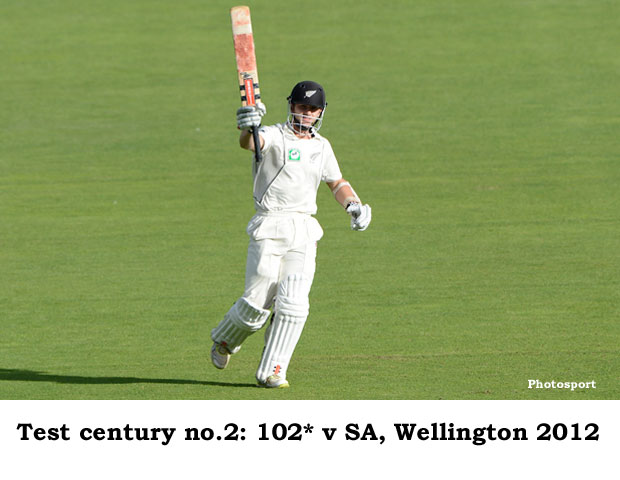 Test runs: 723
August 24: Williamson might have scored just 32 in the first test against India at Ahmedabad (and this was coming off a disastrous tour of the West Indies where he scored 49 runs in four innings), but this was significant as it was the first time he would bat No 3 in a test for genuine reasons. He scored 52 in the second innings and cemented first drop as his position. He has not batted in any other position since.
Test runs: 854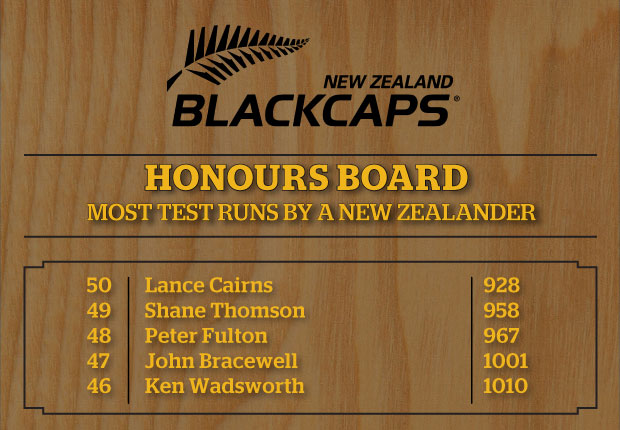 November 26: A massive day for any number of reasons. Williamson, coming off a disappointing double of 0 and 10 at Galle, burst into the Top 50 New Zealand test run-scorers, scored his third test century and shared a 262-run partnership with his skipper Ross Taylor (142). Bubbling away in the background was the fact that Taylor had been advised before the test that the management team were recommending a change of captain upon their return home. New Zealand would win this test against Sri Lanka at Colombo and all hell was about to break loose.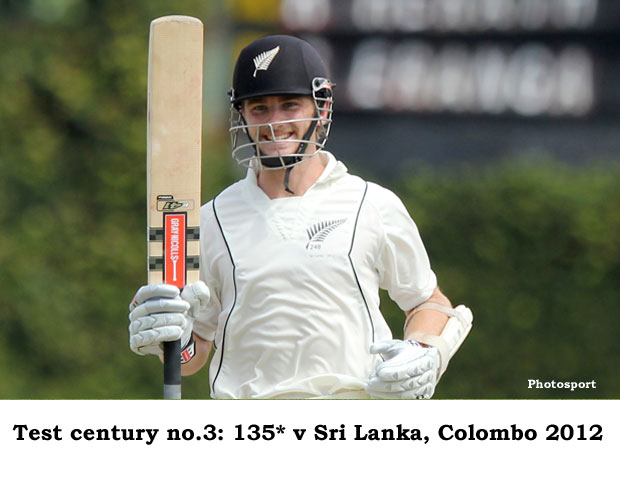 Test runs: 1029

2013
January 2:
Well, that didn't go so well, did it? In McCullum's first test in charge he won the toss at Cape Town and chose to bat on a spicy wicket. New Zealand were all out for 45, of which Williamson's 13 was comfortably the top score.
Test runs: 1060



March 23: Williamson is dismissed for 91 in the first innings against England at Eden Park. Following on from his 55 not out in the second innings against the same opposition at the Basin Reserve, it marks the first time in 23 tests Williamson has made back-to-back scores of 50 or more.
Test runs: 1302



May 18: Williamson's first test innings at the Home of Cricket, Lord's, ends when he is caught behind off James Anderson for 60.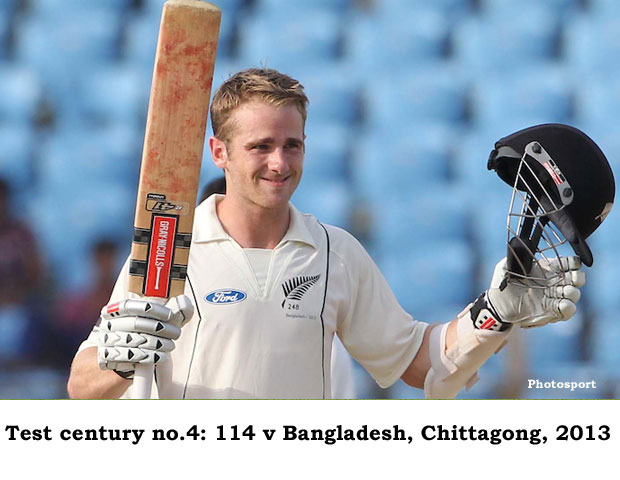 Test runs: 1363

2014
February 6:
Williamson celebrates the national holiday with a brisk 113 (172 balls) at Eden Park against India. His effort is overshadowed by captain McCullum's 224 but their 221-run stand sets up an unlikely victory for the hosts. The innings also marks a bookend to the first truly prolific sequence of Williamson's test career, which started with 114 versus Bangladesh at Chittagong and continued thus: 74 v Bangladesh, Chittagong; 62 v Bangladesh, Dhaka; 45 v West Indies, Wellington; 58 v West Indies, Hamilton; 56 v West Indies, Hamilton; the above 113.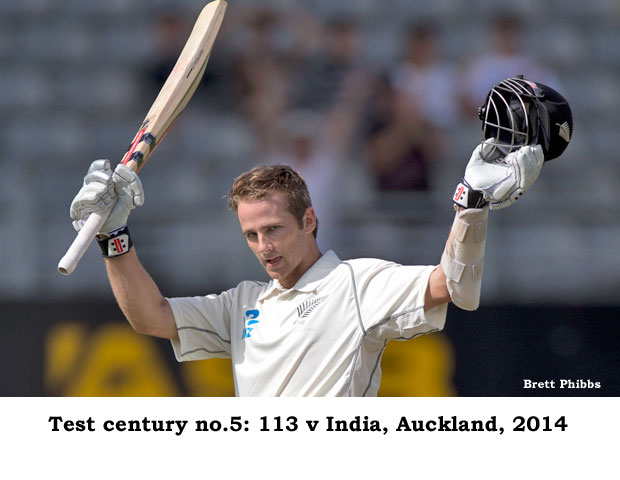 Test runs: 1907



February 16: Williamson is dismissed early on day three for 7 as New Zealand set about the improbable task of trying to save the second test and the series against India at the Basin Reserve. For the next two-and-a-bit days he will sit in the same seat and watch every ball of McCullum's 302, describing it as the best innings he's ever seen.
Test runs: 1964



June 29: The No 3 boosts his backers' claims that he is the future of New Zealand batting with his first plus-150 score. His 161 not out sets the platform for New Zealand's win in the third test against the West Indies in Barbados. NZ win the series 2-1. It marks the end of a triumphant tour to the Caribbean, where his scores of 113, 2, 42, 52, 43 and this 161 pave the way. It is also the first time since January 2011, that his average creeps past 40.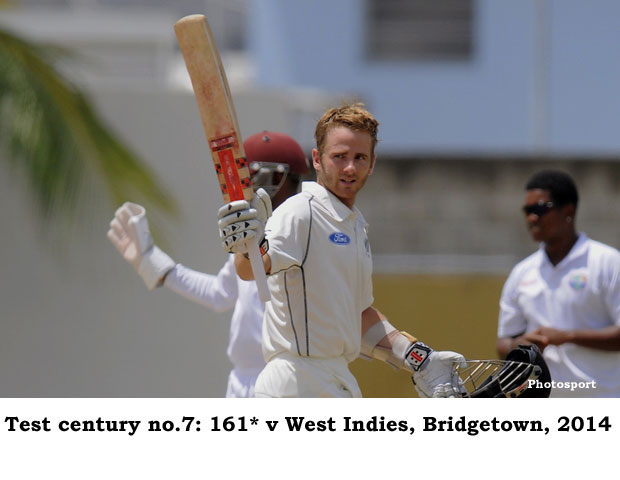 Test runs: 2377


November 29: A difficult tour of the UAE to play Pakistan gets worse when news filters through during the third test in Sharjah that the young Australian batsman Phil Hughes has succumbed to the injury he suffered when struck on the head by a bouncer. A devastated Black Caps team does not want to continue but agree to after day two is cancelled. In one of the more remarkable turnarounds in test history, New Zealand win after scores of 202 and 192 by McCullum and Williamson respectively. Their partnership of 297 is scored at almost a run-a-ball. It was a bittersweet moment. Once again, Williamson pushes his test average above 40, this time it will stay there.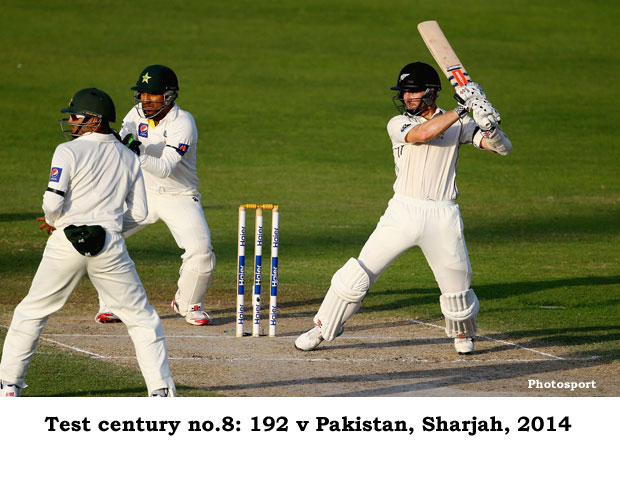 Test runs: 2638

2015
January 6:
Whereas McCullum had the previous year improbably saved a test at the Basin Reserve in conjunction with BJ Watling, Williamson went one better and helped win a test with his Northern Districts' teammate. Facing a large first innings deficit, Williamson (242 not out) and Watling (142 not out) combined for an unbroken 365-run partnership for the sixth wicket, breaking the spirits of the Sri Lankans in the process. It was Williamson's first and so far only double-century in tests. With this score, he passed 3000 runs in tests, the quickest New Zealander to reach the mark.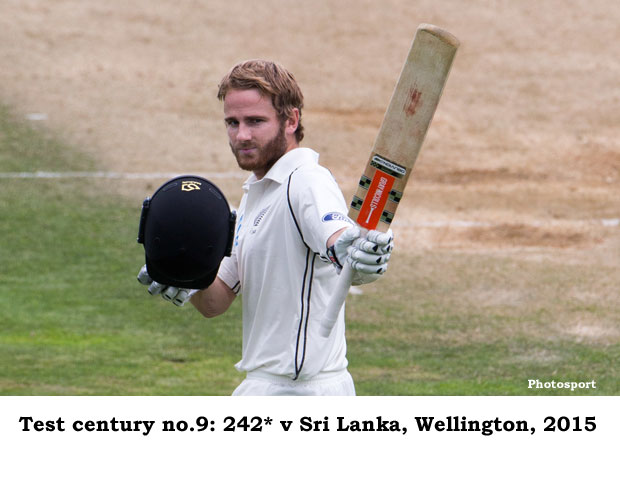 Test runs: 3034



May 23: Many test grounds have honours board but there is something special about the permanence of being etched into bones of Lord's. With a glorious 132, Williamson joined Stewie Dempster, Curly Page, Martin Donnelly, Bevan Congdon, Mark Burgess, Vic Pollard, Geoff Howarth, Martin Crowe (x2), Trevor Franklin, Matt Horne, Mark Richardson and Jacob Oram as New Zealanders to score a century at the home of cricket. He also became just the eighth player to score 10 test centuries before the age of 25. It was the first time Williamson had scored centuries in back-to-back test innings, a feat he has yet to repeat. In a less appealing narrative, this was the first time Williamson had scored a century in a losing effort.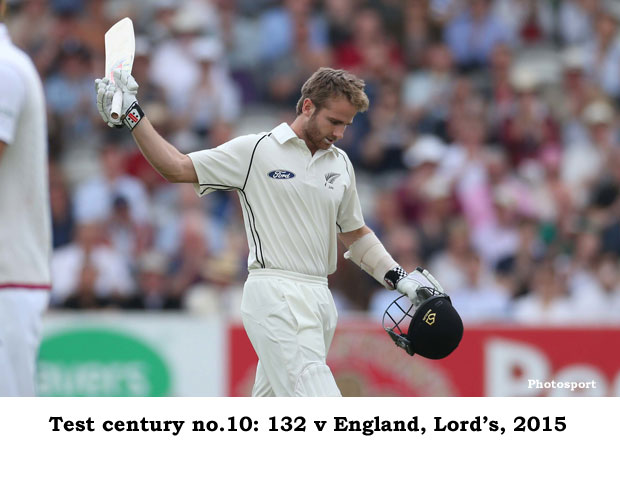 Test runs: 3166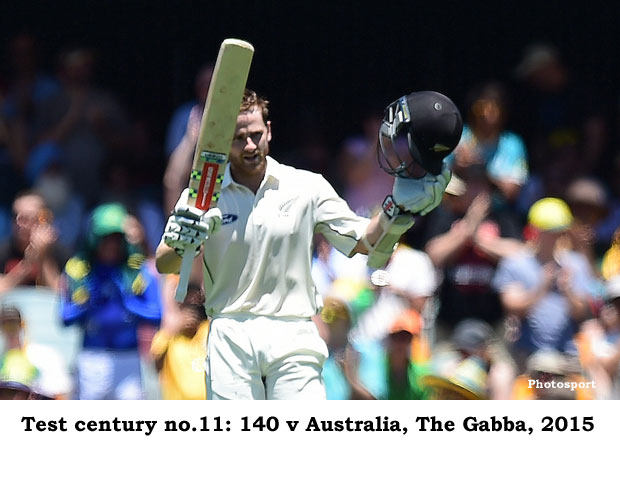 November 15: One thing Williamson can never be accused of is trying to steal the limelight. This was Ross Taylor's day as he would progress towards a triple-century that was only denied as he tried to heave a six while batting with No 11 Trent Boult. It is for that this WACA test against Australia will be remembered, but at the other end during a third-wicket stand of 265 was Williamson, who added a fluent 166 to the 140 he scored in the previous test at the Gabba. The hard-to-please Australians were left in no doubt Williamson was the real deal. Two days later he would be officially ranked the No 1 test batsman in the world.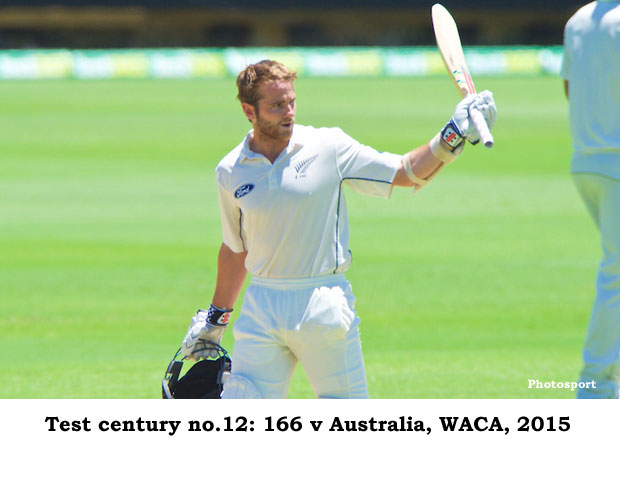 Test runs: 3564
December 21: Appropriately, Williamson ended an incredible 2015 with an understated classic at Seddon Park against Sri Lanka. On a two-paced pitch that had flummoxed everybody, Williamson put on a masterclass during a potentially tricky fourth innings chase of 189 to beat Sri Lanka. His 108 not out meant he ended the calendar year with a staggering 1172 runs at an average of 90.15. "It was an innings of sheer class from the king," said McCullum, ensuring the appearance of King Kane in several headlines, something you can be sure he hated.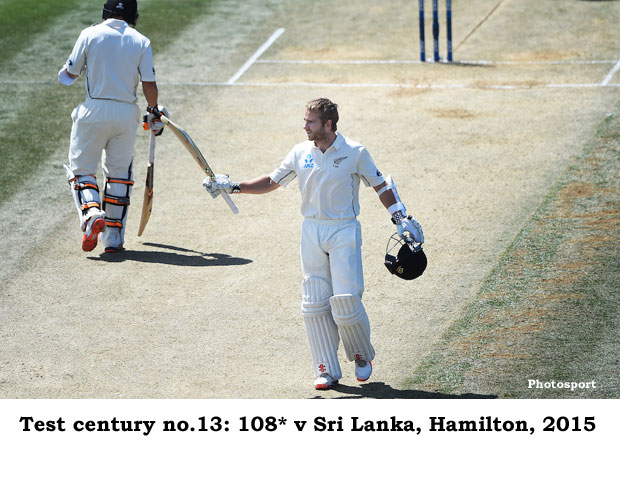 Test runs: 3895

2016
August 10:
Williamson ends his first test series as captain with a resounding 2-0 victory away to Zimbabwe. Tours to that country are, unfortunately, seen as little more than an opportunity for batsmen to pad their averages and Williamson, by dint of his skill, had no problem doing so, scoring 91, 113 and 68 not out in his three bats. However, the 113 should not be totally overlooked. It was his first as captain, it completed the "set" against all other test playing nations and pushed his test average above the magical 50 barrier, almost unheard of for New Zealanders who play the majority of their cricket in bowler-friendly conditions.
Test runs: 4309



October 11: For the first time in a few years, Williamson looks human. He is dismissed by offspinner Ravi Ashwin for the fourth time in succession during a series in which he scored 75, 25, 8 and 27. Add the missed second test at iconic Eden Gardens through illness and it is an unhappy tour for the skipper.
Test runs: 4528

2017
January 16:
The lofty standards of 2015 were not replicated in 2016, though it was by no means a bad year. Still, the slightly paranoid among us might have started to wonder if the pressures of captaining all three formats were about to have an effect on his batting. In that regard, another fourth innings gem, this time 104 not out at the Basin to chase down the 217 set by Bangladesh, was soothing to the soul.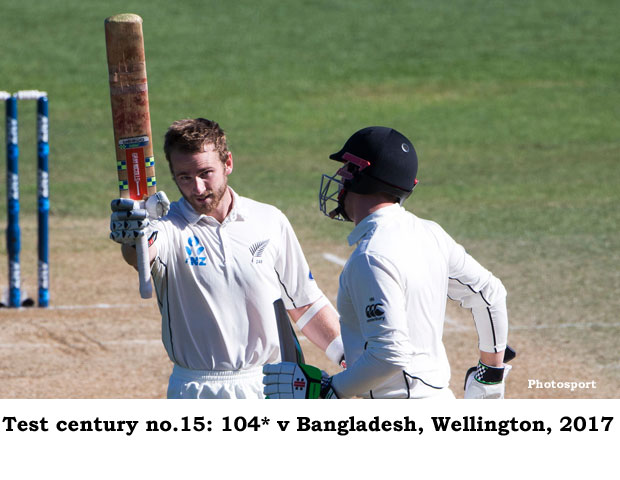 Test runs: 4805



March 10: If there is a criticism of Williamson going into this crucial home series against South Africa, and it is nitpicking, it is that Williamson has yet to play an innings as captain that has set up the match for his team. This 130 comes pretty close, achieved as it was with Taylor injured, against a good attack in difficult conditions. Williamson's 16th test century put New Zealand into a position where they were slightly ahead before the final day's play was rinsed away.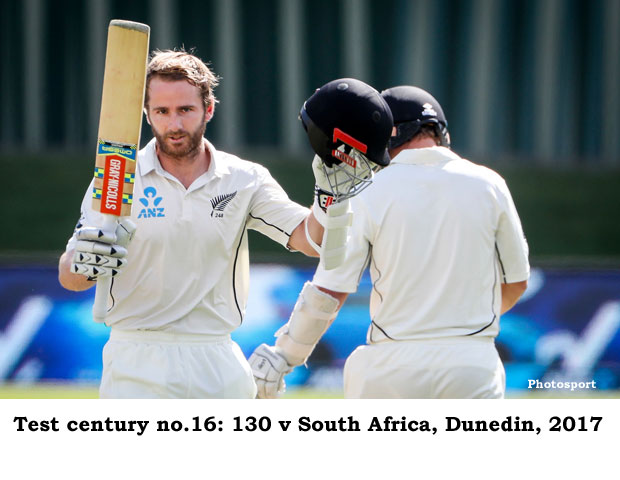 Test runs: 4937



March 28: Williamson rebounds from a horror test at Wellington where he totalled three runs across two innings and the team folded like a card tower in a hurricane, confirming the fear that where Kane goes, so does New Zealand. On this day he is dismissed for 176, a peach of a knock where he scored at a strike rate of 61. He shared in a 190-run partnership with Jeet Raval who scored 88 runs from 254 balls. New Zealand were denied the likelihood of a drawn series when the final day was washed out. "New Zealand played some good cricket, especially Kane," South Africa captain Faf du Plessis said. "Two hundreds out of three games is extraordinary." It was Williamson's 17th century, pulling him level with the late Crowe.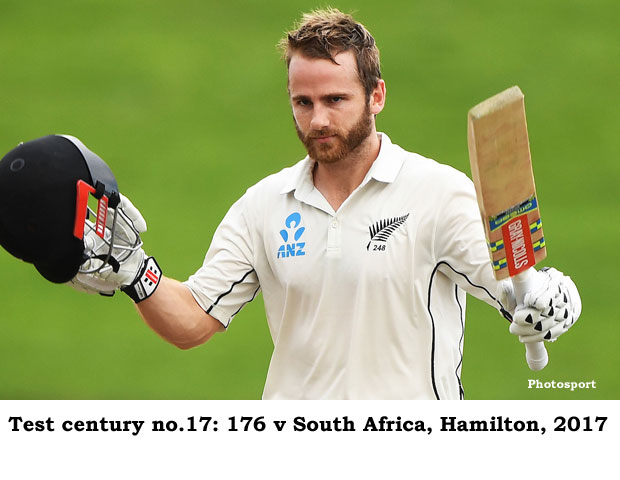 Test runs: 5116