It's been the heartwarming story of the football season off the field and yesterday the story of Bradley Lowery was brought to everyone's attention again, this time on the pitch.
The five-year-old who has captured the hearts of football fans everywhere had the honour of leading England out at Wembley prior to their win over Lithuania.
Lowery, who is bravely fighting a rare form of cancer called neuroblastoma, had an incredible day made even better as he got to do it alongside his favourite player and 'best mate' Jermain Defoe.
Defoe's relationship with Lowery has touched all of those within the beautiful game, with the pair inseparable at times as Defoe continues to support Lowery in his fight.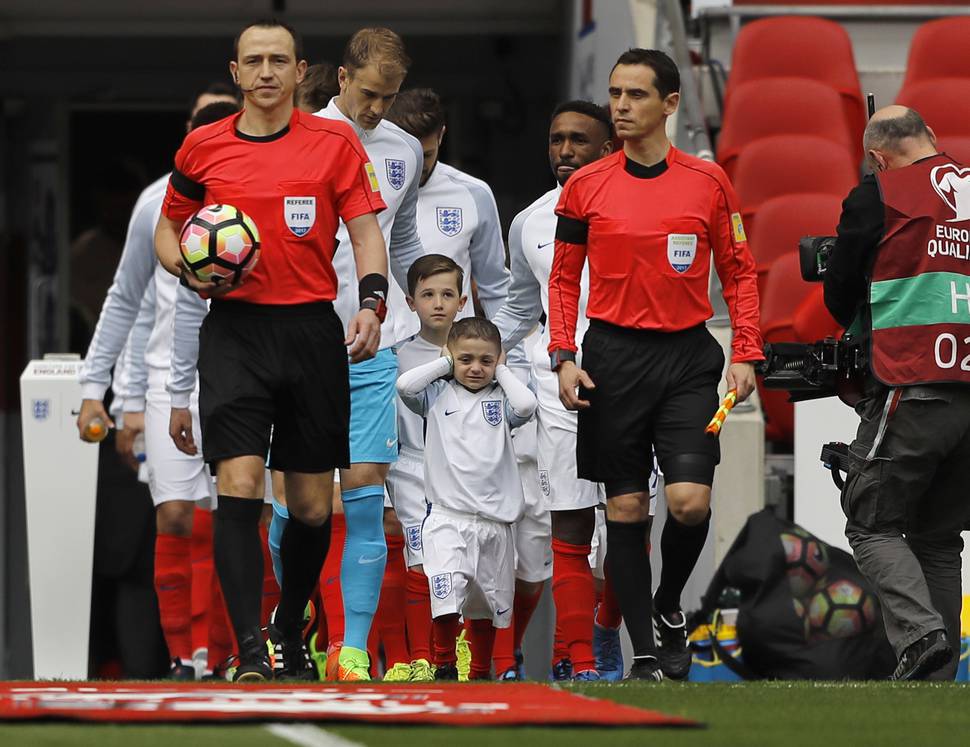 The duo's special bond began in September when Sunderland hosted Everton in the Premier League.
The Sunderland-mad Lowery led his beloved Black Cats out on the pitch as a mascot before receiving a round of applause during the fifth minute at the Stadium of Light.
Supporters of both clubs sung 'there's only one Bradley Lowery', before a banner carrying the message, 'we're with you, Bradley' was carried around the stadium.
Speaking after meeting his hero Defoe, Bradley told the Sunderland Echo: "This has been amazing. I got to meet Jermain Defoe, who's my favourite and everyone said my name. Thank you everyone."
After giving Defoe tips on how to finish in the tunnel before that match, three months later Lowery demonstrated his prowess before Sunderland's draw with Chelsea.
Meeting Defoe once again, Lowery was also introduced to Diego Costa and even took a penalty against Asmir Begovic - and scoring. That effort saw him win Match of the Day's goal of the month competition for December.
Support for the youngster continued just a few days later when Watford striker Troy Deeney gave Defoe a Christmas card to deliver to Lowery on behalf of the whole Watford squad.
In February, the special bond between Defoe and Lowery was encapsulated by one photo the latter shared via his Twitter account.
As Defoe and his Sunderland team-mates visited him in hospital, young Bradley fell asleep on his bed in the arms of the forward.
"Bradley is doing well and has cheered up after having some very special visitors," his family wrote on his Facebook page.
"Thank you to Sunderland AFC, you have been amazing for Bradley.
"Bradley had lots of fun with the boys and then fell asleep cuddling Jermaine (sic). #specialmemories #grateful"
Bradley's Twitter account then posted the picture with the caption: "Bradley loves @IAmJermainDefoe he didn't want him to leave today and fell asleep cuddling into him #specialbond".
Speaking about the visit, Defoe said: 'As soon as I walked into the room, he jumped up and grabbed me and said: "get in the bed!"
"He got the covers on me, he said to his mum: 'could you turn the lights off?' He just wanted a cuddle and to go to sleep.
"You can imagine the unbelievable feeling. Obviously, it fills you with tears, but you can't show your emotions as he is only young and you don't want to show him you were upset.
"I have been blessed in life and it is a great feeling to be able to give something back and make someone so happy, a little boy who is having a tough time at the moment.
"Bradley is in my prayers every night. He is an amazing young man and I look forward to seeing him again."
And the pair got to see each other again a month later after Defoe's fine form for Sunderland earned him a call-up to the England squad - news which delighted Bradley.
Bradley's Fight Twitter account posted the video with the caption: "Bradley was over the moon to hear his best mate had been called up for the England squad. He loves you Jermain Defoe #specialbond."
His mum Gemma filmed him and asked: "Guess what? Guess who's going to the England match next week?"
Bradley replied: "Who?"
"Jermain," Gemma replied. "Are you buzzing?"
"Yeah," Bradley said with a grin.
Bradley jumped for joy on hearing the news that his idol had got the recall. Defoe last appeared for England in a friendly against Chile back in 2013.
And the 34-year-old marked his England return alongside Lowery in heartwarming scenes.
His mother Gemma had revealed how her son has spoken of little else since finding out he would accompany the England side onto the pitch as mascot for their World Cup qualifier against Lithuania.
She said: "Bradley is so excited to be mascot for England. He has spoken about it every day since we told him. Bradley has touched so many hearts, we are so proud of our little boy."
As the players took to the Wembley turf, Defoe carried the youngster in his arms before Bradley could be seen covering his ears, such was the thunderous cheer he and the England players received.
Defoe then managed to make Lowery's day even more special by opening the scoring in the 21st minute as England secured a 2-0 victory.
After the match, Defoe said: 'I enjoyed it. It's been a good while, training has been alright and I felt good.
"It's nice to score two goals but to win is what matters and the team spirit. It's hard to put in words, I had to keep my emotions at the beginning with little Brad with me."
Lynn Murphy, the campaign manager for Bradley Lowery's Fight, said Bradley "loved every minute of it".
She added: "When he came off the pitch he was over the moon, and when Jermain scored that really topped the day off.
"After the match he got to spend time with Jermain for a bit longer and said 'I've had an amazing day, it's been fabulous'. Those were his words."
In December his family were told his cancer is terminal but the inspiring child from Hartlepool continues to cherish life, alongside his idol and 'best mate' Defoe.
Bradley is terminally ill with Neuroblastoma after relapsing last year. For more information visit Bradley Lowery's Fight website.