Melbourne Storm captain-in-waiting Jesse Bromwich says its time he stepped up his leadership after signing a new three-year deal with the NRL club.
Bromwich - who is currently out of action for at least two weeks with a dislocated thumb - on Wednesday put pen to paper on a contract that will keep him at Melbourne until at least 2020 with an option for a further two years.
Widely considered the best front-rower in the world, the 27-year-old is already a key figure at the Storm and will lead the club into the future once star players Cameron Smith, Cooper Cronk and Billy Slater retire.
Both Smith and Cronk are tipped to retire at the end of next year and Slater is off contract at the end of this season, while coach Craig Bellamy is also unsigned beyond 2018.

Having worked under 'The Big Three' since he began his 160-game career in 2010, the Kiwis captain says he needs to step out of their shadows and take his leadership to a new level.
"I've been learning off Smithy and Coops and Bill the last few years and it's time for me to start stepping up and doing a few of those things that I've learned," said Bromwich.

"In terms of on-field, I just want to maintain the high standards that I have for myself and hopefully I can pick up on the leadership side.
"I know there's a plan in place for when the three big boys retire and now that I'm a part of that I can help the club move forward when that does happen."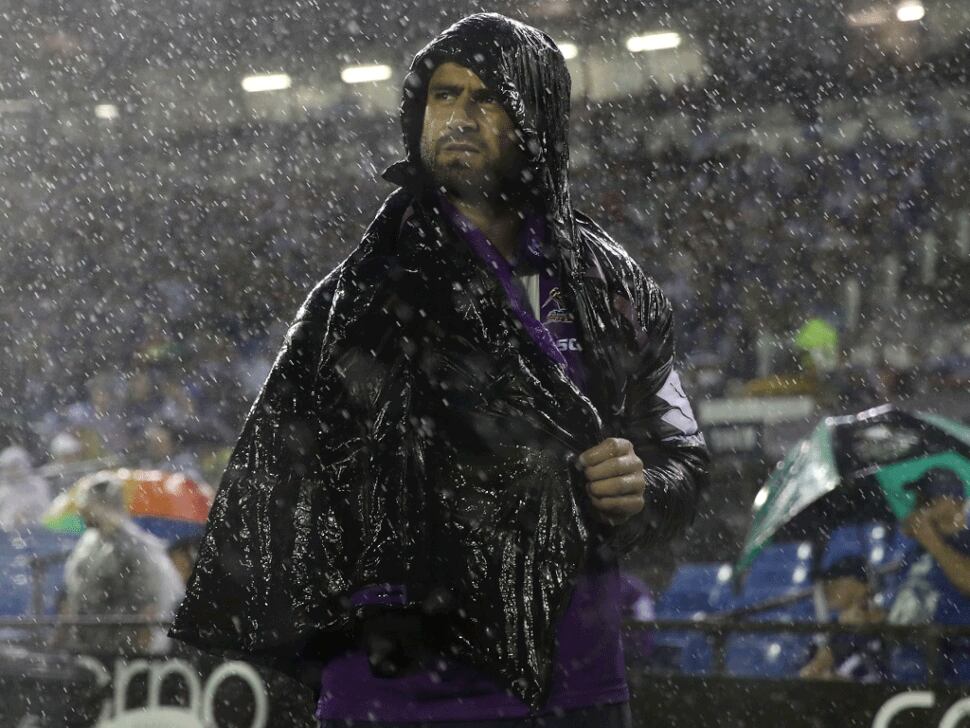 Following the off-season departure of back-rower Kevin Proctor and fellow Kiwis forward Tohu Harris' decision to join the Warriors next season, the retention of Bromwich became an even greater priority for Melbourne.
Bellamy is pleased with the progress in Bromwich's game in recent seasons and declared him a certainty to take over the club captaincy once the club's trio of senior players depart the NRL.
"He's grown a lot as a player over the years as everyone can see," said Bellamy.
"He's been voted out best player the last three years. To go past some of our older players like he has, because Cooper had a wonderful season last year and Smithy the year before, and guys like Kevvy Proctor and Will Chambers - and (Cameron) Munster last year was outstanding - so to be voted the best player is a big rap for him.
"But his best and huge improvement has been his leadership and obviously the Kiwis have realised that and made him captain.
"I'm not quite sure how long Smithy, Cooper or Billy has got to go, but when they're not here I can see that no doubt he'll be our next captain as well."
Bromwich famously got his start at the Storm a decade ago after walking off the street to train alongside brother Kenny with the club's under 20s side.
Much is made of the Storm's peerless coaching structures that encourage and empower players to reach their playing potential, but Bellamy says Bromwich's success is due to his own dedication and hard work.
"Sometimes we know as coaches, we help players a little bit more and we've got to push them more, but Jess, he's a bit different," he said.
"Obviously we've given him some advice along the way and given him a little push here and there, but he's been self-made.
"This is what he wanted to do and he's worked out with us coaches how he can get to that and he's just gone out and done it himself.
"He's just worked that hard with what he's got and he's a great example of, if you want something and you go and work hard for it, you're very likely to get it. That's him to a tee."
It will be a strange experience for Bromwich to watch his team run around without him as he has missed just one match since 2011, when the birth of his son Isaac saw him skip the round 24 win over Penrith in 2014.
"I'm pretty gutted I miss out on going to New Zealand and playing over there but I've got to do what's right for the team and sit on the sidelines for a couple of weeks and hopefully its only two.
"It feels a bit funny not being on that plane going to the game. It will be a bit weird watching it at my parents house. Hopefully I can enjoy kicking back and watching it but I'm sure it will be tough."