Perfectly executed, pole vaulting is perhaps as close as you get to flying without wings.
Not quite the explosive force of being launched from a cannon, it feels more like the elastic recoil at the bottom of a bungy jump.
To achieve that sensation, probably 10-12 elements have to align, making it the most exhilarating of athletic events, but also the most technical and perilous.
Get any of those details wrong and the rest of your day can turn pear-shaped very quickly. Just ask Nic Southgate, 22, New Zealand's top-ranked male exponent.
With a personal best of 5.47m, he's just four centimetres off Paul Gibbons' 25-year-old national record, so he's already close to the best we've ever had.
But that doesn't mean he hasn't had bad days ... far from it. They come with the territory.
Pretty much the worst thing that can happen to a vaulter is having a pole snap in mid-flight. You're never quite sure where you will land or where the flying shards of fibreglass or carbon-fibre will end up.
"I've snapped multiple poles," admits Southgate sheepishly. "And a couple of them have opened my hand up.
"I've split my hand from the base of the palm right up to the knuckle on my index finger, had to go into plastic surgery to get it all stitched up and then a year later, did the same thing again.
"It's part of the sport. Some people go their whole career without snapping a pole, but others are prone to it, just through the way they jump."
Vaulting is such a mental game, when one pole splinters, it can leave scars much deeper than mere cuts and bruises.
"Having confidence in your equipment can really hinder or help you, and if you're not confident with the equipment you have, it's hard to complete a jump," reflects Southgate.
"But pole vaulters are good at risk analysis. There's a little bit of crazy in all of us, but we know our limits and we try to push them."
Canadian Alysha Newman, 22, also describes herself as "a breaker", having obliterated more than 10 poles during her career.
The 2016 Olympian and 2014 Glasgow Commonwealth Games bronze medalist is visiting New Zealand to compete against Kiwi Olympic bronze medalist Eliza McCartney in Sunday's Auckland International Track Challenge at AUT Millennium.
Most of Newman's trail of destruction fell during a period when manufacturers hadn't quite perfected the composition of her new-age carbon-fibre poles.
"It was a scary couple of years," she winces. "It could also have been me over-emphasising certain positions in the vault or just using softer poles than I should have.
"But you're really playing Russian Roulette every time you jump ... you never really know."
Each time it happens, though, most vaulters can eventually find a way back into the saddle.
"The first thing I do is I usually go down a pole and start again," says Newman. "It's like when you're young and fall off your bike, and your parents put the training wheels back on.
"You slowly build back up. It's all mental - you just tell yourself you've jumped 100 times this week and only broken a pole once."
The smallest scratch can threaten a pole's integrity and Newman has also developed a healthy sense of self-preservation when it comes to the welfare of hers.
When she arrived at the venue for this week's Vertical Pursuit pop-up competition in downtown Auckland, she found her pole bag open and officials using one of her precious instruments to gauge distances in the setting-up process. Newman flew into a fit of rage and felt obliged to apologise later.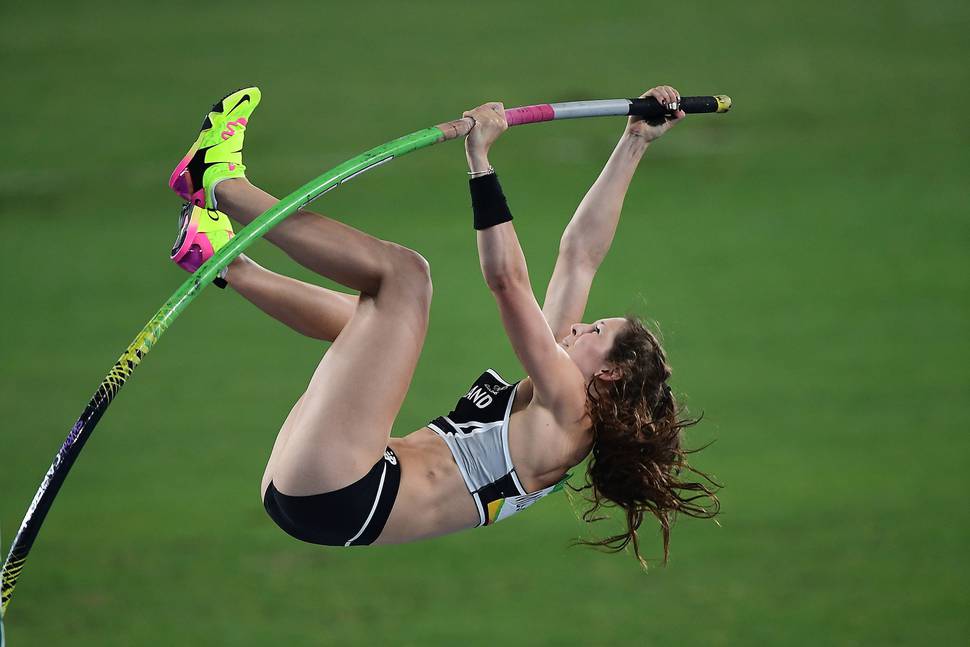 For her part, McCartney claims she has never snapped a pole and has barely even crash-landed back on the runway after stalling out in mid-air, perhaps the most basic of rookie mistakes.
"I remember, really early on, [coach Jeremy McColl] made sure I knew what to do if that happened," she giggles. "One of the first things I learnt was, if you start going backwards, you hold onto the pole and don't just let go.
"You see a lot of people who have just started pole vault, or they may not have the facilities or the coaches to help them learn what to do in those situations.
"Honestly, 90 percent of those 'fail' videos you see on Youtube are people who just don't know what they're doing."
The Auckland Track Challenge, featuring NZ Olympic bronze medalists Eliza McCartney and Tom Walsh, and Paralympic champion Liam Malone, will be live-streamed on the NZ Herald website from 1pm, Sunday, February 26.