Sione Lauaki was farewelled by hundreds of family, friends, fans and teammates in Auckland today.
Lauaki, who played 17 All Blacks tests between 2005 and 2008, passed away in Waitakere Hospital on Sunday surrounded by family, having apparently suffered kidney failure. He was 35.
His funeral services took place at Church Unlimited in Te Atatu today, where upwards of 1500 people gathered.
The service, which was predominantly in Tongan, was marked by the harmonious and stirring singing of the Tongan church choir.
Lauaki's wife Stephanie spoke about the huge amount of love her husband had brought to the world.
"I feel honoured to have been his wife and the mother of his children, to be able to share in the that each minute of each day" she said.
"The way that he loved is something that I see in our children. They love in that same way: openly, hard, strong."
Despite leaving them at such a young age, she was "so thankful" that their children already had their father in their hearts.
"I'm just really blessed that I can look at my sons and see the love of their father every day."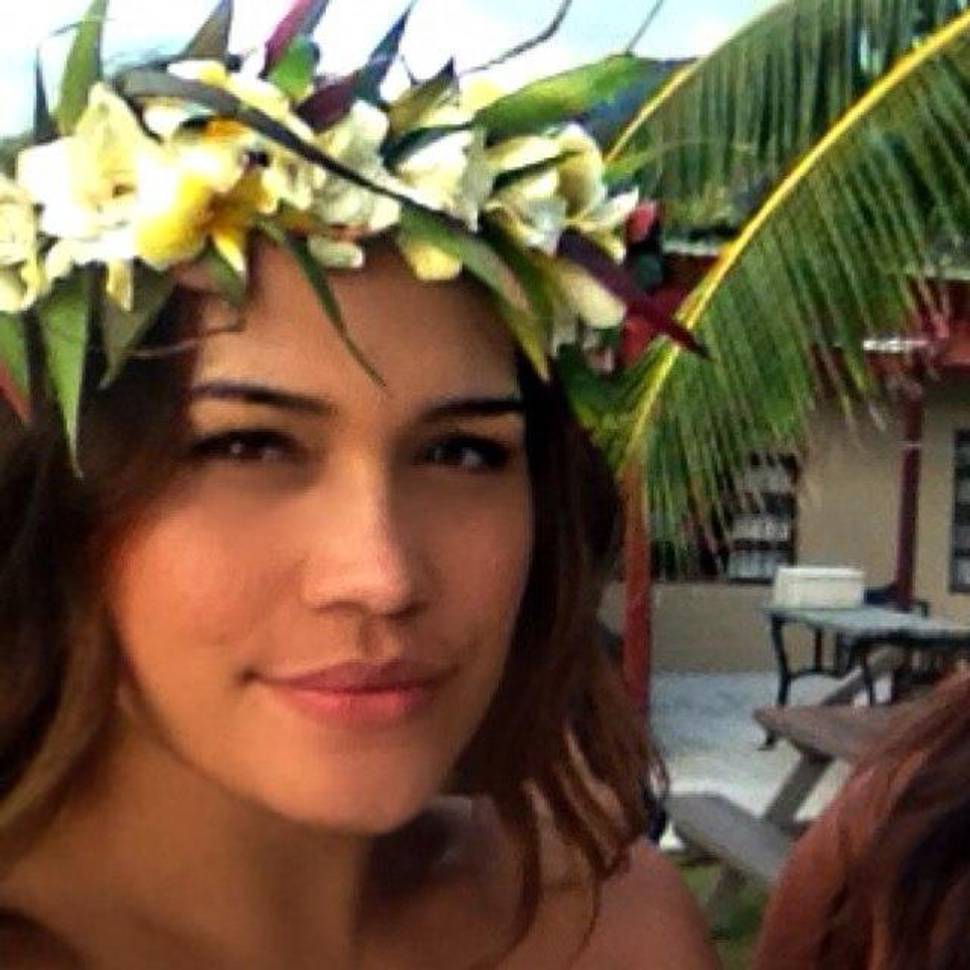 All Blacks assistant coach Ian Foster, who was Lauaki's coach at the Waikato Chiefs, spoke on behalf of the rugby community.
He talked of Lauaki's "child-like giggle that he had that didn't seem appropriate coming out of that big body".
He said Lauaki was "slow to trust" and wary: "you had to earn his trust".
"You had to let him know that your really cared for him as a person. He didn't like people faking it with him, he didn't like people not walking the talk with him. But once he knew that you cared for him and that you were there for him then he would give you everything."
Foster said Lauaki had a presence about him that was "almost unequalled".
"He had the ability to have this little black cloud over his head sometimes when he was down. His hood would be up, his face would be down and you knew something was going on with him - he was so transparent, he couldn't hide anything.
"But the same side of that presence translated to when he had that smile, when life was good, when he was settled, when he knew where he was going. He had a presence about him that used to light up the room. And it used to inspire."
Foster said not every decision Lauaki made was a good one, but the mark of the man was that he would always put his hand up and say he stuffed up.
"He would always go forward, and to me that was probably one of his greatest strengths."
Foster added that while playing rugby and competing came naturally to him, training didn't.
"He was always frustrated and angry that every time he looked at food he put another couple of kgs on. And that was Sione and now we kind of know why, don't we," he said.
Lauaki had to work incredibly hard to get himself match-fit and when he was on the field, "he could impose himself physically in a game probably like no player I have ever seen".
"He had the ability to take a game and put a physicality and a presence on that game through either a tackle or a ball carry or something special. He was gifted like that."
Lauaki's former All Blacks coach Sir Graham Henry also attended the funeral, as did current and former All Blacks including Mils Muliaina, Michael Jones, Stephen Donald, Jerome Kaino, rugby sevens star DJ Forbes and league player Manu Vatuvei.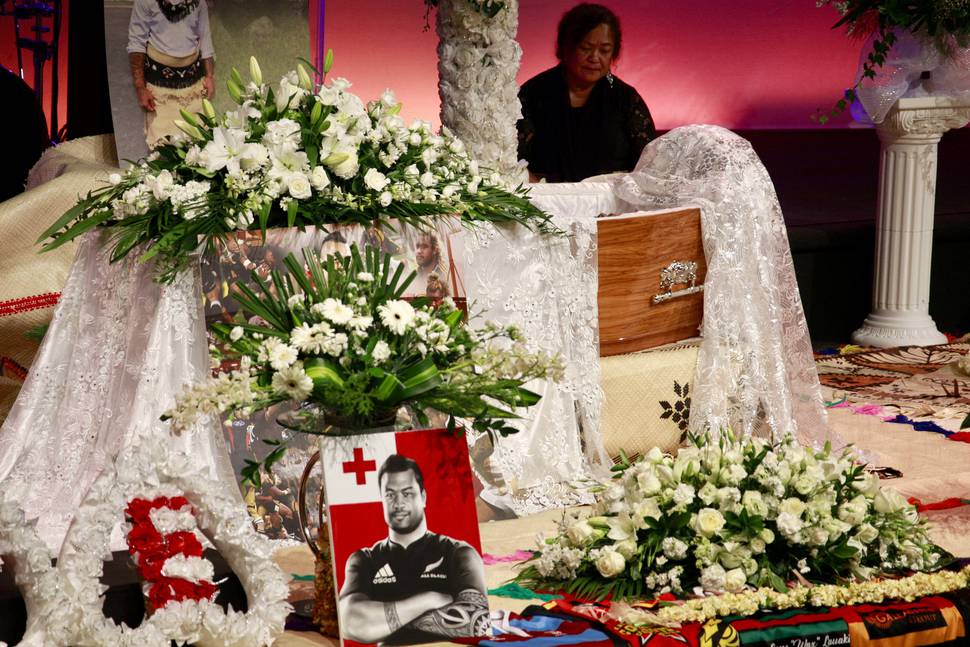 Lauaki's older sister Paenga Kovi Lauaki said after the service that Sione's death had been a shock, and that it was a difficult time for the family.
"My brother was always the one that never wanted us to worry, even with all of this happening. I know he's probably saying to us 'everybody just relax, it's all going to be okay'," she said.
"He always kept us grounded, he always kept us calm. And he always did things - his actions spoke louder than words."
She wasn't ready to speak about her brother's illness, saying she'd prefer her brother to be remembered as a gentle giant with a big heart.
"The illness was just an added on thing for him. But like I said, he's got broad shoulders and he'd just take it as it is and tell everybody to chill, relax."
Vatuvei played league with Sione's brother Epalahame Lauaki at the Warriors, while Vatuvei's older brother used to hand out with Sione.
"It's a sad day" Vatuvei said. "You just know that he's in a good place now and he doesn't have to struggle with the pain because I know he was in a lot of pain when he was sick, even though he didn't show it to anyone.
"He just kept it to himself and didn't want anyone to worry about him, he was always thinking about other people like that."
Born in Tonga, Lauaki emerged out of Kelston Boys' High and debuted for Auckland in 2002, before switching to Waikato and making his maiden Super Rugby appearance for the Chiefs in 2004.
He made his debut for the All Blacks a year later in a victory over Fiji and was eventually part of the squad that fell short at the 2007 World Cup, but found his path at the top level blocked by Rodney So'oalio and Jerry Collins.
Lauaki also played for the one-off Pacific Islanders combination and, within a 15-day period in 2004, scored tries for them against Australia, New Zealand and South Africa.
An enormously destructive loose forward, Lauaki's career never quite reached its potential, having struggled with his fitness and off-field issues.
The son of Kepu and Melefale Lauaki, he is also survived by wife Stephanie and his five children.
He will be laid to rest at Waikumete Cemetery - just a few roads down from his former college, Kelston Boys' High School.
Sione Lauaki: June 22, 1981 - February 12, 2017
• Made his test debut off the bench in the All Blacks' 91-0 demolition of Fiji at Albany in 2005.
• He went on to play in all three tests against the touring British and Irish Lions that year.
• Injury ruled him out of All Blacks selection in 2006, but he returned as a World Cup contender when he starred for the Chiefs in a victory over the Crusaders in Christchurch with a phenomenal fend on Richie McCaw.
• Lauaki played 17 tests for the All Blacks between 2005 and 2008, scoring three tries.
• Before his All Blacks debut, Lauaki scored test match tries for the Pacific Islanders against Australia, New Zealand and South Africa within 15 days in 2004, a feat without precedent.