Thoroughbred racing is not a game for sissies.
At any level, but especially for jockeys.
Rugby and rugby league players generally make it to the top of their professional peak with, yes, guile and talent, but size and strength almost always plays a huge part.
Not for jockeys - they have only guile and talent, although most would not believe the general strength lying beneath those often pretty coloured silks they wear raceday.
Riders have to rely on mental strength. And don't think here they all find it. Yes, the football graveyard is littered with those whose lack of willpower overpowered common sense, but racing's graveyard is much larger.
Take Sydney's Josh Adams, twice that city's leading apprentice, something you do not do unless headed for the stars.
Drugs and misbehaviour got in the way and after coming back from being grounded he came to New Zealand a couple of summers back and immediately impressed the best judges we have.
Again drugs appeared and Adams was grounded for two years on returning to Sydney.
He has just returned to riding, but only in the smalls and almost exclusively for one trainer. Compare him with the youngster who took his place at the top of the apprentice ladder, Sam Clipperton, managed by his boss, former outstanding jock Ron Quinton, who would never let Clipperton out of his sight after dark for his entire four-year internship.
Clipperton is now making a million dollars a year riding in Hong Kong.
It seems unfair to name just Josh Adams when plenty have trod the same path and because he is a likeable and charismatic young man (and this writer knows because I managed him ) but methamphetamine plays no favours.
Today at Te Rapa the centre stage will be taken by two talents of the same ilk, Michael Walker and Jason Waddell, both of whom have come back to be riding in the best vein of their lives after what can only be described as a career path filled with not rocks but boulders.
If a couple of turns in the road had swung left instead of right, neither would be anywhere near a raceday saddle. Mental strength - which you have to say has appeared to desert both at times - has shored up their return to brilliant best.
Waddell's case is remarkable. Almost everyone had written off any chance to return to raceday riding after a lengthy spell, but return he did only a few weeks ago.
Astonishingly, in those short few weeks he has ridden 12 winners to create the country's best strike rate of 4.92, ahead of Opie Bosson on 5.48 and Leith Innes at 5.67.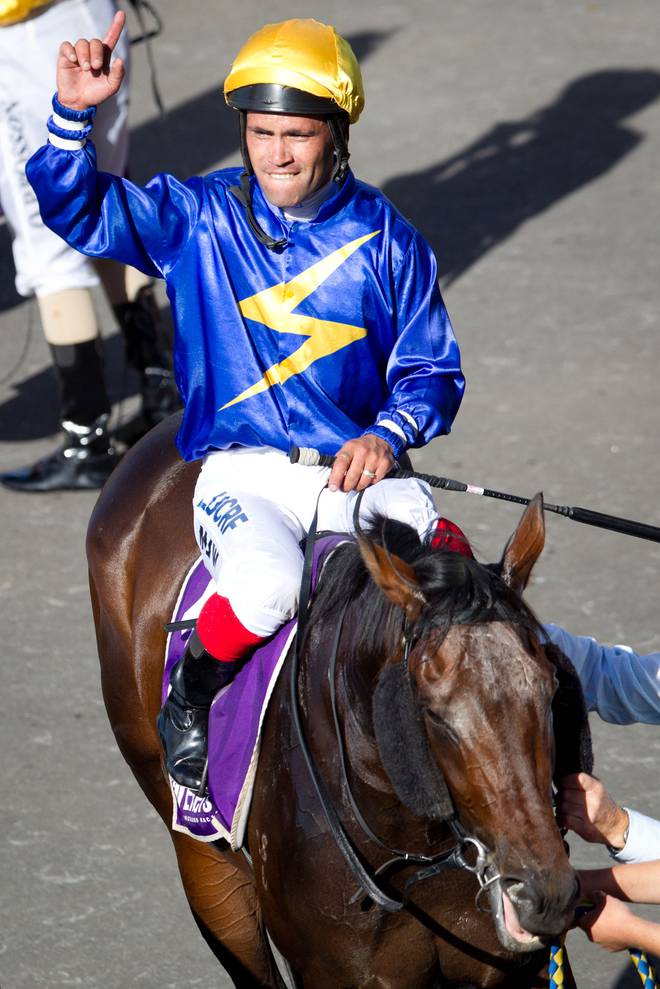 The word astonishingly is in the right context, because that strike rate is achievable if you have been riding regularly, but not when coming suddenly from left field after a long lay-off with very few or no established regular contacts.
That's how well Waddell is riding. The three winners he achieved from the six races at Ellerslie on Wednesday night were the product of absolute brilliance.
During the week, Waddell landed the plum ride on the Baker/Forsman-trained Camino Rocoso for the Avondale Guineas and Vodafone Derby, when his winning rider at Ellerslie two weeks ago, Hugh Bowman, was required in Australia.
Don't be surprised if Waddell cleans up at Te Rapa - he has a great book of rides. He can win the second on Oriental Dragon (No1, R2) if he can help overcome an awkwardly wide gate. The youngster finished second last time to class act Felton Road, which is a great formline for this.
The first is an odd betting race given it is a small field. Zacada (No3, R1) has the recent form on the board to say he will go close. Snow Secret (No1) was luckless in the Wellington Cup last start, but a mare giving a gelding like Zacada 2.5kg in a staying test is a big ask.
Race 3 is a cracker of a race. Waddell can be in this too aboard Enough (No3). He was surprisingly beaten out of the money when resuming, but his work had been terrific and he has enough class to poke his nose in here.
One he will have to cope with is Miss Wilson (No7). She looked a world-beater before going to Australia to be trained. Her overall for there was below par and she returned to win first-up at Trentham. You can see her being on the pace, or in front, here and being difficult to pull back. One of the best races of the day.
There is little more you can say about Volpe Veloce (No1, R4). She is the best example of how top class horses find a way to win when it appears they can't. That was the case in the Royal Stakes at Ellerslie.
At No7, she has drawn a few spots out beyond where you would like to see her at the tricky 2000m starting point, but it appears only bad luck can overcome her absolute determination to win.
Devise (No3) and stablemates Nicoletta (No2) and Bonneval (No5) are the dangers.
Waddell just missed at Trentham last start on Crookshanks (No10, R5) and can go one better here. She is already a winner here. Endean Express (No12) did not get all favours last time.
The biggie, the $400,000 Herbie Dyke Stakes, is a tricky race, leading to the 3-year-olds Savile Row (No10, R6) and Jon Snow (No11) being the dangers to the likes of Volkstok'n'barrell (No1). The weight advantage they get (although less than it used to be) puts them in the fight.
The Trentham effort of Aotearower (No3, R7) puts her right in contention for this race. As a back runner she will be suited by the small field. Waddell rides the best value runner in Stylish Attack (No6).
Michael Walker comes into play on the favourite Kawi (No1, R8). As stated in yesterday's Herald, trainer Allan Sharrock is unsure of the reason for Kawi's sub-standard three runs in Perth but says he is absolutely happy with his star's condition.
When that is the case Kawi rarely misses. Start Wondering (No2) is similarly all class and heart. He looks the danger. The last is a tough race, but Jason Waddell will ride the favourite Rosso Corsa (No2) and can win.