Michael Brown is going through a mid-life crisis so he thought it would be a good idea to tackle the Pioneer, a seven-day mountain bike race from Christchurch to Queenstown. This is his report from the fourth day of the race.
There are plenty of times when us Kiwis take New Zealand for granted.
We hear about how beautiful our county is but don't really appreciate it. It's what we have always known: mountains, lakes, rivers, tussock lands. Yep. Got them all.
"This is like the Swiss Alps, only better," said Paul, from England. "Much better. And there's no one here."
For the non-elites on today's stage of the Pioneer mountain bike race, a 105km ride from Lake Tekapo to Lake Ohau, it was a day to take it all in. From the views down on Lakes Pukaki and Ohau and the tussock-covered grasslands of the valleys below to the glacier-filled canals that link a lot of the southern lakes, it was all spectacular.
But big views mean big climbs and today's climb was brutal. At times the gradient tipped 26 per cent. That's 1m of climbing for every 4m of travel. To put it another way, the steepest section of the road up to Coronet Peak skifield is 13 per cent. And it's sealed.
One online explanation describes anything more than 16 per cent as: "very challenging for riders of all abilities. Maintaining this sort of incline for any length of time is very painful."
You're not wrong.
At times today it felt like a duathlon, with a fair amount of walking. Even the elites jumped off and pushed their bikes and at last count less than five people rode the entire way. Needless to say, it got a spontaneous round of applause at tonight's briefing.
But just as impressive as the climb up the Ben Ohau range was the descent. We dropped 1000m in 4km of riding down to the shore of Lake Ohau. It didn't pay to take your eye off the narrow goat's trail, especially given the seemingly near-vertical scree slope on one side. But it was exhilarating.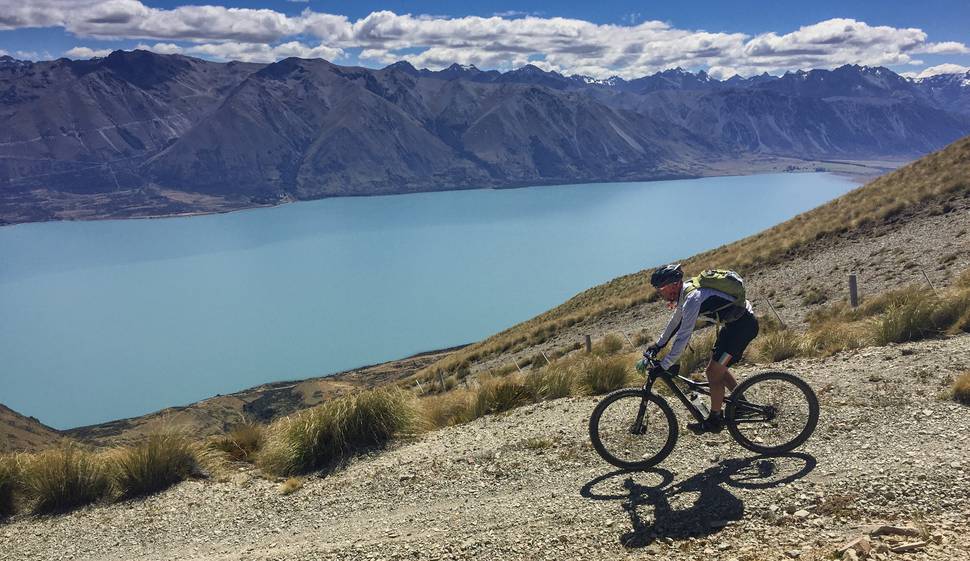 Tomorrow we tackle the Queen's stage, the big one, from Lake Ohau to Lake Hawea via the Lindis range. It's 112km and 3574m of climbing.
It's daunting bit it's got to the stage where those figures have become just numbers. All of the days on the Pioneer are long and demanding.
But it's also the stage I have thought about the most over the past five months of training and there's an added significance, given my parents live about 400m from the finish line at Hawea Station.
Herald photographer Greg Bowker and I can't afford to play the role of tourist quite as much tomorrow, with some serious riding in there, but there will still be time to catch a good glimpse of little, old New Zealand and give her a knowing smile.