Had Dale Steyn been fit, a case could be made for the steely-eyed South African and his metronomic mate Vernon Philander.
England's Jimmy Anderson and Stuart Broad will have their backers too. But, right now, it's hard to deny Mitchell Starc and Josh Hazlewood sit atop the ladder as the best pace pair in the game.
Australia love their fast bowling double acts, going back to Ray Lindwall and Keith Miller in the period after World War II, through Dennis Lillee and Jeff Thomson in the 1970s and 80s to Glenn McGrath and Jason Gillespie, with Brett Lee in the mix, too, in the late 1990s and early 2000s.
Starc and Hazlewood are showing all the signs of adding a fresh, exciting chapter to that book.
There's a case to be made, though, for New Zealand's Tim Southee and Trent Boult. And they have pretty good numbers to back that up.
The form of the two pairs will be influential in the Chappell-Hadlee series starting at Eden Park on Monday.
That said, the configuration of the Auckland ground makes bowling something of a lottery for the faster men. Get their lengths slightly wrong, catch a fluky edge or two and they can look ordinary.
The last two clashes at Eden Park between the transtasman rivals produced sharply contrasting matches.
New Zealand won them both - the 2015 World Cup pool game by a slender one wicket, last February's match by a belting 159 runs, as four of Australia's top six combined for just seven runs.
While the art and skills of spin bowling in the short form are now a vital component of the game, the ability to produce a cutting edge with the new ball is at least as important and this series features a square-off between four of the best.
And at least Boult and Southee don't have to worry about David Warner.
The aggressive Australian opener is skipping the Chappell-Hadlee series to have a well-deserved rest - or rather, rest on his laurels.
Warner scored yet another century against Pakistan at Adelaide Oval last night. It was his sixth century from his past 11 ODI innings, including back-to-back efforts against New Zealand in Melbourne and Canberra in the Australian leg of the Chappell-Hadlee series.
Warner now has 13 ODI centuries overall. Ricky Ponting (29), Mark Waugh (18) and Adam Gilchrist (16) are the only Australians to have scored more.
His latest milestone came from just 78 balls in the Australia Day fixture as he smacked Pakistan's bowlers to all parts of Adelaide Oval. Warner had a reprieve on the first ball of the innings when he flashed at a drive and got a thick edge - diving Pakistan captain Azhar Ali just got fingertips on the catching opportunity.
From then, the 27-year-old Warner was in command, striking 12 fours and two sixes en route to his milestone.
Tim Southee & Trent Boult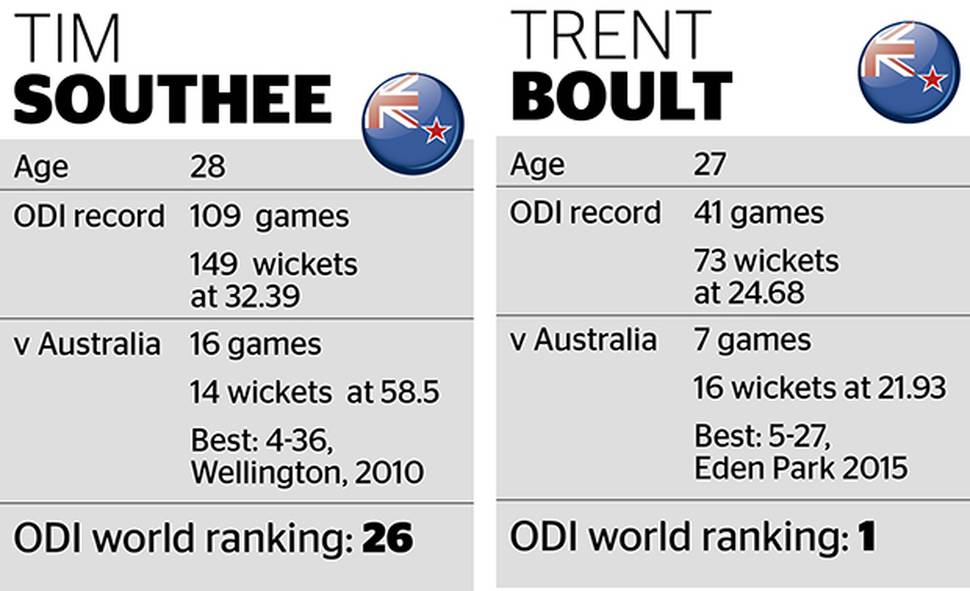 Southee
Where Boult lit up Eden Park during the World Cup against the Australians, Southee had his game to shine a few days earlier.
Southee's seven for 33 off nine overs took the legs out of England's innings in Wellington as they succumbed to just 123.
Since his debut against England in 2008, Southee's had on and off days in the ODI game and his record against Australia isn't particularly flash. But the overall record is good. His sits seventh on the all-time wicket-taking list for New Zealand and is one scalp away from 150.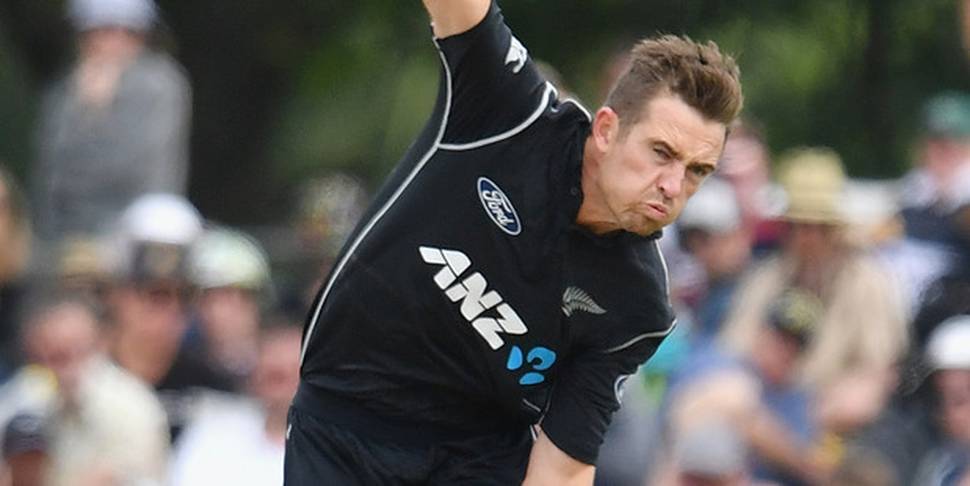 Series against Australia demand the experienced heads and Southee fits that bill. He's also bowling pretty well right now.
He's taken 24 wickets in his last four tests against Pakistan and Bangladesh, including two man-of-the-match performances. He and Boult took 15 wickets between them in the second test, the third time they've done that together, which is more often than another Kiwi pair.
Southee took just two for 173 in the Canberra and Melbourne matches, so he'll fancy a better return second time around against Australia. And he and Boult bounce well off each other.
Boult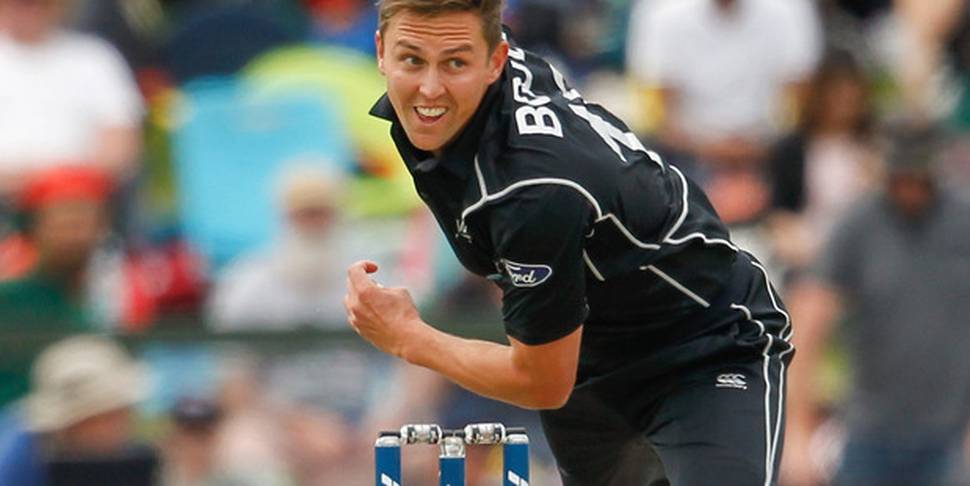 Top of the world; that's Boult's standing among the world's best ODI bowlers. Whatever you think of the International Cricket Council rankings, how much veracity you attach to the numbers, being top of the pops is something to tell the grandchildren.
Boult has produced some memorable spells but few to match that at the World Cup pool game against Australia in 2015.
Where Mitchell Starc turned in his six-for that almost paralysed New Zealand in their chase, Boult's work came in the first half of the match.
Australia were sailing along at 80 for two when he took five for 27 off 10 overs, including a period of 17 balls when he took a stunning five for one, the only run conceded a wide.
Boult's record against Australia is good - averaging a blink over two wickets a match - and while he'll insist at every time of asking that test cricket is his preferred form, he's shown that late swing, and an attacking mindset can pay a healthy ODI dividend.
He took six for 180 in the three games against Australia before Christmas. It wasn't a happy time for New Zealand, but he was the most successful of the attack.
Works well with his Northern Districts mate Southee. New Zealand will need them to lead from the front.
Mitchell Starc & Josh Hazlewood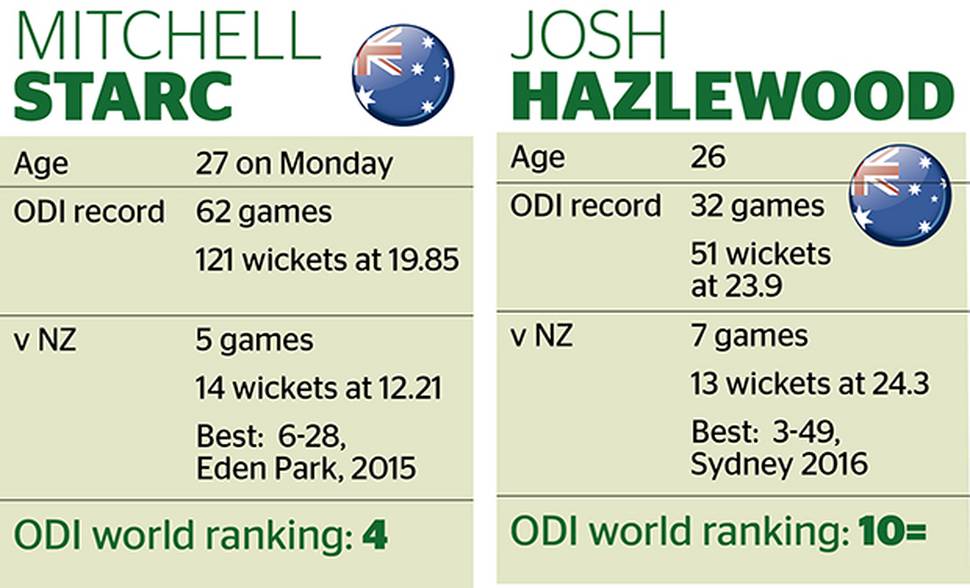 Starc
When he's on song, the tall left-armer is probably the most devastating fast bowler in the game.
He has swing, bounce, pace and a searing yorker, as Colin Munro discovered in the third and final ODI in Melbourne last month.
Starc has a fine record against New Zealand, 14 wickets at a seriously cheap average in five games.
Best remembered in New Zealand for his sizzling burst in the World Cup pool game at Eden Park early in 2015, his six for 28 turned what was shaping, courtesy of another sizzling Brendon McCullum half century, as a straightforward romp for New Zealand into a nail-biting one-wicket win.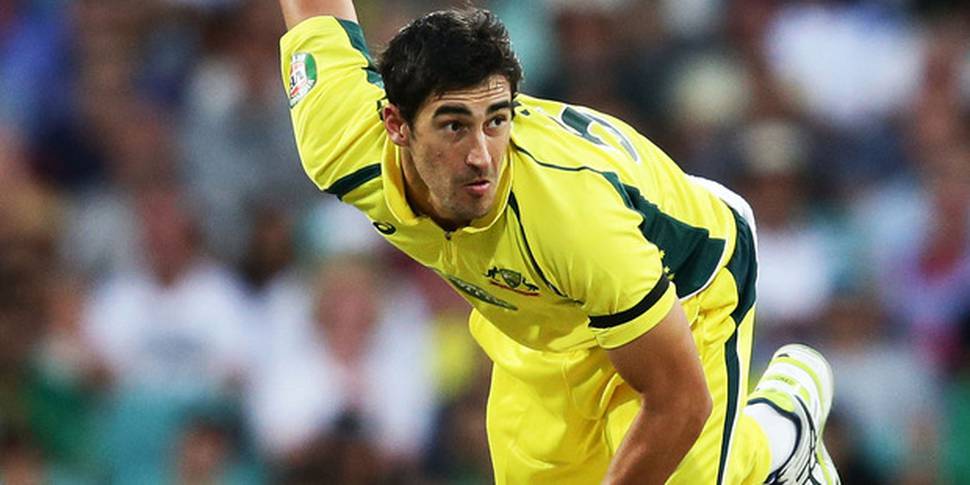 Starc took six for 123 in the Chappell-Hadlee series pre-Christmas, with his best performance coming in the final game, three for 34 in Melbourne.
All the talk ahead of this return series is the absence of David Warner. But in a different way, had Starc been left out, it would have left a similarly large dent in the Australian squad.
Negate the threat of Starc and New Zealand's batsmen will have gone a long way towards a far more competitive performance in this series than they mustered in December.
Hazlewood
They call him the new Glenn McGrath. The player would surely rather be known as the first Josh Hazlewood, but there are distinct similarities in their delivery, and to this point their results.
In 26 tests, the Tamworth-born Hazlewood has taken 109 wickets at 24.7, 32 of those coming in his past six tests.
He first faced New Zealand as a 17-year-old, in 2008, the youngest fast bowler ever selected for New South Wales. His first ODI came two years later, before a three-year gap. He joined fellow quick Craig McDermott and spinner Ray Bright as the only Australian 19-year-olds to play the format so soon.
In the past year, Mr Dependable, as he's become known, has become indispensable.
Last year, Hazlewood took 26 wickets in 16 games at 25. Accurate, nagging and with the height to get troubling bounce.
As a pair, Starc and Hazlewood complement each other - one seriously fast, the other demanding fast-medium; one left-arm, one right.
Australia's attack in India on their next assignment is likely to be based not around spin, but pace. These guys are at the sharp end of that attack. But first there's this bit of business to attend to.