World No.1 and defending Australian Open champion Angelique Kerber has been bundled out of the tournament by unseeded American Coco Vandeweghe.
Vandeweghe was irrepressible in Sunday night's late-finishing match on Rod Laver Arena, winning 6-2 6-3 in an hour and eight minutes.
Hitting 30 winners to seven, the 25-year-old completely exasperated Kerber, who was powerless and showed it.
The German threw her arms in the air in frustration several times as she watched balls pass her at the baseline without a hope of reaching them.
Kerber is the latest big name to exit the tournament before their seeding would suggest.
The top two men - Andy Murray and Novak Djokovic - and three of the top four women - Kerber, Aga Radwanska and Simona Halep - have departed in the Open's first week.
Serena Williams will now be a prohibitive favourite to claim a seventh crown at Melbourne Park, but on the basis of Vandeweghe's showing, she could also go all the way.
"It's really special to play a number one player in the world on any stage. I believe its my first number one win so i'll take that," she said.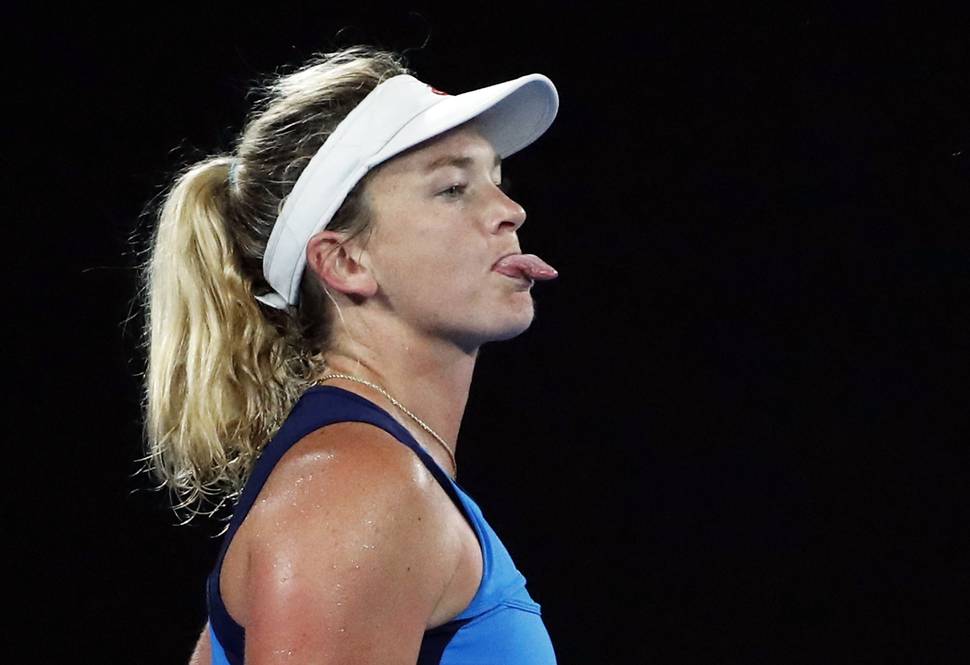 "Last year I came here and I didn't even win a match and here I am now."
Vandeweghe's win advances her to just a second career slam quarter-final, where she will play Spanish seventh seed Garbine Muguruza.
Against Kerber, she set the tone from the opening game, won with two booming forehand winners.
The German gave up the break in the sixth game as Vanderweghe's baseline bullets kept falling inside the court's corners.
Momentum swung in the second set, with Kerber bursting out of the blocks to break Vandeweghe at the first time of asking. It didn't hold.
Vandeweghe broke back to love, screaming a half-volley forehand down the line to stun the German again.
She finished the match by winning four straight games, ending Kerber's run of 17 straight wins at the hardcourt majors.
After the win, the brash American revealed her overly confident persona had been an act.
"I faked it a lot because I was feeling like crap out there ... what do they say, 'fake it until you make it'?," she said.
"When you play tough players, like you will in later rounds of tournaments, you can't be showing you're struggling or not confident."
Kerber's loss continues a poor run for newly-installed female number ones.
Five of the last seven have been dumped from their first major as top seed earlier than the quarter-finals.
And should Williams take the crown, she will regain the world No.1 ranking from Kerber after spending 19 weeks as second banana to the German.
MURRAY OUT
Andy Murray crashed out earlier in the night, falling to German journeyman Mischa Zverev in a monumental fourth-round upset.
The three-time grand slam champion struggled to handle the world No.50's remarkable play at the net, slumping to a 7-5 5-7 6-2 6-4 defeat.
The shock result leaves the men's draw wide open after defending champion Novak Djokovic was earlier eliminated in the second round.
It is the first time since 2004 that the top two men's seeds have failed to reach the quarter-finals of a grand slam, and the first time tit has happened at Melbourne Park since 2002.
Zverev was cheered on by his younger brother Alexander, who was considered by far the most likely of the pair to make a deep run at the Open before his agonising five-set loss to Rafael Nadal on Saturday.
But it was the older sibling who shone in the spotlight on Sunday, stunning Murray with the performance of a lifetime in his sixth Open appearance having never previously made it past the second round.
The 29-year-old's reward for his career win is a quarter-final shot at either four-times champion Roger Federer or fifth seed Kei Nishikori, who play their fourth-round match on Sunday night.
"I don't know yet how I feel because everything is new to me and everything feels a little bit unreal," Zverev said.
Murray was far from his best against the unheralded left-hander, struggling with his second serve and growing increasingly frustrated by his seeming inability to read the German's play.
It is the first time in more than a decade that Murray has been defeated at a grand slam by someone ranked as lowly as Zverev.
"It just wasn't meant to be," the Scot said.
"He served very well when he needed to, especially when he was behind in games. He deserved to win.
"He came back from all of the mistakes that he made, kept coming up with great shots. There's not too much you can do about that. It was obviously disappointing to lose. But he did some good stuff out there."
With an opportunity to take a 5-3 lead in the fourth set, Zverev looked like nerves may get the better of him, hitting a simple forehand smash into the net.
But he quickly regrouped, playing a series of remarkable shots at the net to pull off one of the biggest upsets in Open history.
"Honestly, there were a few points where I don't know how I pulled them off," Zverev said.
Former world No.1 Jim Courier was among those surprised by Murray's failure to bring the match back under control during the fourth set.
"He's a passenger in these points right now," Courier said in the Seven Network commentary box.
"He's in the second chair. This guy (Zverev) is driving."