At first glance it looked like a standard photograph of Aussie fast bowler Josh Hazlewood appealing for a wicket.
Leaning back with his arms stretched wide, Hazlewood unsuccessfully argued for the dismissal of Pakistan batsman Azhar Ali.
But a closer inspection revealed something rather unusual. Troubling even.
Did the newly-crowned number one ranked paceman on the planet have a deformity he'd been keeping secret throughout his 26-Test career?
Was his once-in-a-generation ability to deliver the ball on the right line and length the result of a peculiar four-fingered grip?
How else to explain the baffling image, which clearly showed Hazlewood was missing the ring finger on his right hand - and had not been photoshopped?
Getty Images photographer Matt King, who took the snap, told cricket.com.au he was unaware there was anything unusual about the picture until he saw it circulating on social media.
"I had no idea until I saw the picture used on Facebook," King told cricket.com.au. "I thought, 'That's my photo!' but I hadn't noticed any missing finger on Hazlewood before.
"I went back to the original file and checked it and yeah, the finger was missing. I couldn't work it out where it had gone. But absolutely no Photoshop was involved, we do not do that."
So King investigated, trawling through the series of frames his camera had captured on the final day of the Sydney Test. The explanation was obvious - and rather anticlimactic.
Hazlewood wasn't in need of a digit transplant, King had simply clicked at an opportune moment when the 26-year-old's hand was positioned in a way which hid his ring finger behind his pinky, as the sequence in the tweet below highlights.
"When you see the sequence, all the earlier images are fine," King said. "He kind of rolls his hand as he moves and slowly the ring finger is obscured. It was just by chance that I chose that one frame where the finger is entirely obscured to publish."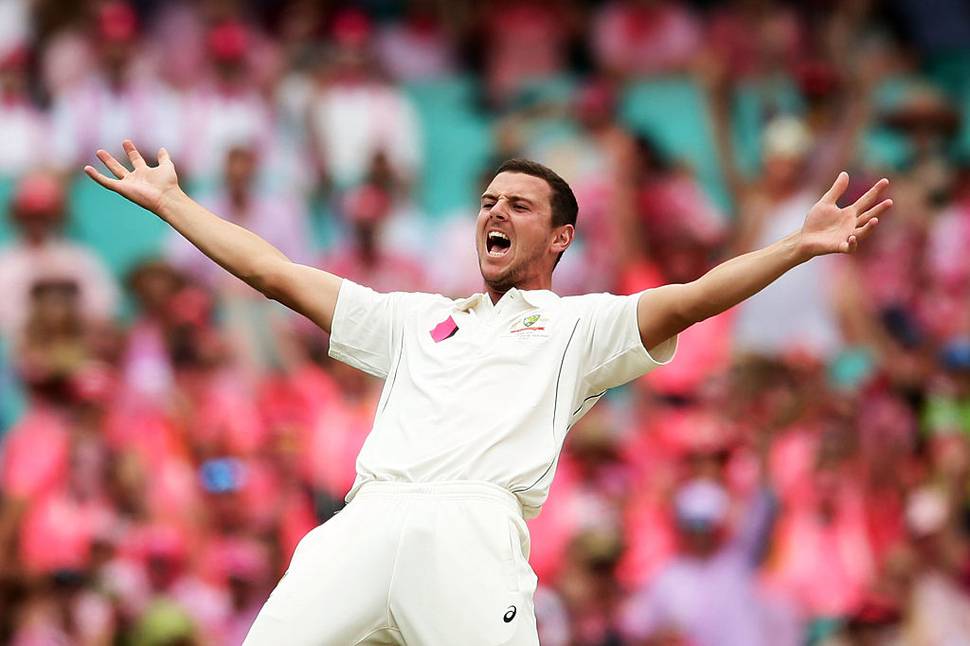 Hazlewood will be rested from Australia's first one-day international against Pakistan this week after his starring role in the Test series sweep.
Hazlewood was the leading wicket-taker with 15 in Australia's 3-0 Test series victory over Pakistan.
He and fellow paceman Mitchell Starc will have planned rests throughout the five-match 50-over series ahead of next month's Test tour to India.
"Josh has got through a heavy workload during the home summer so far," coach and selector Darren Lehmann said.
"In the past two months he has sent down almost 300 overs across two Test series against South Africa and Pakistan, as well as three ODIs against New Zealand."
Lehmann said Hazlewood was not injured but would stand down from Friday's first match in Brisbane.
"We have decided to give him a week to freshen up at home and he will link up with the ODI squad in Melbourne ahead of the second match of the series," Lehmann said.
Lehmann said Hazlewood would play at the Gabba if one of the other fast bowlers was injured ahead of the match.
Hazlewood, who turned 26 on Sunday, has enjoyed a stellar season taking 32 wickets in the six home Tests against South Africa and Pakistan.