Prop Richard Barrington has become the first major casualty, as rugby's new "zero tolerance" on head-high tackles left the northern hemisphere game dazed and confused over the weekend.
New international laws came into effect when the English Aviva Premiership played its first round of the new year, amid outcries from the rugby fraternity that the hard-line would negatively impact the game.
Essentially, the rules prescribe more liberal use of yellow and red cards against any head contact in tackles, even if it's deemed to be accidental or without malicious intent.
Check out our pros and cons of the new "zero tolerance" tackle laws.
Barrington, celebrating his 100th game for Saracens, was marched from the field in the 11th minute of last year's premiership final rematch with Exeter, after he was the second man in a tackle that saw Exeter lock Geoff Parling stretchered from the field with concussion.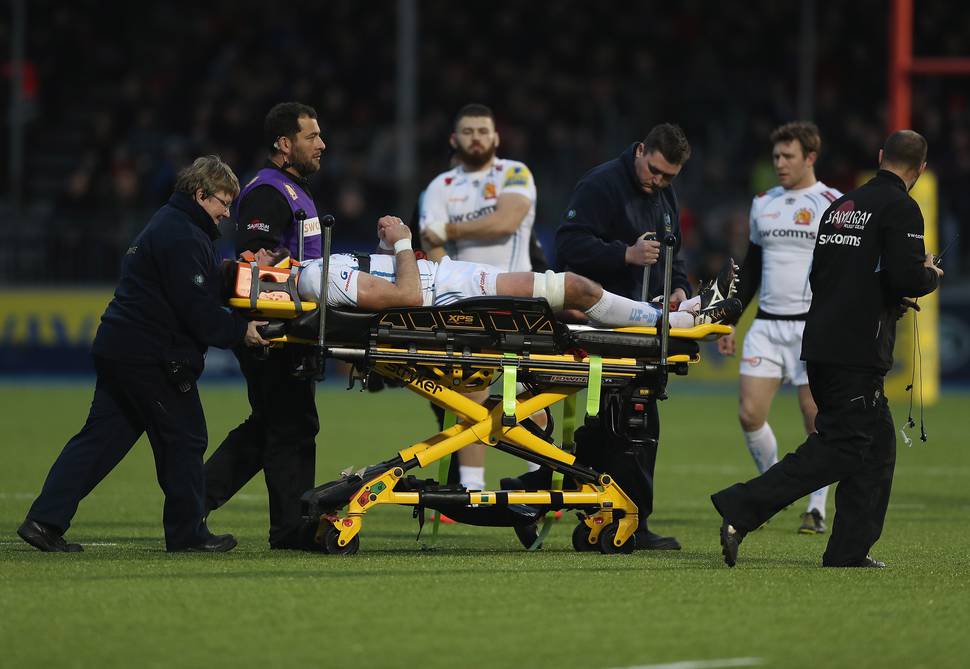 Barrington's team-mate Brad Barritt was the first to make contact with a swinging arm to the jaw of Parling, who then fell head-first into Barrington's shoulder.
After lengthy deliberation, referee Ian Tempest decided the second contact was the more serious and showed Barrington a red card, virtually apologising to the player as he departed.
"Unfortunately, I have no other option," said Tempest.
Barritt escaped any repercussions, but can probably expect a phone call from the judiciary this week, while defending champions Saracens held on, a man short, to salvage a 13-13 draw.
While he declined to comment on the specific incident, Saracens director of rugby Mark McCall expressed his concerns about the new laws afterwards.
"We need to be careful," he said. "Today's game ended up being a titanic struggle between 14 v 15, but I don't think anyone wants to see those type of games all of the time.
"We need to be sensible - and I am not saying they weren't today - with how we apply this care for players."
The match also exposed a domino effect of the new rules, transferring the injury risk from one set of players (ball-carriers) to another (tacklers). At least four other players suffered concussions, several of them resulting from tacklers' heads rebounding off hips and knees.
Exeter head coach Rob Baxter wondered aloud if the new rules might ultimately prove counter-productive.
"What I am interested in is, in a year's time, with the pressure to push towards low tackles, if we end up having more concussions that we have currently with the change tackle emphasis, what will be the next decision?"
The other major controversy arose in the Guinness PRO 12 competition, where Scarlets stole a 16-13 victory, after receiving a penalty try for head-high contact.
In the 62nd minute, Scarlets scrum-half Aled Davies lunged for the try-line, but was held up in a tackle.
Upon review, referee Marius Mitrea awarded the penalty try and sin-binned Ulster No.8 Sean Reidy for what seemed like incidental high contact, as Davies darted past.
Former All Black Charles Piutau, who was rested by Ulster this week, expressed his frustration on Twitter:
One of those most vocal in defending the new laws, though, is Scottish rugby legend and former British Lions coach Sir Ian McGeechan, who is "genuinely excited" by them.
"Sure it is not ideal introducing a number of changes mid-season," he wrote, in the Daily Telegraph. "And there will undoubtedly be a bedding-in period, during which we are likely to see a lot of yellow and red cards handed out, as everyone - players, coaches and referees - tries to establish where the limits of the new rules are.
"But I think, ultimately, they could have a profound and positive effect on the game.
"Not only will they challenge discipline in defence, forcing players to tackle lower and be more accurate, they will also challenge teams to be far more proactive in attack, safe in the knowledge that runners' hands should, by and large, be left free to pass."