Meet Nathan Hughes, England's latest rugby test cap - all the way to Twickenham via Lautoka and Kelston Boys High.
There is an argument that Hughes making his starting debut for Eddie Jones' England against Fiji in London this weekend represents everything that is wrong about international rugby.
Consider Hughes' journey from the island of Viti Levu to Twickenham via Auckland ahead of his first England start against the country of his birth.
It began in Sugar City - the heart of Fiji's cane-growing region - where the teenaged Hughes discovered his taste for sport. Hockey was his childhood passion, with both parents representing the national team, and he only switched to rugby aged 17.
In one of his earliest games for Lautoka's St Thomas High School, he tackled an opponent into touch with such force that he shattered a wooden chair on the sideline. A late bloomer, Hughes was blessed with power and onlookers spotted his potential.
"Nathan was a very good hockey player," his former school PE teacher Meliso Camaitoga told England's Daily Mail. "He was a forward and took every scoring opportunity. In Year 11, he came to me and said he was interested in playing rugby. He was quick, strong and won all our lineouts.
"Then Kelston Boys' School came from New Zealand to play us. That is where it all began for Nathan."
Kelston's coach Athens Henare picks up the story.
"We spotted Nathan straight away," he said. "The pitch at St Thomas was very modest, with some huge boulders in one of the corners and a large tree that overhung most of the opposite corner. We had a local referee who was running on Fiji time and turned up 90 minutes late!
"Nathan missed home when he first came over. Family is a big part of his life so we had a lady, Susan Mitchell, who was basically a surrogate mother to him. She would pick him up, drop him off and make him lunch. He had all the athletic ability. He was never picked up by the All Blacks scouts, but he was taken on by Auckland."
Indeed, the Blues head coach from 2009 to 2012, Pat Lam immediately noted Hughes' potential.
"At the time we had Jerome Kaino playing No 8 so Nathan was more involved in the development setup and was on a part-time gig," Lam said. "Wayne Pivac was the development coach at the time and Nathan was one of a number of talented youngsters."
But then suddenly the first poacher became the next victim. If Kelston Boys and Auckland were the little fish that swallowed the Fijian prospect, they quickly discovered an even bigger predator was after their catch.
English club Wasps needed a dynamic forward after losing Billy Vunipola, another Pacific Islands product now playing for England, to rival club Saracens.
"We were looking in Auckland for a new centre and we happened to notice Nathan," said Dai Young, Wasps' director of rugby. "He was quite a raw talent because he had a history of playing hockey. I wouldn't put my hand on my heart and say when we brought him over we expected him to be an international.
Herald archives: Where every All Black was born (+interactive graphic)
"We saw him as a squad player but he reminded me of Billy Vunipola. Nathan's ball-carrying is international class and his work-rate and game-involvement is improving. People used to chuck stones at Billy's work-rate in his younger days but he's gone from strength to strength. Nathan could follow the same path."
Having lived in England for three years, Hughes is now eligible for Eddie Jones's side through World Rugby's controversial residency rule and made his bow off the bench at Twickenham against South Africa last weekend.
Predictably, Hughes' Wasps and England flanker James Haskell has no problem with the fast-tracking of his new team-mate into the national team.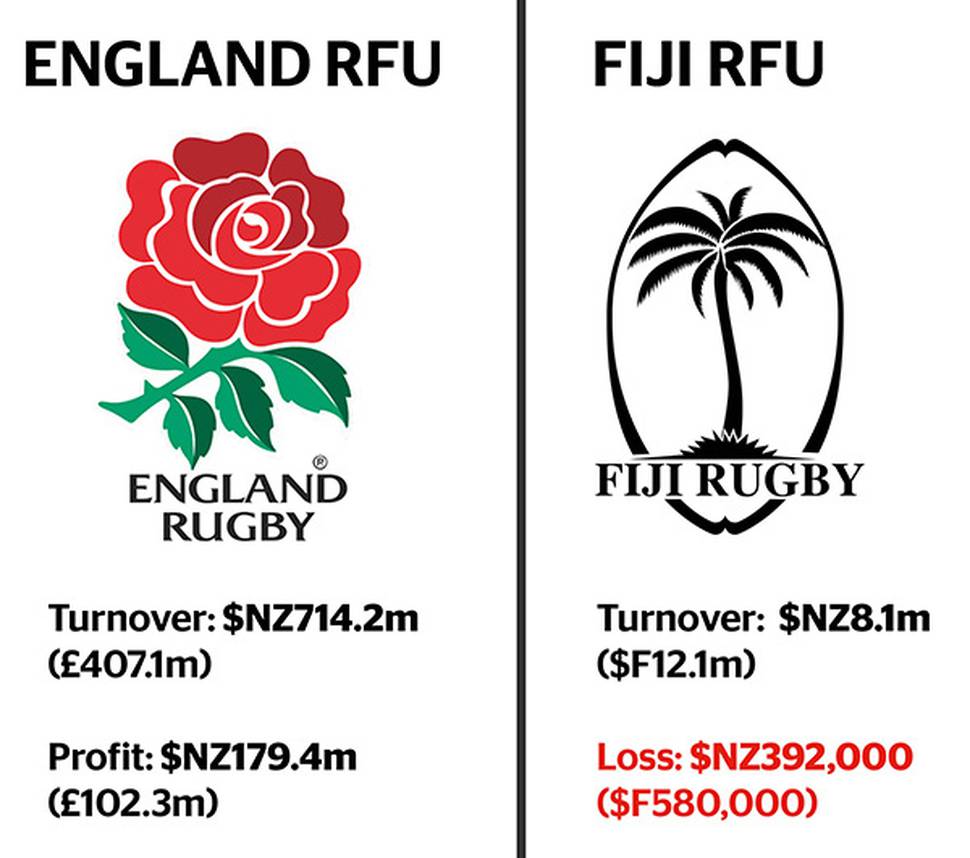 "I back him 100 per cent," Haskell told the Daily Mail. "Maybe if I lost my place to a guy who wasn't born here and got residency then I might feel differently, but England has been his home for a long time now and he's passionate."
But equally predictably Fiji's most recent national coach, John McKee, feels differently.
"We were hopeful he would play for Fiji but, financially, his decision to play for England makes sense," acknowledges McKee, a New Zealander. "Does that make it right for the integrity of the international game? That's another question.
"His call-up through the three-year residency rule comes at Fiji's expense. With limited economic resources, Fiji have no way of stopping the player poaching that is a significant obstacle to all the Pacific Islands.
"If the residency rule were five years, rather than three, it would be a different ball game. Now we've got more players leaving at a younger age and, in two years, I think there will be a number of Fijian players eligible for other countries.
"Because of the leagues and financial situation, it's not a two-way street. People aren't coming to Fiji and qualifying on residency for Fiji. Ben Ryan, the Sevens coach, described it as the Wild West and there's certainly a naivety in Fiji about the realities of professional rugby.
"People from a village background don't have an understanding about exchange rates and cost of living.
"Nathan is one of the success stories but it doesn't always work out well. A contract in Europe can look very good when you convert it back to Fiji dollars but then they realise how much it costs to go out for dinner in the South of France. It's not always roses."
That reality is why Englishman Ryan, promoted to the 15s job after securing Fiji's historic Sevens Olympic gold medal, is behind an adventurous and challenging bid to create a Fijian-based Super Rugby franchise.
Ryan says he has $NZ35m worth of commercial backing and is insisting the bid is the only way to save the Pacific Islands from their plight of being robbed of their best players by tier one test nations.
The global game's other hope is the genuinely strong feelings of World Rugby's chairman elect, former Argentine Pumas star Augustine Pichot.
Pichot is soon to take over from Englishman Bill Beaumont as World Rugby's new head honcho. He has been vocal about the controversial residency laws and wants to bin them, or at the very least, make it infinitely harder for the poaching to continue.
Pacific Island-born players (those who represented other countries at the weekend):
Fiji
•Virimi Vakatawa (France)
•Nathan Hughes (England)
•Waisake Naholo (New Zealand)
•Henry Speight (Australia)
•Tevita Kuridrani (Australia)
Tonga
•Taulupe Faletau (Wales)*
•Billy Vunipola (England)*
•Mako Vunipola (England)*
•Ofa Tu'ungafasi (New Zealand)*
•Malakai Fekitoa (New Zealand)
•Tolu Latu (Australia)
•Lopeti Timani (Australia)
•Fonovai Tangimana (Romania)
New Caledonia
•Sebastien Vahaamahina (France)
*Moved countries as a child

- Daily Mail and staff reporters