The Chicago Cubs are being swamped by the Cleveland Indians in baseball's World Series. And the All Blacks look like they are being swamped by the Cubs so far.
It's early in the week, and coverage of the rugby test between New Zealand and Ireland at Soldier Field has time to pick up. But there is only one way to go with it, and that is up.
Coverage on Chicago news and major American sports sites has been hovering around zero so far. The Chicago Tribune sports page is saturated with baseball, and extends elsewhere but not to rugby.
The two top sports story on the Chicago Sun Times are about gridiron. Below, baseball and ice hockey mingle with more football. There is also a story about someone catching an enormous fish.
Video is essential to these stories. The All Blacks could have provided footage of their 2016 highlights or training trick shots or massive tackles or Ryan Crotty's matchwinner in Dublin three years ago. They wheeled out Dane Coles and reserve hooker Codie Taylor for a press conference.
There is a story in there, about two blokes from Horowhenua-Kapiti making it big, at the same time, in the same position. But maybe not now.
"I think Cully was the last one (All Black) from the region, it's been a while," said Coles.
Hey Chicago. Cully is Christian Cullen. You probably have not heard of him.
The two hookers talked in typical rugby mumble-speak about the new locking combo of Lukey (Luke Romano) and Paddy (Patrick Tuipulotu).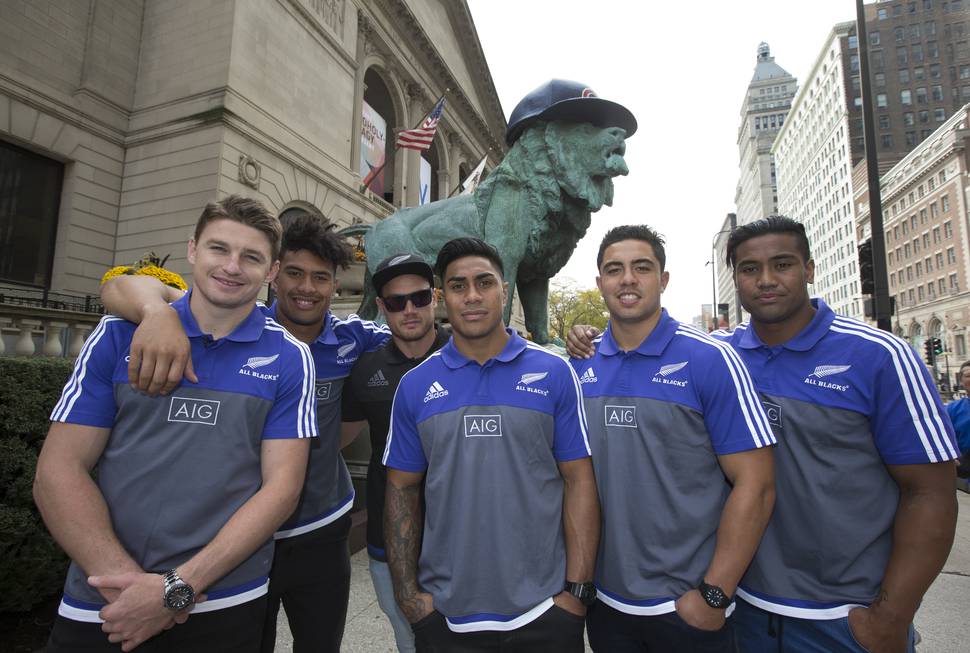 Beyond making the Mad Butcher an All Black for a day, it's hard to know what to do. All Blacks aren't renowned as natural salesmen, or ones that would count in fast-talking American sport. And they are up against it.
Chicago is a hot sporting town. The Cubs are trying to break the longest drought in American professional sport. The Chicago Bears - whose roster includes Kiwi Paul Lasike - play a Monday night NFL game at Soldier Field against the pacesetting Minnesota Vikings, their NFC north rivals. The Chicago Bulls have made a good start to the basketball season.
Not everyone believes New Zealand Rugby is putting its best foot forward or can figure what the Chicago and rugby thing is all about. This includes a rugby-loving Kiwi who has lived in Denver for 25 years.
"Who is fact checking where rugby is played in the USA, where it has potential to grow. I can tell you it is not in America's midwest," he wrote in an email sent to the Herald
"Let's choose a city with crummy weather, an old stadium and zero history of rugby.
"Chicago is one of America's largest cities that is baseball mad...midwest USA is FOOTBALL, old steel town football from Pittsburgh to Cleveland to Philly. It's not a rugby rich market."
"(Chicago) is boring, not progressive. Hello (New Zealand Rugby) people. Wake up or move on."
There is still time, and hope. The Herald's Dylan Cleaver was in Chicago for the week leading up to the 2014 game, when the All Blacks thrashed the USA.
"The coverage was surprisingly good. I remember thinking it was way more than I thought it would be," he said.
The timing might be wrong this time.