After 46 minutes at Eden Park, and with the score only 15-10 to the All Blacks, Wallabies No10 Bernard Foley sells Kieran Read a dummy and bursts through a gap.
Looming in support is wing Henry Speight. Foley passes to Speight and the wing is away. But in the meantime, the supporting Dane Haylett-Petty alters his running line to shoulder All Black Julian Savea, who is desperately trying to run Speight down.
Haylett-Petty's actions cause Savea to break his stride. He throws up his hands in protest, but ref Nigel Owens appears to ignore him.
Possibly due the crowd's reaction - loud booing when the replay of the try is shown on the big screens, television match official Shaun Veldsman, a South African, tells Owens that he wants to review the legality of the try.
"Hold on, I have a TMO call to check," Welshman Owens tells Foley, who is already lining up the conversion attempt (a successful kick would have given the Wallabies a 17-15 lead). "Show me and tell me what I'm looking at here, Shaun," Owens adds.
"That's the best angle, Nigel," Veldsman tells Owens as the pair view the footage from their respective positions.
Owens asks for the assistance of his line assistants Marius van der Westhuizen and Craig Joubert. "Has he [Haylett-Petty] altered his line just to put him [Savea] off his stride, yeah?" Owens asks.
"That's my opinion," Veldsman says.
"So he alters his stride and you reckon he's done enough to prevent him getting anywhere near him," Owens asks
"Yep, he's taking 11 black out, in my opinion," Veldsman says.
At this stage, Wallabies coach Michael Cheika is out of his seat in the coaches' box and is looking furious.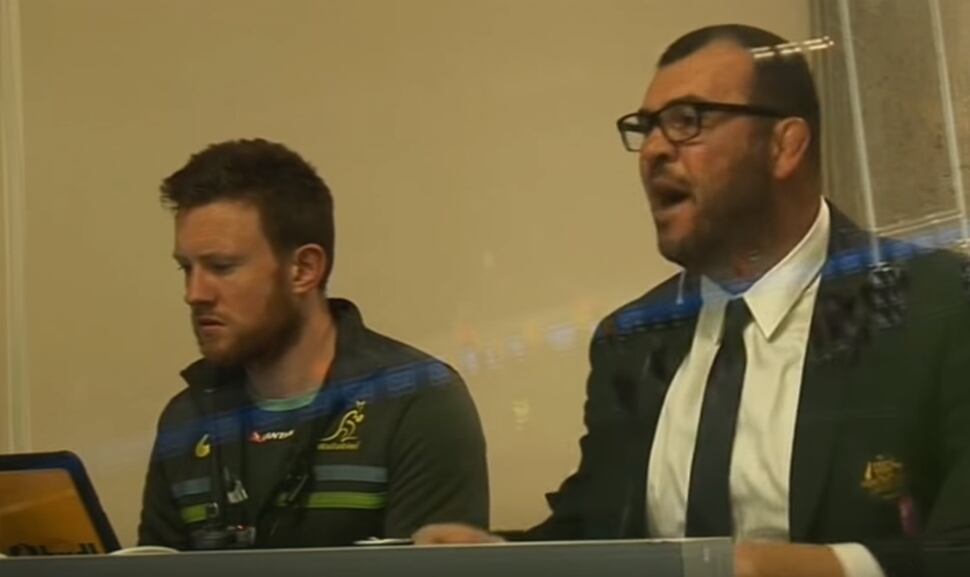 Wallabies captain Stephen Moore complains to Owens that Speight was in front of Savea and would have scored the try regardless of whether the defender had been obstructed or not.
"Yeah, but I can't decide that, he's taking away the opportunity," Owens says.
All Blacks replacement first-five Aaron Cruden kicks the resulting penalty to touch. The All Blacks retain their 15-10 lead and go on to pile on 22 more points to break the world record of 18 consecutive test victories for a tier one nation.
According to the laws of the game the call is correct. But it could have gone either way. Other officials might have ruled that as Savea had no chance of catching Speight, the obstruction is meaningless.
After the game, Savea said: "To be honest, I wasn't sure I was going to get there anyway, but the TMO call was made and sometimes the rub of the green goes your way. We were pretty relieved and happy that they didn't score. We definitely saw that they were a bit pissed off but we had to stay calm and just play our game."