Rio is New Zealand's most successful Olympics ever - and the record was broken on a day of firsts.
A swag of five medals won in 12 action-packed hours saw the Kiwi team end the day with 15 - four gold, eight silver and three bronze.
The total is two more than the previous record achieved in London four years ago and in Seoul in 1988.
And that handful of precious metal equals the most won on a single day of competition - so-called Super Saturday in Beijing eight years ago.
The sailing team led the way with a gold and two silvers.
Peter Burling and Blair Tuke underlined their dominance by cruising to victory in the medal race, even though they already had an unassailable 34-point lead.
Despite needing only to turn up and complete a victory lap around Guanabara Bay to confirm their gold medal, the four-time world champions dominated the fleet.
The brilliant Kiwi pair led from start to finish to take out the regatta over Australian pair Nathan Outteridge and Iain Jensen, who beat the Kiwis for gold in London four years ago.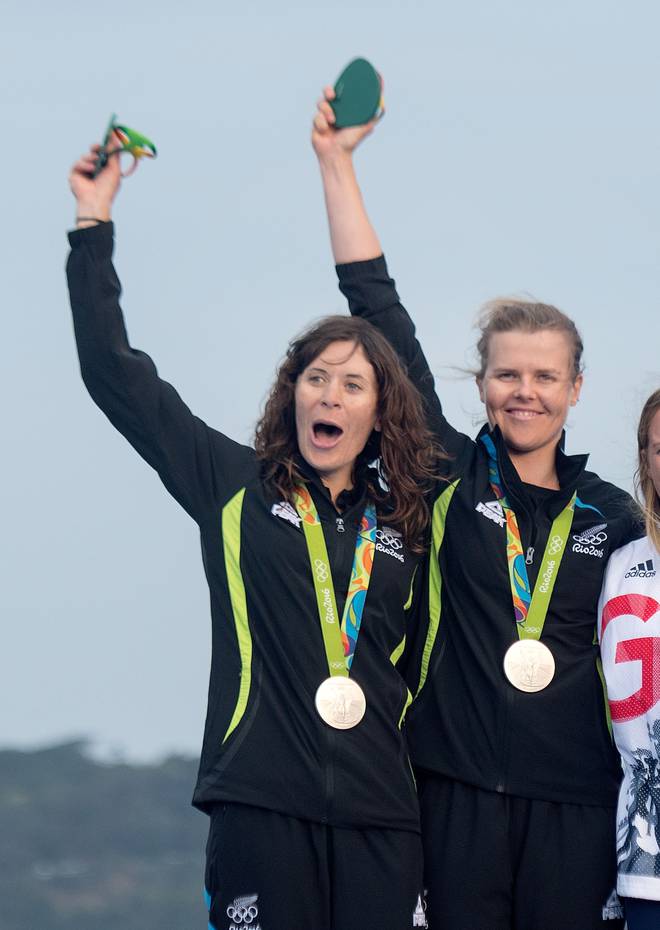 Jo Aleh and Polly Powrie's rollercoaster regatta finished on a high, with the Kiwi pair completing a remarkable recovery to secure silver in the women's 470.
Although they were ranked second heading into the medal race, the Kiwis, known as Team Jolly, faced a tough battle to secure a podium finish.
Brits Saskia Clark and Hannah Mills had gold stitched up, holding a 20-point lead. But only four points separated the crews ranked second to fifth.
Aleh and Powrie looked as if they might have to settle for bronze at the mid-point in the race, with the US pairing of Annie Haegar and Briana Provancha, who were just one point behind the Kiwis heading into the race, dominating early on.
But the Kiwis played the conditions perfectly to roll over the top of the US, who ended up missing the medals altogether as reigning world champions Camille Lecointre and Helene de France of France took out the bronze.
"I saw [the US team] were ahead, but we didn't panic. I knew we had a long race and there would be opportunities if we stayed patient. I didn't expect it to be so close," said Aleh.
That the Kiwi pair were even in a position to win a medal was remarkable.
Two disqualifications in their 10-race series saw the defending Olympic champions languishing in seventh heading into the penultimate day of racing. Despite the massive setbacks, the tenacious pair picked up two firsts and a third on the final day of qualifying races.
It brought Aleh and Powrie's record for the regatta up to four wins from 10 races. Burling and Tuke, won three of their 12 fleet races.
"This is right up there for us, it feels so much better than London because we fought so hard to get this medal," said Aleh.
Powrie said it was a huge challenge for the pair to stay in the game mentally following their early setbacks.
"Not much has gone our way so all we could do was keep battling, keep fighting," she said.
"It's been a rollercoaster for sure, it was not the ideal situation and how we wanted the week to pan out and all we could do was hang in there."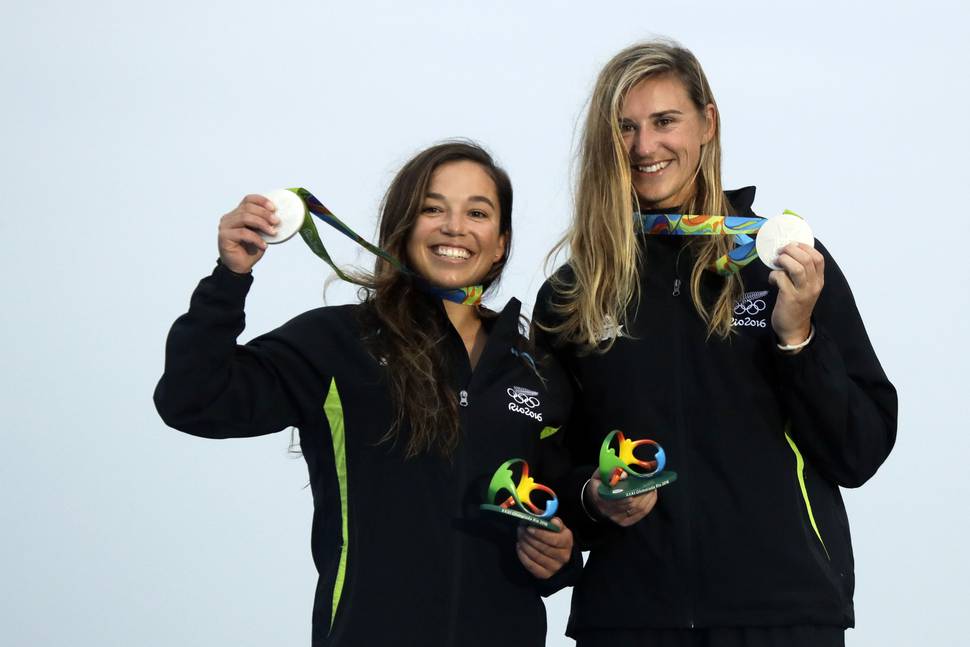 Alex Maloney and Molly Meech made it three medals on the day for the sailing team with a superb silver in the women's 49er FX.
They finished just two seconds behind Brazilian pair Martine Grael and Kahena Kunze in a nail-biting finish as the Kiwis made ground under full sail in a final-leg drag race.
The Kiwis were philosophical about collecting silver.
"We were always out there to win but if anyone else was going to, it was so nice to see the Brazilians do it in their home town," Powrie told NZ Newswire.
"It's a special moment for them and it's given the place a real vibe."
It was a historic moment for Meech and Maloney. Their medal was New Zealand's 14th of the Games, setting a new national record.
Meech's brother Sam had contributed to that tally, with bronze in the Laser class on Wednesday. It's the first time siblings have won medals at the same Games.
The team total was soon increased to 15 when Tom Walsh bagged bronze in the shot put with a throw of 21.36m. He's the first Kiwi male to land a medal in the throwing events.
"It wasn't my best work, but you've got to take it don't you," he said in the aftermath.
"There was a lot of pressure around but it was a hell of a competition with the Americans throwing that well. I guess I smashed it bro'."
Today's medal rush was started by kayaker Lisa Carrington, who added bronze in the K1 500m to the K1 200m gold she won two days earlier.
Carrington joined Barbara Kendall and Val Adams as the only Kiwi women with three career Olympic medals.